The rumors about a watered-down digital only version of the upcoming Microsoft Xbox Series X have been going on for quite some time. In the past few days the details about the system, originally known as Project Lockhart, started to catch fire. Finally, on Tuesday September 8, Microsoft officially announced the rumors were true and a new system the Xbox Series S would launch November 10, 2020.
The Xbox Series S will launch at the bargain price of $299. However, the Xbox Series S features a much smaller design and will have no ability to play discs. Microsoft did not release detailed specs but it appears that the Xbox Series S will be less powerful than the Xbox Series X, perhaps significantly so.
What Microsoft did say about Xbox Series S:
* All-Digital
* 1440p at 120 FPS
* DirectX Ray Tracing
* Variable Rate Shading
* Variable Refresh Rate
* Ultra-Low Latency
* Custom 512 GB SSD
* 4K Streaming Media Playback
* 4K Upscaling for games
* 60% smaller than Xbox Series X
Largely based on Project Lockhart and other rumors, the latest DFC Intelligence video game console forecasts have the PlayStation 5 outselling the Xbox Series X by a margin of 2-to-1. The bumbling announcement around the Xbox Series S confirms how far behind the Xbox brand has fallen.
It was clear that the PlayStation 5 was doing much better in consumer appeal than the Xbox Series X. The Project Lockhart, now Xbox Series S maneuver, smacks of a last minute Hail Mary by Microsoft to appeal to consumers on price.
Unfortunately, Microsoft has created a confusing mess. They let leaks take over the official story and right now the professionals are confused, it is hard to imagine what consumers are thinking.
The price performance ratio is difficult to predict. Microsoft was pitching the Xbox Series X as the most powerful system ever and all of the sudden there is what appears to be a neutered option at a lower price.
The problem is core video game consumers don't want to settle for second best even at a steep discount. This is especially true for the early adopter consumer that will be the target market for game systems in the first year of launch.
The announcement around Xbox Series S really confirms how Microsoft, in its focus on a long-term digital strategy, has really given Sony and the PlayStation 5 a big advantage when it comes to hardware sales for the upcoming generation.
Consumer confusion is not a good thing for Microsoft in this case. Consumers now have the choice to pay $300 for a second class system or however much more for the full product (expectations are Xbox Series X may be $500). That strategy can work for an Apple iPhone but a video game console is different.
Whatever hardware can be delivered in 2020 will sellout. The console systems are likely to be in short supply and Microsoft may be able to manufacture more Xbox Series S units. In theory this could give Xbox a larger initial installed base
.
Unfortunately, everything else is clearly in favor of the PlayStation 5. Microsoft lost control of the media message and it is looking like PS5 will be the system for those that want to play exciting new games.
The Xbox brand seems focused on a digital future for classic franchises delivered via Game Pass and cloud streaming. As we have discussed this could be a solid long-term strategy. However, for selling a high-end new game system it is less than ideal. The current Xbox One platform(s) work fine for Microsoft's digital strategy.
It had been clear for several months that a digital-only version of Xbox Series X was coming. The handling of the reveal and the confusion that was created was surprising but not entirely unanticipated given Microsoft's track record. This was why DFC Intelligence now forecasts long-term sales of PlayStation 5 hardware to beat Xbox hardware by a two-to-one ratio.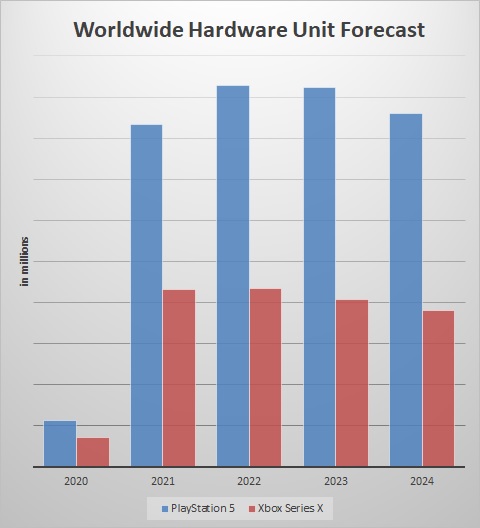 The big unknown going into late 2020 will be the number of hardware units that will actually be available for purchase. Hardware of all types has been very hard to find this year.
After months of pitching the power of its new console, Microsoft has changed direction. Unfortunately, the track record for delivering watered down digital only systems is not good. The Nintendo Switch Lite is a recent example of how game consumers don't really like going for second-best.
If Microsoft can manufacture enough units the Xbox Series S may become like the Nintendo Switch Lite was in early 2020. The core Nintendo Switch has been largely sold out during 2020. However, the less expensive, less powerful, and overall less desirable, Switch Lite has been easier to find. For consumers it became a matter of grabbing the cheap, available option instead of waiting for the more desirable option to become available.
The latest forecasts are available from DFC Intelligence. They include a full assessment of the new game systems as well as the latest updates on the impact of COVID-19. These forecasts are regularly updated as new information becomes available.