According to the latest analysis from DFC Intelligence, the market value of the leading console video game publishers in North America grew 43% in the six months from the end of February to the end of August. This highlights a record five years of growth for the major North American video game publishers.
The new DFC report is part of a series that looks at major players in the video game market. The report on North American Video Game Publishers focuses on four companies that are strong on high-end games for both console and PC platforms: Activision Blizzard, Electronic Arts, Take-Two Interactive and Ubisoft.
Over the past five years these four companies have seen a combined market value increase of 174%. Increased video game usage during the COVID-19 crisis has seen a 43% growth in market value since the end of February. This $41 billion market growth over the past six months, means by the end of August the four major companies have a total market value of $137 billion.
In recent years, Activision Blizzard (NASDAQ: ATVI) and Electronic Arts (NASDAQ: EA) have been the go-to stocks for investors looking at the high-end Western video game market. The stocks of these two players have followed remarkably similar curves.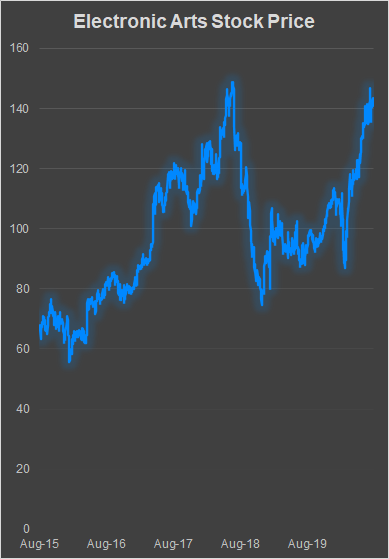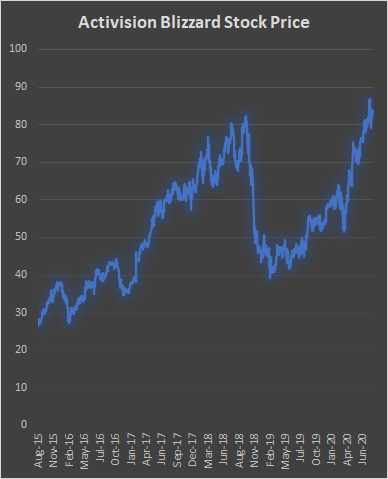 However, there is a good reason Activision Blizzard is priced significantly higher than Electronic Arts or other players. Activision Blizzard is not only strong in multiple markets, they have a product line that reaches many types of users across multiple platforms.
Most importantly Activision Blizzard has more control over distribution and the growing movement to games as a service. All the successful game companies are moving to a games as a service model, but Activision Blizzard is ahead of other players.
The games as a service model means game publishers have a more consistent revenue stream throughout the year and are less dependent on a big holiday season. Recurrent revenue from major franchises has been they key to growth.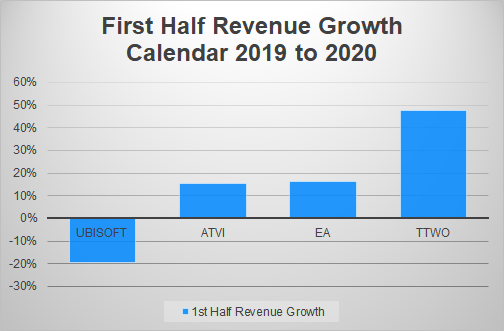 Of course, much of the growth opportunity is already reflected in current stock prices. The one exception is Ubisoft (OTC:UBSF.Y). In the first half of calendar 2020 the four companies saw combined revenue growth of 15% over 2019, led by 48% revenue growth from Take-Two Interactive (NASDAQ: TTWO). The one exception was Ubisoft which saw a 19% revenue decline. (NOTE: Ubisoft is headquartered in France but generates over 50% of revenue from North America).
Ubisoft has been rocked first by product delays in late 2019, followed by a recent scandal that forced some key employees to resign. The company did not release any major product during the first half of the year and 97% of revenue came from back catalog sales.
In the past six months Ubisoft stock has only been up about 10%. This means that if the company can successfully execute a turnaround it could see major upside. Even without a turnaround, Ubisoft has a large catalog that could make it an attractive acquisition candidate.
Unlike Ubisoft, Take-Two Interactive is heading toward the top tier of video game publishers has the company has enjoyed great success with ongoing revenue from the Grand Theft Auto and Red Dead Redemption franchises. Increased presence in sports games is looking like a significant growth area.
A new series of reports from DFC Intelligence is looking at company performance in various video game industry segments. This includes console manufacturers and game publishers, PC game publishers, Asian game companies, Japanese game companies, hardware and accessories manufacturers. There is also a comparison of how companies are performing in specific regions.