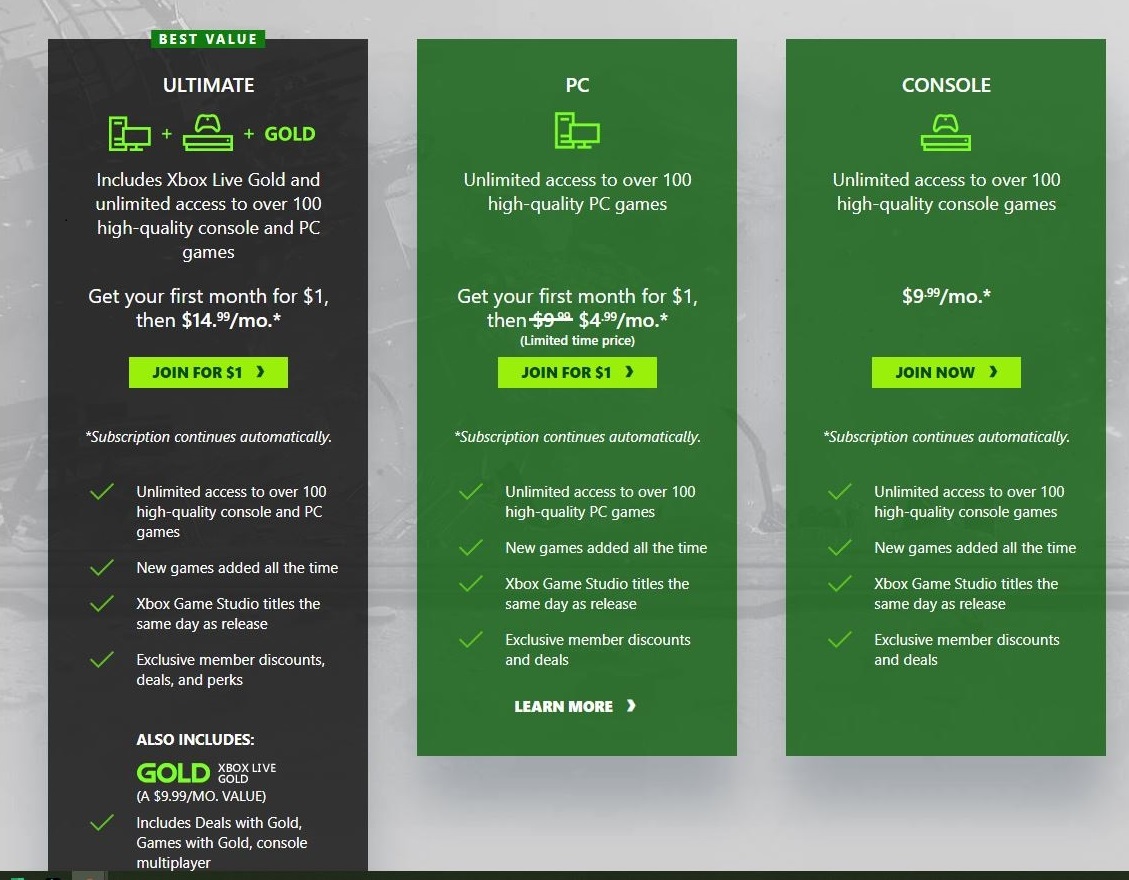 Game Pass Could Be Microsoft's Secret Weapon
On Thursday July 23, Microsoft finally revealed some key titles for the upcoming Xbox Series X via its online Xbox Games Showcase. The lineup looks solid, but the most notable feature seems to be the Xbox Game Pass service. The irony for Microsoft is that this service does not necessarily require a consumer to own the upcoming Xbox system.
Game Pass is a subscription service that allows subscribers to play over 100 high-end games. The cost is $5 a month for PC game access, $10 a month for access to Xbox console games and $15 a month for Ultimate which includes both PC and console games. The $15 also includes Xbox Live Gold and the upcoming Project xCloud streaming service.
The beauty of Game Pass is it is NOT a game streaming service. However, for those that can not afford high-end hardware it can include a streaming service when xCloud launches this fall. With Game Pass users download the games they want directly to the hard drive/storage of whatever hardware device they are using. Subscribers can play those games as long as they have a subscription. Subscribers can download as many games as they want.
The real attraction with Game Pass is the quality of the games. Every Xbox Game Studio title is available on Game Pass at launch. This includes AAA titles like Halo Infinite, Forza and the new Fable (as well as the original Fable games). There is also a nice selection of third-party titles. For example, Bungie's Destiny 2 will be coming to Game Pass this fall.
Game Pass is already a hit with Microsoft announcing over 10 million subscribers at the end of Q3 2020 on 3/31/20. This is over four times the subscription numbers for Sony's PlayStation Now game streaming service.
Clearly Microsoft is sacrificing some revenue with Game Pass. Microsoft liked to tout how Halo games earned hundreds of millions of dollars in their first day or week. Now these sales figures are likely to be buried in a Game Pass subscription.
The interesting thing to note is that Game Pass does not really require the Xbox Series X. The service works great on PC or an Xbox One. In fact, at $5 a month, Game Pass is arguably the best subscription service available for the PC.
The day before the Xbox Games Showcase, Microsoft announced its Q4 earnings for the fiscal year that ended June 30, 2020. In terms of the Xbox game business the key item was that during Q4
"Gaming revenue increased $1.3 billion or 64%, driven by growth in Xbox content and services. Xbox content and services revenue increased $1.2 billion or 65%, primarily due to record engagement, including strength from third-party titles, as stay-at-home guidelines continued. Xbox hardware revenue increased 49%, primarily due to an increase in volume of consoles sold."
Note that $1.2 billion of this growth was from content and services, not hardware. This simply underscores how Microsoft is subtly shifting its strategy away from hardware. Furthermore, most of the major game releases in the quarter were for PC including Gears Tactics, Sea of Thieves and Minecraft Dungeon (which also launched for Xbox One).
Microsoft has invested heavily in a long-term strategy. However, short-term the Xbox Series X is likely to struggle against the PlayStation 5. The Xbox brand has a devoted base that knows about features like Game Pass. Where Microsoft struggles is getting the message to the masses.
At DFC Intelligence we struggle to find testers for Xbox products who are not already Xbox converts. However, Game Pass for PC is a hit among everyone that tries it. At $5 a month it is a no-brainer. The big upgrade is the $15 a month Ultimate subscription. This will eventually allow people to play games on the cloud, so an Xbox Series X is not required.
Microsoft is clearly promoting the $5 PC tier and the $15 Ultimate subscription. The first month for these tiers is only $1. The $10 a month console only tier is full price from the start and seems to now be an afterthought.
Unlike Sony, Microsoft had clearly been planning on E3 in June to showcase their products and strategy. Microsoft struggles to get a clear message across at the best of times. The COVID-19 situation seems to have thrown a significant monkey wrench in Microsoft's plan. However, the Xbox play seems like part of a long-term strategy so it really may not matter.
Unless something major changes (a major price difference or supply challenges) the PlayStation 5 should outsell the Xbox Series X by a significant margin. The good news for Microsoft is that long-term this might not make a huge difference. While Sony may have the short-term tactical advantage, a broad multi-platform presence with a compelling subscription service may prove that Xbox comes out as the long-term winner.
For details check out the latest DFC Intelligence report forecasting the new systems. This report will be updated on a regular basis as news becomes available.