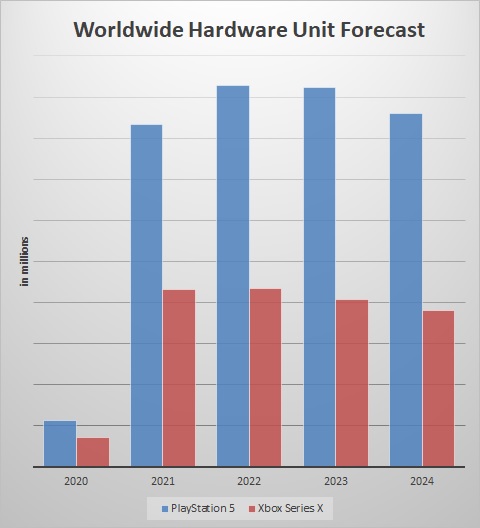 PlayStation 5 Expected to Significantly Outperform Xbox Series X
In recent months it has become clear that Sony and Microsoft are pursuing two very different strategies in the video game industry.  The likely result is that the upcoming Sony PlayStation 5 should significantly outsell the Microsoft Xbox Series X.  However, Microsoft may have the long-term winning battle plan.
The latest DFC Intelligence video game console forecasts have the PlayStation 5 outselling the Xbox Series X by a margin of 2-to-1.  The PlayStation 5 looks likely to be Sony's third 100 million unit selling console game system.
Microsoft is trying its best with Xbox Series X, but the past few months have revealed they are just too far behind Sony.  Consumer brand preference is strongly towards PlayStation.  As a piece of hardware there is nothing Xbox Series X is doing to change that perception.
Sony is also a global powerhouse in video games.  Microsoft is only strong in English speaking markets.  The Xbox has no presence in Japan and is weak in most of Europe.  Sony's strength in global consumer electronics distribution has been too much for Microsoft to overcome, even after 20 years of concerted effort.
In recent years, Microsoft has slowly been expanding its strategy to go beyond its dedicated console systems.  The company has relaunched a major PC initiative and they have partnering with companies like Samsung to get Xbox games on other devices.  It is telling that the latest news this week from Microsoft was on Samsung and Game Pass, not Xbox Series X.
Game Pass and xCloud are subscription services that are platform agnostic. As we have discussed, Game Pass is an extremely attractive service that could be a major growth driver for Microsoft.  However, Game Pass does not require an Xbox Series X.
The big challenge is getting consumers aware of Game Pass.  Recently many observers noticed that some Game Pass branding did not include the Xbox name.  Casual observers are generally not aware that Game Pass does not require an Xbox console system.
Meanwhile, Sony has focused on sticking to what it does best, delivering and distributing high-end consumer electronic products and entertainment.  The PlayStation 5 may not be inspiring in the way the Nintendo Switch was, but it is a solid addition to an established and loved product line.  Sony is not taking any risks and that is likely to lead to strong sales for the system.
Long-term Microsoft's strategy may be a winner.  The Xbox Series X should have decent sales to the solid core of Xbox fans.  However, the video game audience has become much broader than the core console audience Microsoft, Nintendo and Sony have fought after for years.  Microsoft has often talked about attracting a billion games in a market where even the most successful console system tops out at the 100 millon mark.
Sony is not the flashy company it was back in the high-flying days of the first two PlayStation systems.  Ambitions have been scaled back and Sony focuses on short-term sales, not long-term vision.  Sony has many worker ants focused on getting products through sales channels and that should serve them well for the PlayStation 5.
There is limited competition in the high-end video game space.  Companies like Amazon, Apple, Google and Samsung have not proven to be serious competitors.  This opens up space for Microsoft to find a middle ground that bridges a diverse audience base.  In that regards Nintendo may be a stronger competitor than Sony.
The latest forecasts are available from DFC Intelligence.  They include a full assessment of the new game systems as well as the latest updates on the impact of COVID-19.  These forecasts are regularly updated as new information becomes available.