DFC Intelligence has often discussed how video games have become a truly global phenomenon with over three billion worldwide video game consumers. Unfortunately, this is a fairly meaningless number that is used to justify unrealistic investments. In most cases, the addressable market for a specific product or company is in the tens of millions or less.
The top line number for DFC's Video Game Consumer Segmentation is indeed north of 3 billion.  This is a great number for media to quote but is meaningless without further context.  It is like quoting the number of people that watch television.
The purpose of a segmentation is to identify a total addressable market (TAM) for a specific product or company. This requires a great deal of drilling down. For example, less than 10% of the global audience (about 250 million) are in the market for high-end console or PC games.
If you drill down just to console gamers one will see that the market is not only much smaller but skewed towards North America and Europe.
Going down to individual console systems the markets become even more specific. The PlayStation 5 just announced passing the 10-million-unit sales mark. This means that is currently an upper-level ceiling for product sales on the platform. Most will be much lower. Sony announced its recent first-party exclusive PS5 releases Returnal and Ratchet & Clank: Rift Apart sold respectively 600,000 and 1.1 million units.
Many sophisticated business plans and investor reports we have seen throw around huge numbers that have no relation to a specific companies' TAM or revenue potential.  This is an absolute red flag.  The game market is already large and growing, it should be possible to address individual market segments in detail.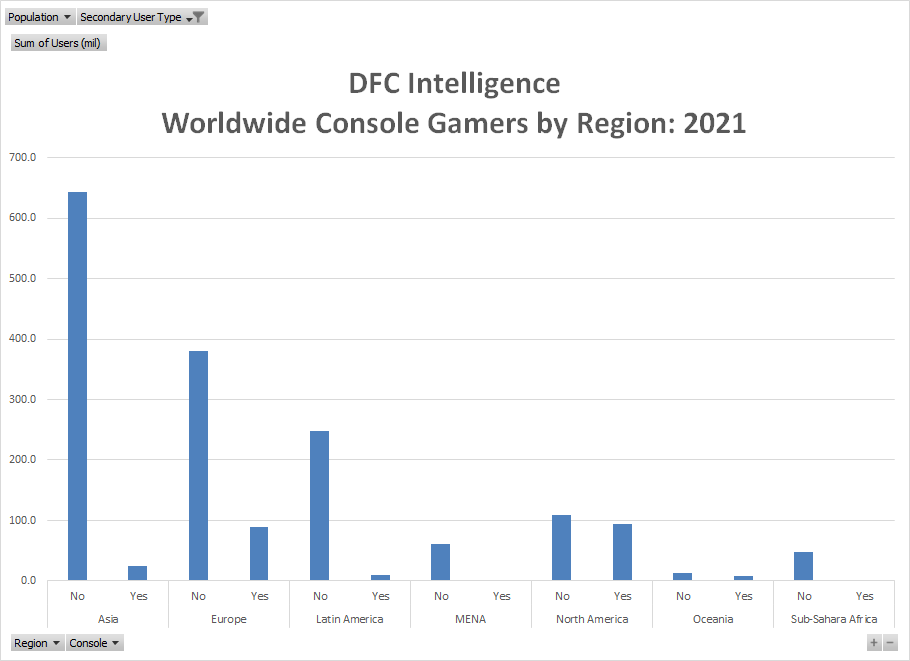 The latest Global Video Game Consumer Segmentation is part of a series of reports DFC Intelligence is releasing looking at the global game market.  The segmentation is available as a summary report or as a package with a full pivot table dataset.  Additional reports are focusing on direct comparisons between hard-core, moderate, and casual game consumers.