In the recent DFC Intelligence report The Business of Video Games, we classified Take-Two Interactive and Ubisoft as medium-sized traditional publishers.  In fact, they are two of the few remaining notable mid-size publishers focused on AAA-console games.  The companies have a similar revenue base so we thought it would be interesting to compare Ubisoft versus Take-Two Interactive.
In terms of revenue, both Take-Two Interactive, based in New York, and Ubisoft, based in Paris, are pretty similar.  In the last fiscal year, both companies had sales nearing the $2 billion range.  Ubisoft actually was higher, however, that is likely to change this year with the launch of Take-Two's Red Dead Redemption 2.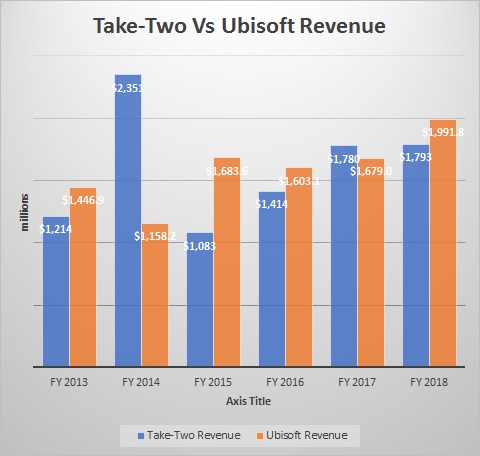 Both companies have had extremely similar runs in stock price.  After being flat for years, the stock price of Take-Two and Ubisoft are fluttering around record highs.  This is despite some steep general market declines since the summer.
However, at a current market cap of about $12 billion, Take-Two Interactive's market value is about 50% greater than Ubisoft's.  We think there is a solid reason for this disparity.  In other words, investors are not necessarily crazy.
As we discussed recently, the large AAA publishers Electronic Arts and Activision Blizzard, have trimmed back their catalog to focus on major franchises.  Investors have generally responded positively.  For years, Take-Two Interactive has had a lean lineup driven by major titles.  In contrast, Ubisoft publishes all kinds of products.  It is a more throw it at a wall and see what sticks mentality.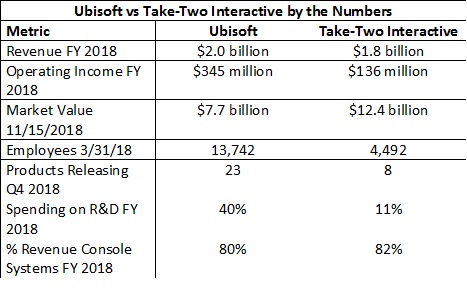 Take-Two Interactive
In today's market, investors are more rewarding of the more carefully planned product strategy.  It is pretty easy to quickly name Take-Two's products starting with Grand Theft Auto.  Beyond that the company has NBA 2K, WWE, Borderlands and Civilization.
Part of the frustration with Take-Two is that franchise releases can be few and far between.  This includes Mafia, Bioshock and of course Red Dead Redemption.  The original Red Dead launched in 2010, version 2 just launched at the end of October.
Take-Two is a hit driven company with the top 5 franchises accounting for over 90% of sales in fiscal 2018.  Grand Theft Auto alone accounted for about 40% of revenue.  This was a year when Take-Two did not even release a new Grand Theft game.
On the positive side, Take-Two is generating long-tail revenue from its core franchises.  This is a key to success and what investors are generally looking for when they ask us to evaluate a company.  We are bullish on Take-Two, in large part, because we feel they will be able to drive a similar long cycle for Red Dead Redemption 2.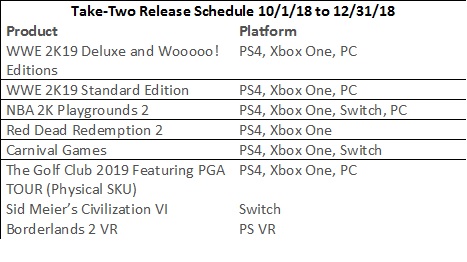 Ubisoft
By many measures it would seem Ubisoft should have the higher market valuation.  Over the past six years, Ubisoft has had significantly higher operating income than Take-Two.  Combined operating income for Ubisoft has been about $1 billion since 2013.  In the same period, Take-Two operating income has been about $378 million.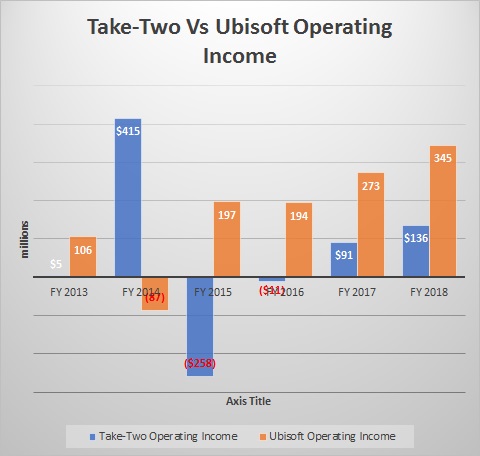 However, Ubisoft also has a great deal of bloat which could make it harder to compete in a competitive, multi-platform global market.  Ubisoft has close to 14,000 employees (13,742 at end of FY 2018).  This compares with about 4,500 for Take-Two.
Ubisoft is heavy on development with 85% of employees in development positions.  Spending on research and development was 40% of revenue in fiscal 2018, with an additional 20% on marketing.  In contrast, Take-Two spent 11% of revenue on R&D in 2018 and 14% on marketing.
Take-Two's big issue is a high-cost of goods, mainly due to payment of license fees and internal royalties.  The internal royalty payments in 2018 are a form of performance-based employee compensation that accounted for over 20% of revenue in 2018.  In contrast, Ubisoft employees only own 3.5% of the company, with the Guillemot family owning another 18%.
Ubisoft continues to expand.  In 2017 they added studios in Berlin, Bordeaux, Stockholm.  In 2018, studios in India and the Ukraine were opened.  All this means a lot of product, Ubisoft is cranking out.  The issue is that Ubisoft has been pretty much a console-focused company despite many efforts into PC and mobile.  In the last quarter ending 9/30/2018, 44% of Ubisoft revenue came from the PlayStation 4 platform.  Another 25% came from Xbox One and Nintendo Switch.
Ubisoft has some strong franchises with Assassin's Creed, For Honor, Tom, Clancy and others.  However, they tend to over publish these franchises in multiple versions for every conceivable platform.  Ubisoft was one of the only major third-party publishers for the Nintendo Switch.
Last month, Ubisoft released Starlink Battle For Atlas for console systems.  This is an expensive toys-to-life product.  It has received mixed reviews, but more importantly, this is a category that powerhouses Lego and Disney tried and abandoned.
In short, unlike other major console companies, Activision Blizzard, Electronic Arts and Take-Two, Ubisoft still has a bloated product line.  The major growth areas for Ubisoft are likely to be PC and mobile.  The problem is the track record in these spaces is not strong.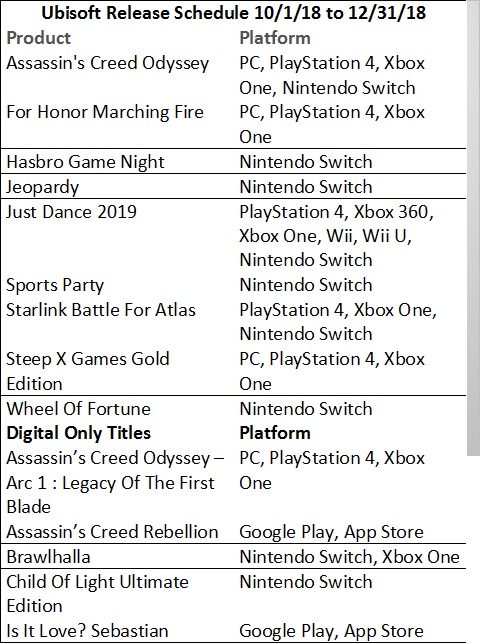 Mobile
Both Take-Two and Ubisoft have big plans for growth in mobile.  The difference is Take-Two is fairly new to mobile while Ubisoft has been in the mobile space for years.  This includes a close relationship with mobile game company Gameloft, founded by some of the Guillemot family.  The question with Ubisoft, is can they do something new that they haven't tried in the past.
For years, Ubisoft has looked to get into China.  Recently they have partnered with China giant Tencent to get their games into China.  That sounds exciting, but China has always been a tough market to crack for Western companies.
Another major mobile initiative for Ubisoft may be through acquisition.  Early in 2018 they acquired 1492 Studio, maker of the hit mobile product Is It Love?
Take-Two has never had much of a presence in mobile.  However, in 2017, they made a significant play acquiring Spain-based Social Point for $250 million.  Social Point is behind Dragon City and Monster Legend.
In the end, it is fair to say the mobile game market has by-and-large alluded both companies.  However, Ubisoft has consistently tried in this area without success.  That begs the question what has changed? On the other hand, Take-Two has a clean slate in this area.
Conclusion
Ubisoft and Take-Two are two medium-sized publishers heavily focused on the console video game market.  Until recently, both were considered acquisition candidates.  After Ubisoft fought a takeover attempt from Vivendi, they are both strong independent publishers.
However, there is a clear reason Take-Two receives a higher valuation than Ubisoft.  Ubisoft has dabbled in many markets over the years with mixed success.  Meanwhile, Take-Two's powerhouse franchises have just started to take advantage of their long-tail digital potential.