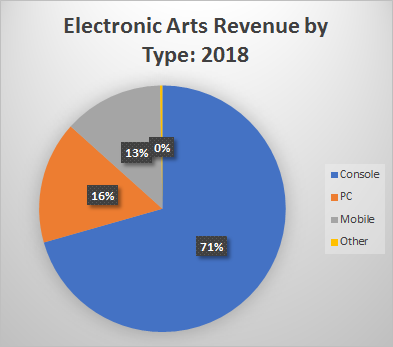 Electronic Arts and Activision Blizzard Focus on Games As A Service
The new DFC report, The Business of Video Games, looks at the gap between games as a service and traditional pay-to-play games.  As we discussed last week, these are two very different segments of the industry.  This week we are looking at how two traditional pay-to-play game companies, Electronic Arts and Activision Blizzard, are trying to move into games as a service.
As we have discussed, there is a huge difference between games as a service and pay-to-play games.  Very few products have been able to cross the divide and do both.  This has been a problem as more users play games on mobile devices.  AAA brands have not translated very well to mobile devices.
One example of a AAA title doing well on mobile is the recent success of the mobile version of NCSoft's Lineage.  However, this was already a subscription MMOG that used a games as a service model.  Most AAA pay-to-play versions earn far less on mobile devices or in any games as a service model.
The two largest pure play video game software companies are Electronic Arts and Activision Blizzard (NASDAQ: ATVI) and Electronic Arts (NASDAQ:EA).  For years these companies were basically day trading stocks with investors betting on how many units the latest Call of Duty or FIFA would sell.  This has all changed as investors are now looking at the growth potential ATVI and EA could have in games as a service.
In 2012 Electronic Arts market value was around $4 billion.  Today it is hovering at over $30 billion ($33 billion after last week's decline).  Activision Blizzard has seen even more impressive growth.  In 2012 its market value was around $10 billion.  Today it is over $60 billion.  Almost all this growth is because investors are now recognizing long-term potential in games as a service.
Of course, short-term investing still has an impact.  Electronic Arts has seen a recent stock decline as Battlefield V slips and there are concerns it will underperform.  However, these are smaller corrections.  At DFC Intelligence we receive far fewer calls from investors around individual games (Red Dead Redemption 2 being a notable exception) and many questions asking about the growth potential for games as a service.
When it comes to games as a service, Activision Blizzard is far ahead of Electronic Arts.  This is entirely because they made major purchases to buy their way in.  In 2008 they bought Blizzard in a massive transaction with Vivendi (whom they fully bought out in 2013).  In 2015 they bought King Digital Entertainment for about $6 billion.  Blizzard was the leader in PC games as a service, while King was the leader in mobile games as a service (outside Asia).
Electronic Arts has not fared so well in its much smaller investments in the space.  This included acquisitions of mobile leader Jamdat Mobile, social game provider Playfish and Popcap Games.  Nevertheless, EA continues to focus on digital games as a service.
In fiscal 2019, EA has announced only seven traditional packaged titles.  Four of these are new versions of FIFA, Madden, NHL and NBA games.  The others include Battlefield V for November and the major Anthem and Sea of Solitude titles for early 2019.  That is it.  A hot new platform like the Nintendo Switch no longer has a large enough installed base for EA to bother with.  For EA it is now all about products that can operate as what the company now calls "live services."
Electronic Arts' digital revenue growth in fiscal 2018 was almost all through live services which grew 31%.  Full game downloads and mobile games grew an anemic 7% and 5% respectively.  Meanwhile, packaged game sales fell 17% and only accounted for about one-third of revenue.
Electronic Arts now has an impressive lineup of live services that use a variety of business models.  They include:
Origin Access
EA Access
Pogo
Sims 4
Star Wars: The Old Republic
Star Wars Battlefront
Battlefield Premium Pass
Madden Ultimate Team
UFC Ultimate Team
Hockey Ultimate Team
FIFA Ultimate Team
FIFA Online
Live services generated $2 billion for Electronic Arts in fiscal 2018.  While that sounds impressive, one must consider that all these services combined made about as much as the mobile versions of NCSoft's hit Lineage franchise (mainly in South Korea).
From an investment standpoint that raises the issue of whether Electronic Arts' franchises are simply not well-suited for games as a service model.  On the other hand, it shows that there is likely untapped growth potential.
There is a reason that Activision Blizzard is now valued at almost twice Electronic Arts.  Thanks primarily to its acquisition of Blizzard and King, ATVI is far ahead of EA in games as a service.  With the King acquisition, digital revenue in 2016 grew 94%, with another 13% growth in 2017.  Mobile revenue grew an impressive 24%.  Blizzard had no major product release in 2017 but still delivered a great revenue and income stream.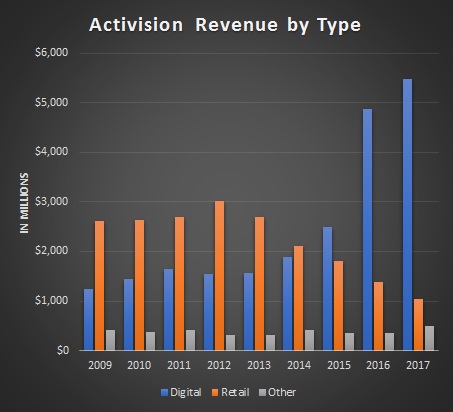 Like Electronic Arts, in the past few years Activision Blizzard has narrowed its packaged product lineup to a handful of franchises.  Namely this is Call of Duty and Destiny, as well as some reboots of the Crash Bandicoot and Spyro franchises.  Activision Blizzard revenue is now fairly well divided between console, PC and mobile platforms.  In comparison, Electronic Arts, generated 71% of revenue in fiscal 2018 from console platforms.
Investors may still fight over whether the latest Call of Duty or Battlefield will over or underperform expectations.  However, in the long-term analysis this is irrelevant to current market valuation.  The real value is how much each of the core franchises can generate in ongoing revenue, even in the absence of major new product releases.
The Business of Video Game report is available now from DFC Intelligence.
We also encourage you to check out the new video game industry segmentation that DFC Intelligence did in conjunction with Venture Beat and Atlas Technology Group. It is available on the Venture Beat website.