PC game sales soared in 2020 driven by Covid stay-at-home orders. Sales leveled off in 2021 and the latest DFC forecasts predict a slight decline in 2022. However, at $37 billion a year the PC game business is as strong as ever and is the most lucrative platform for a wide range of products. With the potential Microsoft acquisition of Activision Blizzard, a major question is whether there will be a shakeup in PC software distribution.
Steam is Distribution Powerhouse Outside Asia
There are distinct subsegments in the PC game market with the major difference being between markets in Asia and Western markets in North America and Europe. China remains the world's largest game market, but it is dominated by companies like Tencent and NetEase. Other companies like Nexon and NCsoft have done well focusing primarily on South Korea.
In Asia the primary business model is operating games as a service (GAAS) where, instead of buying up front, the consumer pays based on usage. Much of the world outside Asia focuses on a more traditional pay-to-play (P2P) distribution model. Under this distribution model Valve's Steam service is the clear leader in terms of distribution.
The rise of Steam as a powerhouse is one of the most remarkable stories in video game history. Valve was a game developer who created Steam around 2002 because they were not happy with third-party distribution services. Ironically Microsoft was one of the companies focused on PC game distribution since the 1990s.
Many companies have tried without success to compete against Steam. This includes large publishers like Electronic Arts. The most notable recent attempt is from Epic Games, the developer behind Fortnite and the Unreal Engine. Epic's main attraction is a 12% commission for developers. For consumers, Epic has offered free games on a rotating basis.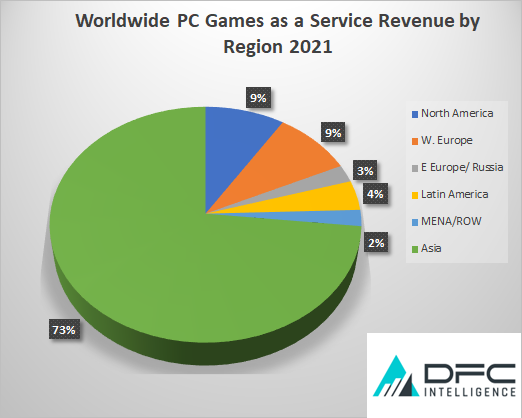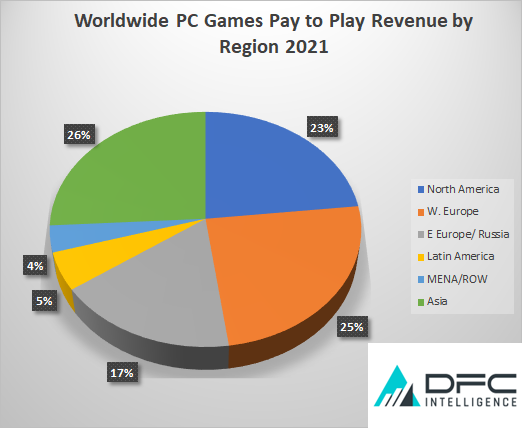 Activision Blizzard Has Its Own PC Distribution Service
Activision Blizzard has been one of the few companies that has not been reliant on Steam. Blizzard launched its Battle.net online service in 1997 and it was a major reason for the success of the company's products, most notably World of Warcraft. However, older Call of Duty (CoD) games are available on Steam. Later this month the new Call of Duty: Modern Warfare 2 will release on both Battle.net and Steam. This will be the first major CoD launch on Steam since 2017.
This leads to the question of whether Microsoft acquiring Activision Blizzard will make Microsoft a leader in PC game distribution. Of course, Microsoft is focusing on its Xbox Game Pass service as a means to build leadership in distribution. The problem with Game Pass is it has a long-term unsustainable business model focused on grabbing market share at the expense of profit.
Microsoft is giving away its new AAA launches for free to Game Pass subscribers. This is a loss leader. Other companies cannot afford to sacrifice that revenue. Microsoft can do it because they have many additional products they can sell to subscribers. If Microsoft gains a solid market share position, they can raise prices later.
Sony and Nintendo Have Competing Subscription Services
Overall, the Microsoft strategy is somewhat suspect. It is an attempt to bridge the synergy between console and PC game systems but only for consumers that also own an Xbox system. In the recent DFC consumer survey on subscription services, Nintendo and Sony's subscription services beat Game Pass. Surprisingly neither Game Pass or the promise of Microsoft owning Activision IP has yet to sway consumers. The PlayStation 5 remains the system of choice by a wide margin over the Xbox Series X/S.
Like many Japanese companies Sony and Nintendo have all but ignored the PC game market in recent years. When Sony complains about a Microsoft acquisition of Activision Blizzard as being harmful for competition the company is being somewhat disingenuous. Despite some early success, Sony pulled away from the PC game market to focus on its own proprietary distribution via PlayStation hardware. This was a major strategic blunder, but one that Sony may be able to correct.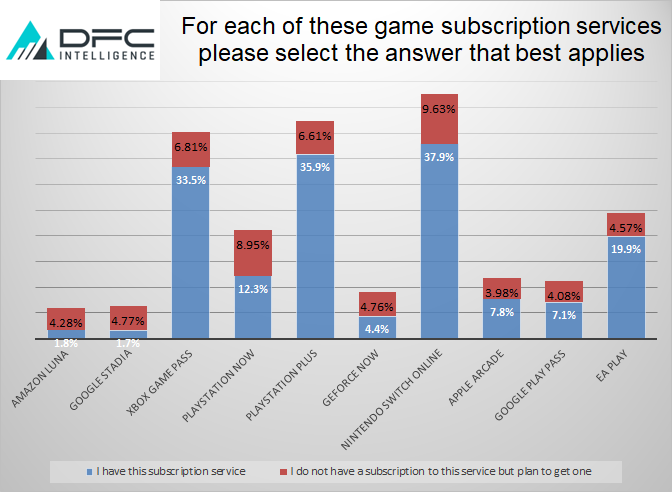 Activision Blizzard Acquisition Should Get Approved
Right now, it looks likely that the acquisition of Activision Blizzard will be approved. The big question is whether this will give Microsoft a dominant position in the game space. Surprisingly the conversation has focused mainly on the Call of Duty franchise, not King or Blizzard products. Call of Duty has a solid fan base across many platforms. Of course, under Microsoft, Call of Duty fans will naturally be driven to Xbox platforms, even when they are available for other services. However, this is a relatively small portion of game consumers. Nintendo platforms have done fine without CoD.
The bigger question is whether Microsoft will become a major player in PC game distribution outside of Asia. Once again this is by no means a certainty. Steam has been doing fine competing with Battle.net over the past 20 years. The new Overwatch 2 release was criticized but Blizzard recently announced the free-to-play game reached over 25 million players in its first 10 days. That is an impressive number, but Steam regularly has that many concurrent users at a given time.
In short, Activision Blizzard will definitely make Microsoft a much more competitive player in the overall game space. However, it is by no means assured that the company will be a dominant player. Even if Sony and the PlayStation brand go the way of the dodo, there are many companies and products that will provide Microsoft with fierce competition.
For more information on DFC Intelligence surveys and panels go here.
The latest DFC Intelligence reports on the PC game industry are available now. This includes a full report with profiles and analysis as well as forecasts that are also available individually.
The latest DFC forecasts for console game hardware and software is available now.