Going into the last part of 2022 it is looking like the Microsoft acquisition of Activision Blizzard (ATVI) will be approved. Microsoft has successfully framed the deal as a means of improving its competitive position in the PC game and console game spaces, an area where Microsoft has struggled against Valve and Sony. However, becoming more competitive in the video game business is not the primary consideration driving the acquisition.
The reality is that acquiring ATVI is not about Microsoft competing in the video game business but the ability to cross sell services across the MS ecosystem. ATVI has hundreds of millions of users, many of them on mobile devices. Access to these users will help Microsoft in its larger battle with players like Google, Apple, Meta, Amazon and large media players.
Call of Duty: Not a Must Have
If Microsoft keeps the issues focused on the core video game industry, DFC sees the deal clearing regulatory hurdles. A combined Microsoft Activision Blizzard entity would still have limited market share in a fragmented video game industry.
In recent weeks there has been talk about a Microsoft filing for New Zealand regulators in which Microsoft stated that Activision Blizzard did not have any "must have" titles for rival PC and console video game distributors. In other words, a franchise like Call of Duty is not that big a deal. However, what was most interesting about this massive document is how much of it was focused on the PC and console game spaces, and provided barely a mention of King Digital Entertainment, ATVI's mobile gaming arm.
Of course, Call of Duty is a powerhouse in the console video game space. Meanwhile, Blizzard has some great PC games that have a solid fan base. But it is easy to downplay their impact. The latest Call of Duty was disappointing. Meanwhile, Blizzard's user numbers have been declining. Furthermore, Valve has done just fine not having Blizzard products on Steam.
Video Games: The Trojan Horse Into Microsoft's World
Microsoft's Activision Blizzard acquisition supports a larger strategy of Microsoft bringing users into its realm and growing a distribution channel to provide other Microsoft products. Competing with Valve and Sony in games is a relatively minor consideration. The play instead is about Microsoft competing with larger players (Google, Amazon, Facebook/Meta, Apple, etc.) who offer far more than just gaming to subscribers.
Microsoft has a range of products for personal and business users. In the consumer space, this includes operating systems, browsers, search engines, cloud solutions, business productivity applications, and more.
A major challenge facing Microsoft is that users have increasingly moved away from Microsoft products. This is especially true for the usage of Google products like Chrome, Android, Google Drive, and the Google applications that compete with Microsoft Office. Microsoft needs a way to bring users back into the fold and games could be that Trojan horse.
Microsoft's Game Pass subscription service is really about bringing users into the Microsoft fold to promote more services. Microsoft uses Game Pass as a loss leader, bundling game titles that could sell for price points of $60+ into a $10-$15 a month service. For most companies, this would be unsustainable, but Microsoft requires Game Pass users to go through the Microsoft ecosystem. The value of having a user in the Microsoft system is much higher for Microsoft than it is for competing video game companies.
This approach is not without downsides and frustration for users. Game Pass likes to adjust PC settings to favor Microsoft services. In our experience, the most insidious has been the Microsoft OneDrive storage service, which can be an IT nightmare. While savvy users can figure out how to turn it off, there are all kinds of ways it can accidentally be re-engaged
.

Game Pass is one way to get forced into OneDrive. At DFC Intelligence all corporate accounts can NOT use Game Pass. Game Pass needs to be installed on a separate PC with a separate Microsoft user account. This rule comes from several experiences with OneDrive causing problems after it was thought to be disabled.
The main question is not whether a Microsoft acquisition of Activision Blizzard would result in reduced competition. Instead, it is does the larger Microsoft strategy make sense in the long term?
Will the Microsoft Strategy Work?
Based on experience Microsoft's approach is questionable. If Game Pass continues its intrusive methods either consumers will balk, or perhaps regulators will step in. Businesses that have used Microsoft products and services for years may look for other alternatives due to concerns over security. Having a large percentage of employees playing Microsoft games could be a massive IT challenge.
As for why Microsoft would be willing to pay $70 billion for Activision Blizzard? When the deal was announced ATVI was reporting 371 million monthly active users. By August 2022 this number was down to 361 million monthly active users. However, the majority of these users are for the King mobile gaming products (240 million). The Blizzard and Activision divisions are not only significantly smaller in numbers but have seen users and revenue decline for PC and console.
It has only been with the release of mobile products that the Activision and Blizzard divisions have seen a significant increase in user numbers. When Call of Duty Mobile launched in late 2019, the Activision division saw its monthly active users soar from 36 million in the third quarter to 128 million in the fourth quarter.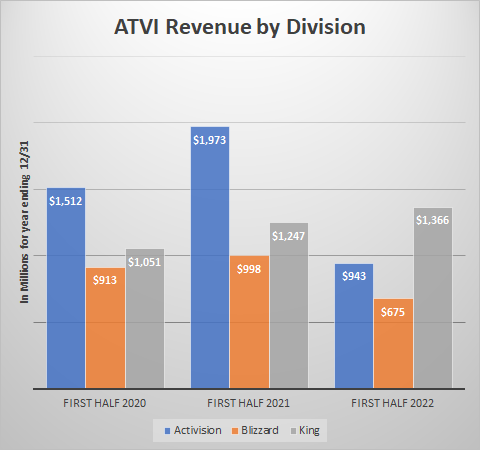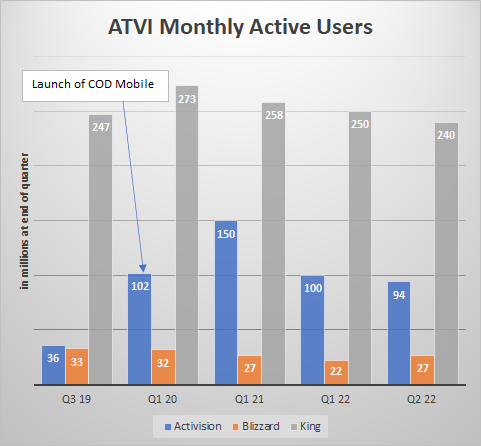 DFC views Activision Blizzard as a flawed company that desperately needed to be acquired. Aside from the scandals, many Activision Blizzard products appear to have naturally peaked with limited new IP on the horizon. Microsoft is paying what appears to be a premium but is, in fact, acquitting hundreds of millions of consumers for $190 per user. In an age of accelerated spending to acquire and retain users this is actually a good deal. However, it by no means guarantees success for Microsoft's larger strategy.
The Deal Should Be Approved But Don't Bet On It
Microsoft has framed the competitive issue as being about the PC and console video game space. This is an area where both Microsoft and ATVI are seeing declines. Meanwhile, rumors have been all over about a large player stepping in to buy ATVI competitor Electronic Arts. Given this environment it seems like the merger will be approved.
One outstanding issue with the Microsoft acquisition is if regulators will impose any restrictions such as requiring Microsoft to setup a Chinese Wall between Game Pass and other Microsoft services. If restrictions are imposed the question would become will Microsoft accept the restrictions or walk away from the deal. ATVI stock has been mostly flat since the deal was announced and that makes sense. There is only a 10-15% upside if the deal goes through versus a likely collapse for ATVI if things fall through. We expect it will go through but would not take that bet.
DFC Intelligence is your go to research partner for video gaming industry analysis. Our studies and Executive Briefs provide top-shelf market analysis and forecasts of the video gaming market for customers throughout the video gaming landscape.
For more information on DFC Intelligence surveys and panels go here.
The latest DFC forecasts for console game hardware and software is available now.