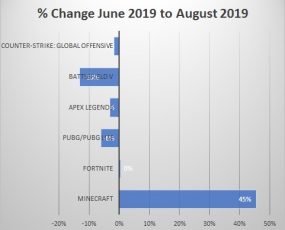 Minecraft Popularity Continues to Soar
September 4, 2019
Throughout 2019, DFC Intelligence has noted how Minecraft was making a major comeback among the school-age audience.  This was after a slow period of general decline with the Microsoft purchase...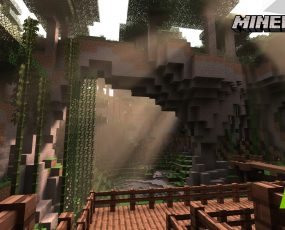 Will Minecraft RTX Drive Hardware Sales?
August 20, 2019
Minecraft is one of the most popular video games of all-time.  It is also decidedly low-tech and noted for its blocky graphics.  However, that may be changing as Minecraft looks... Video Game Violence a Non-Issue in Today's Society
August 13, 2019
With tragic mass shootings in El Paso, Texas and Dayton, Ohio the issue of the link between video games and violence has once again reared its head.  The good news...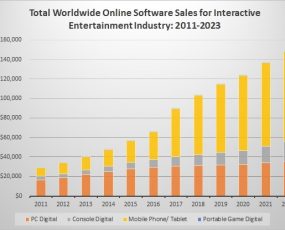 DFC Intelligence Forecasts Global Video Game Market Spending to Reach $250 Billion in 2023
July 10, 2019
SAN DIEGO, CALIF. – Video Game Industry analyst firm DFC Intelligence has issued its latest forecast for the global video game market that increases its overall outlook for the market. ...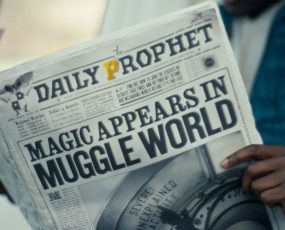 Is Harry Potter: Wizards Unite the Next Pokemon Go?
June 25, 2019
On summer solstice, the highly anticipated mobile game Harry Potter: Wizards Unite was released for Android and iOS devices.  This game is from Niantic makers of Pokemon Go, one of...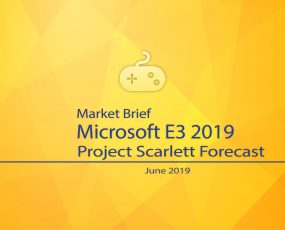 Microsoft Announces New Project Scarlett Game Console
June 13, 2019
On June 9, 2019, Microsoft held its annual E3 press conference.  The company announced some new product plans and confirmed the launch of a new console system in late 2020. ...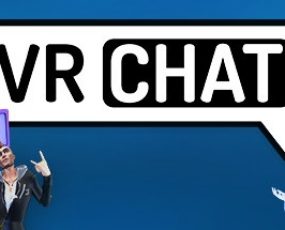 VRChat is Driving Increased Interest in Virtual Reality.
May 29, 2019
Virtual reality was all the rage in 2016.  New systems were launching, and the media was describing VR as the next big thing.  The actual reality hit pretty quickly, and...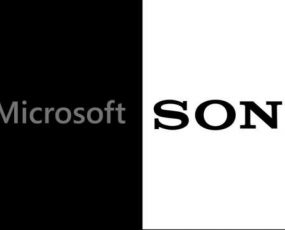 Will it be Sony and Microsoft versus Google and Amazon?
May 21, 2019
Last week many industry observers were surprised when Sony and Microsoft announced a deal to work together on cloud games/AI and other technology.  This deal was done at the highest...