Video game consumers are a demanding audience. Gamers now pay top dollar for premium hardware accessories including keyboards, headsets, controllers, mice and even mousepads.
The market for high-end video game accessories continues to grow at a rapid pace.  After strong growth in 2020 and 2021, there was a downturn in 2022.  However, the new DFC Intelligence forecast predicts the game accessories market will reach a record $11.9 billion in 2023 and grow to over $15 billion by 2026.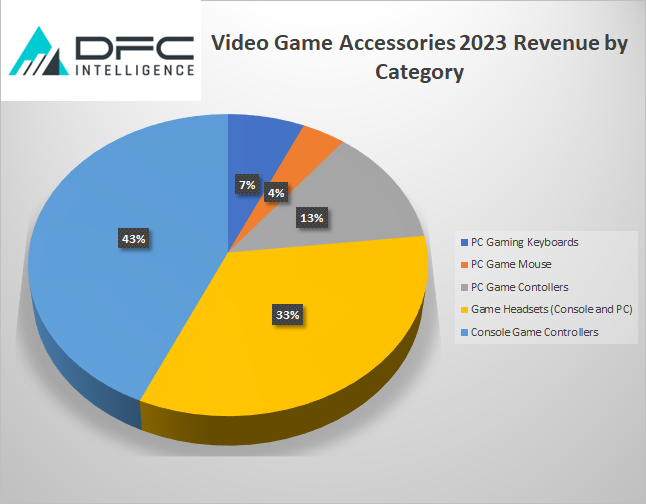 In the past, the game accessories market was flooded with cheap products, often manufactured and designed from the same place with price and packaging as the main distinguishing feature. This strategy no longer works with sophisticated gamers.
Video gamers are discerning when it comes to accessories. In DFC consumer surveys of gamers, several brands stand out as being noted for their quality. Among these brands is the small Danish company SteelSeries.
SteelSeries got its start developing mousepads for esports professionals. Since that time, the company has gone on to develop a wide range of high-end game accessories, most notably its Arctis line of headsets.
In 2021. SteelSeries was acquired by GN Store Nord, another company based in Denmark. GN Store Nord, originated in the 1800s and in 2019 made a short history video Making Life Sound Better for 150 Years to celebrate its anniversary.
Today GN Store Nord has over $2.5 billion in annual revenue and specializes in medical hearing aids and headsets and speakerphones for the enterprise market. The SteelSeries acquisition makes GN Store Nord an emerging player in the video game audio market.
Like most game accessories manufacturers, SteelSeries saw its revenue decline in 2022. However, in the first quarter of 2023, revenue was up 20% and the company appears poised to ride the wave of growth in high-end game accessories.
To better understand the market opportunity, DFC Intelligence spoke with M. Ehtisham Rabbani, the CEO of SteelSeries since 2014.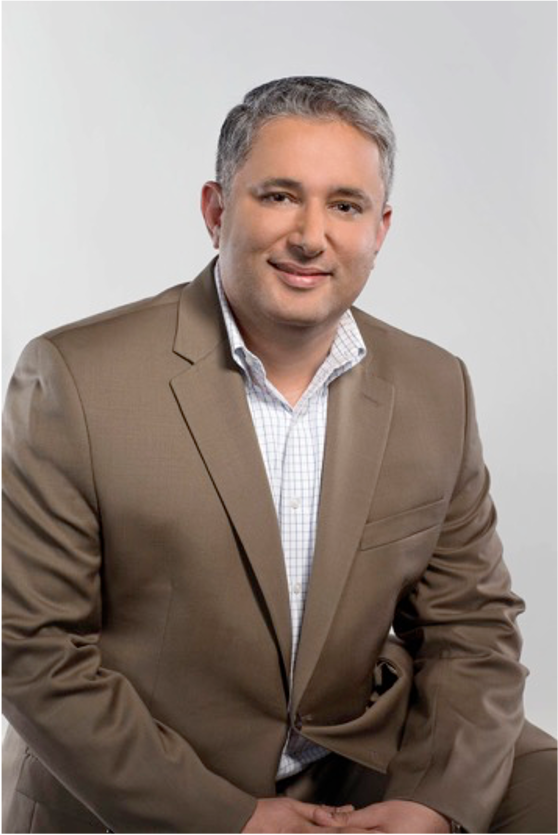 Can you give a little information about your background and your history with SteelSeries?
I am a lifelong gamer. I have had worked in some amazing consumer goods and electronics companies. But the greatest honor of my career has been in leading SteelSeries for over 8 years. We are a small company, taking on giants that are so much bigger than us. We use that to our advantage. Our ability to be close to gamers, to understand their needs better than anyone else and to innovate has made us the small brand that could. I am excited about the bright future ahead for SteelSeries.
SteelSeries is a Danish-based company that I believe got its start doing mouse pads for early esports and competitive gaming. Is that correct? How do you differentiate a mouse pad?
Our roots indeed began in Denmark making the very first mousepads for gamers, namely the Icemat (glass) and Steelpad (metal). At that time mice used a ball for tracking, so the mousepads helped keep dust and other debris from collecting on the ball and slowing down the mouse while playing. This gave esports professionals the edge they needed to win. The mousepads were so popular amongst gamers that the company name was changed from Soft Trading to SteelSeries in 2007, and we haven't looked back since. Over the years we have continued to innovate and distinguish ourselves in the category to continue to help gamers compete at the highest levels of play, everything from new materials for better speed or control, sizes that span from small enough to fit in a backpack to covering an entire desktop, and RGB illumination to complete their battle station. Our QcK mousepads lead the industry because of their washable durability, non-slip base, and micro-woven cloth optimized for low and high CPI mouse tracking.
Can you walk us through some of the major SteelSeries product lines and your overall position in each area? Headsets, mice, keyboards, controllers, are all areas we can assume are much bigger than mouse pads!
SteelSeries also made the world's first gaming headset back in 2004 with the Siberia V1. We understood what gamers needed from their audio devices, including positional audio, built-in microphones, the suspended headband for comfort, and so much more. Today, our Arctis line of headsets are our flagship product line with the next generation of Arctis Nova headsets. We are the number one brand in premium gaming audio globally (headsets $100+). We are also a leading brand for keyboards, mice, controllers, and controller enhancements. But we consider audio our foundation because it extends into every gaming platform, whether it be PC, console, or mobile. We recently boosted our audio line-up by launching our Arena speakers, which have quickly become the gold standard for gaming. Rolling Stone magazine recently named both our Arctis Nova Pro and Arena speakers as best in gaming. This is humbling and drives us to innovate even harder.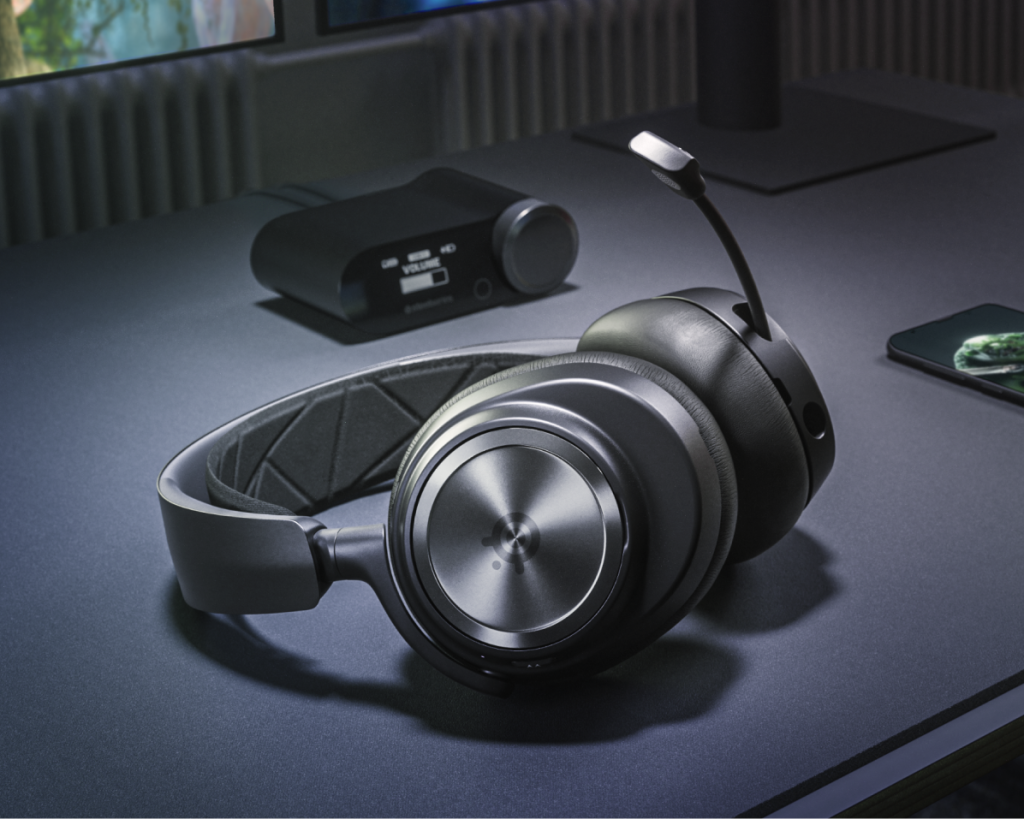 Obviously with the growth of esports SteelSeries saw its reputation soar as professional gamers started to use your gear. I assume the esports audience is still huge for you, but can you expand beyond that to reach a more general audience? In other words, can you use your success in esports to expand to a broader audience? What strategies will you follow?
Esports athletes have won more prize money using SteelSeries products than any other brand, which is something we take great pride in! The esports audience growth was somewhat stunted during the pandemic, as large international events were cancelled coupled with esports not having the established media rights to fall back on like traditional sports. However, esports viewership is back on the rise, and the esports audience remains a key target market for SteelSeries. Esports viewers have higher budgets for their own gaming peripherals and are very demanding/vocal regarding the products they play with, making them very influential for all gamers. Every SteelSeries product is made with esports athletes in mind to better help them compete when they play, so if it's good enough for them it's good enough for general players as well.
What makes SteelSeries products unique? Aren't many accessories manufactured in the same place, with the same components? How much are you differentiating on features and vs other brands? How much custom design and engineering goes into your products?
We do not sell "off-the-shelf" products like many of our competitors offer. SteelSeries' products begin at the ideation stage, solving real problems and pain points gamers face when they play. Afterwards, these new product concepts are thoroughly vetted with the gaming community, and then refined and optimized. All our designs are made by us, using our Danish heritage. This includes everything from the aesthetic and functional design to the components within each product. We have moved towards creating our own innovation to better give SteelSeries a leg-up on the competition. For example, Cherry MX switches were once considered the "gold standard" in gaming keyboards, but with our Apex Pro line we developed our own OmniPoint switches that are not only faster but allow gamers to adjust their actuation point to customize their keystrokes towards their own preferences. In addition, our proprietary GG software, which was fully developed in-house, gives gamers unmatched control. Today, we are both a software and hardware company.
In the recent DFC consumer survey on accessories, Logitech dominated in terms of what mice and keyboards consumers own now but SteelSeries ranked higher in future purchase intent.  Do you see this an indication that consumers are aspiring to own more premium gear?  Sort of like owning a Hyundai but planning to upgrade to a BMW.
We certainly see that gamers trend to trade-up to SteelSeries as they continue their path in their gaming journey. Many gamers start playing on another platform when they are younger, so when they start to play they are often using products that were meant for productivity (i.e. work or school) or more basic products. As they mature and become more discerning in their peripheral preferences, the SteelSeries brand becomes a part of their evoked set because of our innovation and superior performance. Consumers reward us for this by paying more for our products. We work hard to earn our premium position in the market.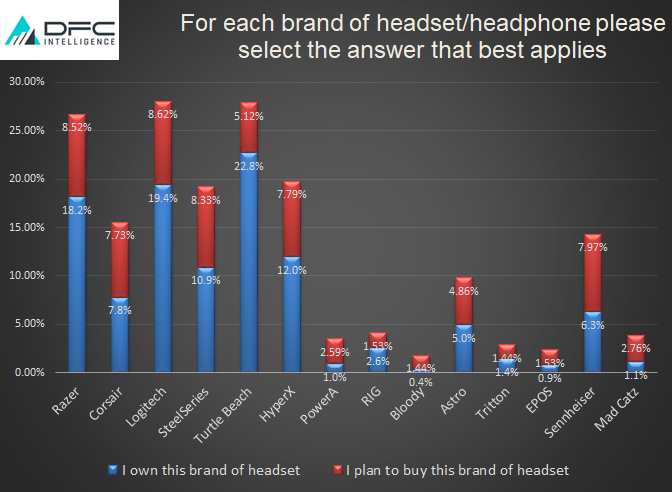 Taking the recent DFC survey as an example, we were surprised at how many consumers looking to buy a game mouse cared about issues like weight customization, lift off distance, angle snapping etc. The same goes with keyboards which now have many specific features. Is that something that is just for the esports professional or is the mass market game consumer really paying attention to those features?
Product feature importance extends beyond just esports, as competitive gaming is only a piece to the puzzle. For example, there really is not a competitive MMORPG esports scene, but that's not to say players of the genre are not paying attention to peripheral features when making their purchase decision. They tend to have longer gaming sessions, so comfort and lightweight peripherals are paramount, which makes the SteelSeries Aerox 9 Wireless an ideal solution. Whereas FPS players would be more likely to opt for our Aerox 3 Wireless for faster flick shots; both these consumers desire lightweight mice but for very different reasons. There is a strong correlation with peripheral budgets and importance of features, so as a premium brand this is something we have to be very cognizant of. Moreover, casual gamers often look to friends and family for advice when purchasing their peripherals, which ties into our approach of winning over the esports audience, the most ardent gamers, and other influential target groups.
From your perspective, how important do mass market consumers view detailed features in products like gaming mice, keyboards headsets etc? Obviously, there are the core esports and hardware junkies that are all over features but what are you seeing in terms if how much the average gamer is starting to appreciate the specific features?
Akin to my previous response, mass market consumers tend to have lower peripheral budgets and are less likely to research features and their benefits, so they are not SteelSeries' target market per se. However, we reach them indirectly by targeting the most influential groups (e.g. esports athletes, core gamers, hardware enthusiasts, etc.) who advocate for the SteelSeries brand, so if we get the feature set right eventually we will win over the average gamer as well even if features are not directly tied to their own purchase intent.
SteelSeries was acquired recently by GN Store Nord, a Danish company known for their audio products. How has that impacted SteelSeries from a business perspective? I believe you are based in Chicago while SteelSeries and its new owner are both in Denmark. How does that impact decision making on a practical level? We always here a great deal about the quality of Danish design. Is that still the case with SteelSeries?
While the GN acquisition has led to optimization and synergies from an operational standpoint (e.g., purchasing power), we remain our own independent brand and company. SteelSeries has over 400 employees located all over the world, with offices in Chicago, Taiwan, Lille, Singapore, as well as Copenhagen. The GN acquisition has not changed our strategy, the way we work with one another or our own decision making processes. We love our colleagues in Copenhagen, there are just a few more of them now! GN is well-known for its sound processing ability, which we will be utilizing in SteelSeries over the coming years to drive even stronger experiences for our customers, and then I'm certain that we in SteelSeries will add further benefits to the wider GN group with our strong knowledge about consumers.
Your Arctis Nova line of gaming headsets is highly respected. Can we expect an even bigger push into gaming audio products considering the background of GN Store Nord?
While we are currently the #1 brand in premium gaming audio globally, our goal is to become the overall best selling gaming audio brand. In order to accomplish this we are extending our offerings beyond the traditional over-the-ear headsets, as can be seen with our highly regarded new line of Arena Gaming Speakers. GN has over a century of experience in the audio industry, with brands ranging from healthcare to enterprise, so of course we are leveraging that knowledge and how it can apply to gaming products.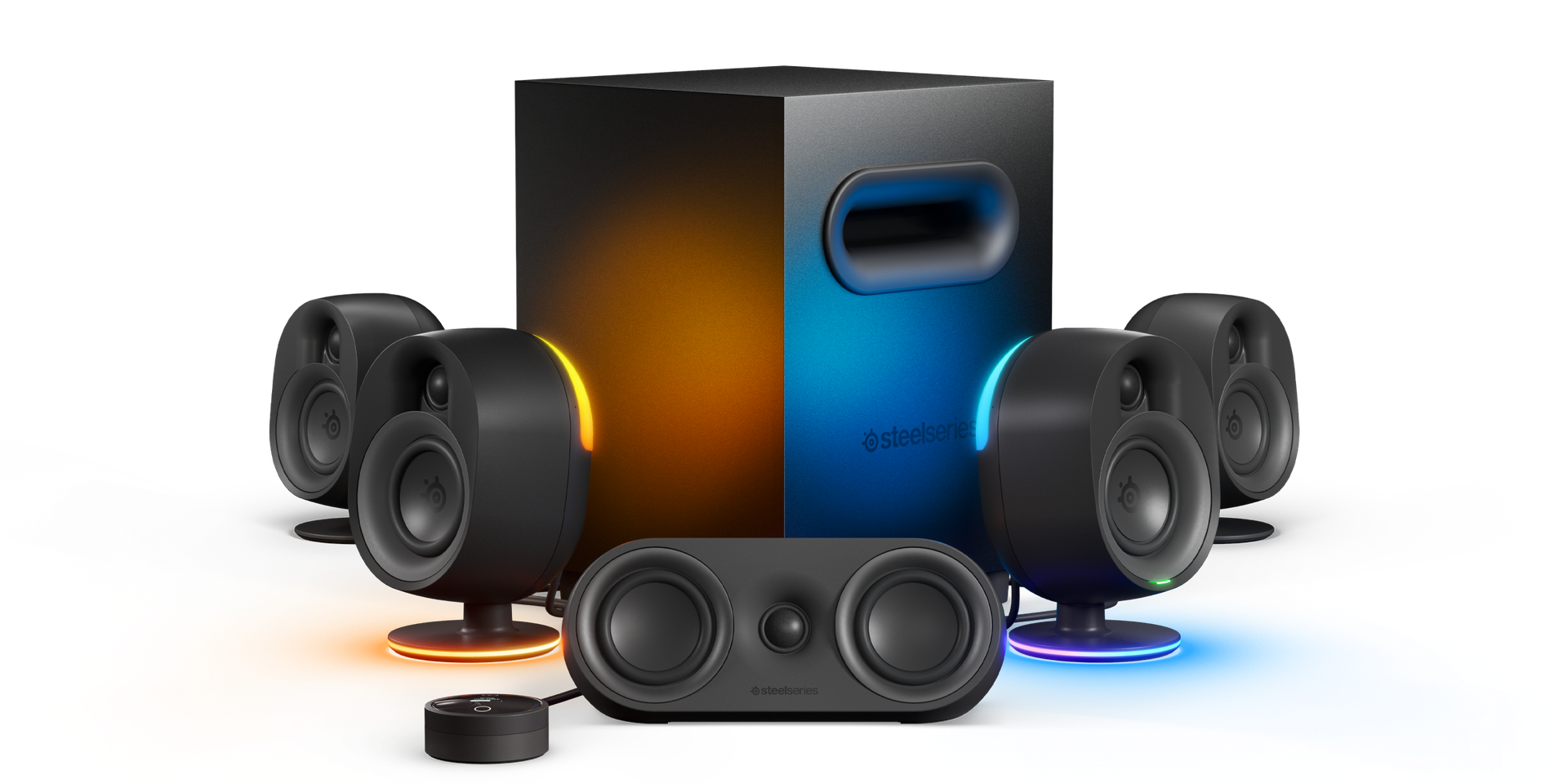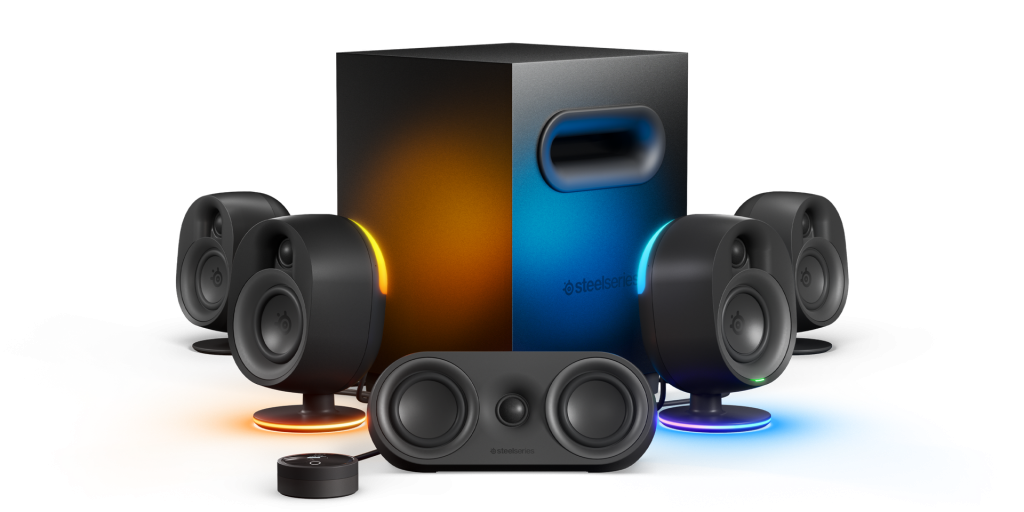 SteelSeries has talked about Hi-Res Audio and other innovations in gaming audio. Can you speak more about that? How concerned are mass market gamers with audio? How is that growing? In our research we have found that it can be hard for general consumers to appreciate high-end audio features. Is that changing?
Overall, all gamers look for three basic features when purchasing their headset: comfort, microphone clarity, and audio quality. Wireless connectivity is also important in Westen markets and for console gamers, and quickly gaining as a purchase driver worldwide. Therefore, all headsets we offer must excel at these basic features, but we know that gamers with the highest budgets are even more demanding. Our 5Hv2 headset was commonly referred to as "the cheater headset" because esports athletes could hear their opponent's footsteps and identify where they were located at on the map (i.e., there was no sneaking up on someone wearing a SteelSeries headset). Building off that legacy, we began offering Hi-Resolution Audio with our Arctis Pro + GameDAC headset, but admittedly have found out that many gamers do not fully understand the feature and some of our competitors are able to make similar claims without delivering on the actual audio quality. The key is to anchor the Hi-Res Audio feature in the benefits it provides gamers instead of focusing on the technical details, such as a more immersive experience when exploring new worlds or the footstep example previously mentioned. Moreover, we've moved beyond hardware centric audio features to something others cannot duplicate or trick gamers into believing. With SteelSeries Sonar software we are pushing the envelope with what is capable in gaming audio, giving gamers a powerful new tool to complement our award winning Arctis Nova headsets.
You also acquired KontrolFreek, best known for high-quality video game console accessories. How does this acquisition play into SteelSeries overall strategy? Do you see more cross-platform gaming in the future? Are there plans to incorporate the SteelSeries brand with KontrolFreek or will they be kept separate?
SteelSeries already offers a number of console audio products, including the best-selling premium PlayStation and Xbox headsets, so adding KontrolFreek to the family is a natural fit. KontrolFreek will remain its own brand and continue to be #1 in the controller enhancement space, while also offering opportunities to enhance SteelSeries products as well. Cross-platform gaming is already here, with cloud gaming also gaining traction eventually making the platform lines go from blurry to non-existent. This is very much a part of our overall larger strategy moving forward, for both brands, as eventually the only difference in gamers' experience in play with be their internet connectivity and the peripherals they are using.
The overall accessories and hardware business had a major downturn in recent quarters. How did that impact SteelSeries? What signs, if any, do you see for improvement in 2023 and beyond? Are we due for major growth or did we just see a short-term bubble driven by COVID stay-at-home orders?
The gaming peripheral market exhibited unprecedented growth in 2020 and 2021, so a natural correction in 2022 was expected. SteelSeries annual revenues also declined last year, but we gained a considerable amount of market share across all the categories we compete in as premium peripheral price bands are not as impacted by market downturns. Gaming itself has not waned since the lockdown measures have eased; engagement is higher than ever as gaming has become the top form of entertainment worldwide (larger than the movie and television industries combined). Understanding product replacement cycles, the increased availability of the 9th generation console systems, and AAA game titles finally making it to market, we are very bullish on the future of gaming peripherals.
What is the refresh cycle like for premium products? For example, if I spend $100 on a mouse, $200+ each on a keyboard or headset how long should I expect that to last? Assuming your customers are brand loyal how much repeat business can you expect and how does it vary by category? For example, we buy a lot more headsets than mice or keyboards.
Our research shows that on average gamers replace their peripherals about every two to three years, the exception being mousepads that get dirty or wear at a faster rate. Budget peripheral buyers try to extend the life of their gear a little longer, as they also over-index on durability as a purchase driver. Conversely, premium buyers replace their peripherals at the fastest rate, often opting for the latest technology and features even when their current set-up is in good working order. As the premium brand in gaming peripherals, this benefits SteelSeries. Brand loyalty varies greatly by region in the peripheral space, as well as by category (e.g., if a gamer owns a mouse, they are more likely to own a mousepad from the same brand, as well as keyboards to a lesser extent).
What are your favorite games as a consumer? Do you even have time to play games? One thing we find is adults will spend all kinds of money on high-end game gear but they never have time to actually play games!
I have been a gamer as long as I can remember. I was given a Magnavox console as a kid, and it opened a whole new world for me. I quickly tired of the games on those early consoles and figure out how to write me own games. Which is what led me to getting a degree in Computer Science. I love RTS and RPG games. The Age of Empires franchise is probably my all-time favorite. These days, I don't get as much time to game as I would like. But I do turn to gaming when I need to relax or blow off steam. This is probably the best advice I can give professionals today – find the gamer in you!