For several years DFC Intelligence has forecasted that PlayStation systems will continue to outperform Xbox systems by a significant margin. During 2021 there was some suggestion that interest in the Xbox Series X/S would increase with the Game Pass service and new exclusives like Halo Infinite and Forza Horizon 5. However, the latest DFC survey shows that consumers are still leaning heavily towards PlayStation and Nintendo systems.
In a detailed survey conducted in October/November the DFC Intelligence video game console panel members continue to show a significant preference for the PlayStation 5 over the Xbox Series X/S. This is despite the fact that consumers rate the online services and current game library for the Xbox Series X/S higher than the PlayStation 5.
The results are somewhat surprising given that in most aspects consumers rate the systems as fairly similar. The PlayStation 5's main advantage is higher perceived graphics and power, versus the higher rated library and online services for Xbox.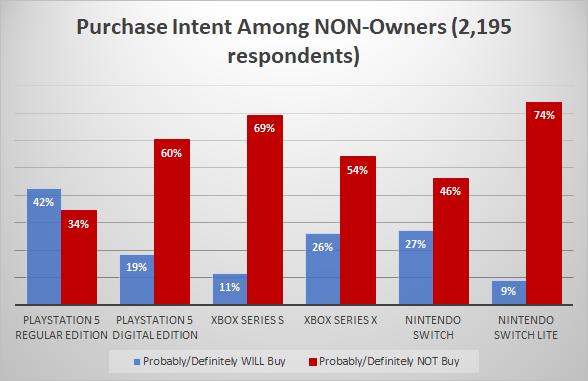 Nevertheless, 54% of consumers that do not yet own an Xbox Series X said they would probably/definitely NOT buy one, versus only 34% of consumers that would not buy a PlayStation 5 (Regular Edition). Among non-Xbox Series X owners 26% said they probably/definitely WOULD buy the system, substantially less than the 42% that probably will buy a PlayStation 5 regular edition.
An interesting note is that both the lower cost editions of the PlayStation 5 and the Xbox Series S ranked low. The Xbox Series S ranked particularly low with 69% saying they would not buy versus only 11% saying they would buy the system.
DFC Intelligence has been critical of Microsoft for launching the underpowered Xbox Series S. Much of this is from the continued consumer desire to have the most powerful system. The lack of interest in digital only console systems seems to fly in the face of the number one feature consumers consider: price. However, graphics and being the most powerful system rank almost as high for consumers.
When it comes to price the Nintendo Switch leads the way in consumer perception by a large margin. The Switch falls behind when it comes to perception of graphics, power, and online services but leads in the major areas of price and game library.
Overall, the Switch leads the way with 60% of respondents already owning the system and 27% of non-owners planning to buy a Switch. Once again, the lower-priced, lower powered Switch Lite does extremely poorly in rankings.
Arguably the biggest issue Microsoft faces with the Xbox is the lukewarm desire for online services. Online services, VR and a cool looking system were the lowest rated feature among consumers. Price, power and great games continue to be the main driving factor.
Among interest in new and upcoming games, Xbox exclusive racing game Forza Horizon 5 had a similar rating as Sony's exclusive Gran Turismo 7. PlayStation 5 exclusive Horizon Forbidden West had similar consumer interest to Xbox exclusive Halo Infinite. However, the biggest consumer interest was in God of War: Ragnarok (Sony exclusive) and a Zelda Breath of the Wild sequel (Nintendo).
One of the most interesting aspects of these surveys is DFC Intelligence asks its panel for a detailed assessment of each major player. With over 1,400 comments for each of the console manufactuers consumers had a great deal to say. Microsoft received all kinds of positive comments about Game Pass. However, there were comments about not needing new Xbox hardware because Game Pass is available on PC.
These consumer surveys are important because they provide an indication of consumer interest. Based on these latest results, DFC is not changing its current forecasts for the console systems. Given that this survey was conducted in the U.S., where Xbox is strongest, DFC expects the PlayStation 5 to have a healthy sales lead in 2022.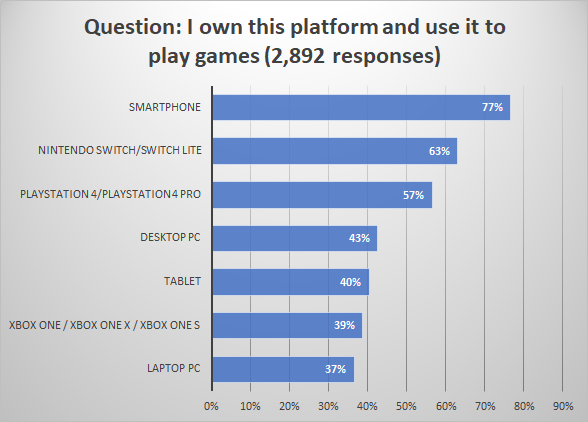 DFC Intelligence is your go to research partner for video gaming industry analysis. Our studies and Executive Briefs provide top shelf market analysis and forecasts of the video gaming market for customers throughout the video gaming landscape.