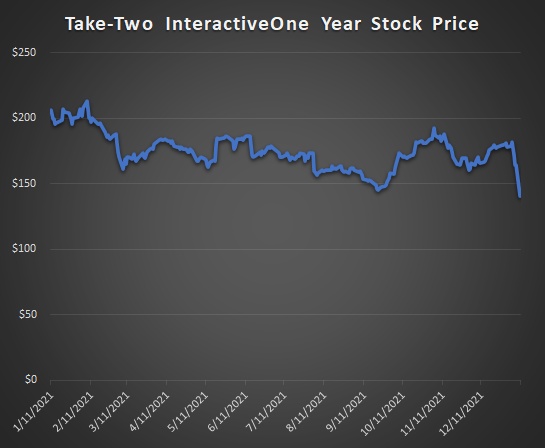 One week into 2022 we have our first major video game acquisition as Take-Two Interactive (NASDAQ: TTWO) intends to acquire mobile game publisher Zynga (NASDAQ: ZNGA). The acquisition will be another attempt by a console game publisher to enter the mobile game space.

The big three North America console video game publishers, Electronic Arts (NASDAQ: EA), Activision Blizzard (NASDAQ: ATVI) have struggled to expand into mobile games. Almost all growth has been via acquiring existing mobile publishers. In 2016 Activision Blizzard acquired mobile game leader King Digital for $6 billion. Last year Electronic Arts acquired Glu Mobile for $2.4 billion after having acquired early mobile pioneer Jamdat Mobile in 2006.The Take-Two/Zynga deal is the largest yet at an initial valuation of over $12 billion (final valuation is dependent on Take-Two stock price). The question for investors is what does this mean for Take-Two's long-term outlook?

In DFC's October 2021 investor presentation, we noted that Take-Two was looking to expand into mobile games with the comment that we thought it was a distraction to its core business. Investors seem to share this initial reaction as Zynga stock was down nearly 15% immediately after the deal was announced on January 10th.

The mobile game space exists as an almost entirely separate entity than the core video game business. Executives at large game companies hear how large the mobile business is and feel pressured to enter the space. However, synergies between the two areas remain limited.

Through its early acquisition of Jamdat, Electronic Arts had the potential to be a leader in mobile games. However, EA's mobile revenue remained stagnant even as the space exploded with the growth of Apple and smartphones.

Activision arguably got a great deal acquiring King for $6 billion. Candy Crush Saga has remained a consistent earner. However monthly active users for King has declined from 550 million users in 2015 to 245 million users in its last reported quarter.

In short, mobile games can make money but they do not necessarily help grow a core game business. The problem the big three North American console publishers face is that they are threatened with losing control of distribution. Electronic Arts, Activision Blizzard and Take-Two all owe their success to building relationships with physical retailers in the 1990s.

In recent years, the focus of the console publishers has been on digital delivery of their core franchises. This has largely been a success and stock prices rose significantly the past five years with a major bump during COVID. Unfortunately, the console business has hardware shortages that currently limit the installed base. Meanwhile the general media reports jaw-dropping numbers for mobile games. From Nintendo to Electronic Arts companies have faced investor pressure to jump into the mobile game boom.
The size and opportunity in mobile games has been largely overstated and many companies find this out when investing in the space. Mobile games can be a cash cow but synergies with established game franchises are limited. Even with a major console/PC/mobile crossover like Epic's Fortnite the bulk of revenue came from console, not mobile.

The long-term challenge for game publishers is maintaining control of content distribution. On the console side Microsoft, Sony and Nintendo are looking to control distribution for their hardware. PC game distribution has more opportunities for independence but is dominated by Steam. However, on the mobile side distribution is at the mercy of Apple and Google.

Zynga has had an interesting run over the past 10 years and done a solid job of restructuring to come back. However, the company growth prospects remain modest with in-game ads being the fastest growing area.

Console game publishers face major challenges going forward but they have great opportunities to expand profits from their core franchises. Parallel investments into new spaces may look good on paper but often cause a loss of focus. Overall DFC continues to support its October 2021 opinion that trying to enter mobile games could be a distraction for Take-Two.

DFC Intelligence will be conducting its first investor presentation later this month. Much of the presentation will focus on potential winners and losers in the battle for distribution. For more information conduct DFC Intelligence.
DFC Intelligence is your go to research partner for video gaming industry analysis. Our studies and Executive Briefs provide top shelf market analysis and forecasts of the video gaming market for customers throughout the video gaming landscape.
For more information on DFC Intelligence surveys and panels go here.
The latest DFC forecasts for console game hardware and software is available now.