The concept of consumers being able to stream games and interactive content directly from the cloud to any device has been around for years. In recent years this has started to become a reality with numerous streaming subscription services for games.
A new report from DFC Intelligence forecasts that cloud gaming and interactive streaming will increase an order of magnitude over the next five years. However, much of that growth will occur for products and services that are not part of a subscription business model.
In the new report Cloud Gaming and Interactive Streaming: Analysis and Forecast, DFC Intelligence estimates that the current market for cloud games is currently around $1 billion a year but over the next five years is expected to grow over ten-fold to $13.6 billion.
Today the market for cloud games is primarily within subscription services like Microsoft xCloud (part of Game Pass), Sony PlayStation Now, Nvidia GeForce Now, Google Stadia, Amazon Luna and other subscription services that allow users to play existing video games in the cloud without having to own specific hardware. However, the main growth opportunity is expected to be with games and interactive experiences that only can exist in the cloud and are not necessarily part of a subscription service.
Games and other interactive content delivered via cloud streaming is expected to expand the definition of video games in coming years. The reason companies like Netflix, Google, Facebook, Amazon, and other large media players are investing in the game space is about the opportunity of cloud delivery to provide entirely different experiences.
The report looks at many examples of product categories that are expected to grow from the greater incorporation of streaming technology. This includes some early cloud-based experiments like Twitch Plays Pokemon and the Reddit Place Art Project as well as older products like Sony PlayStation Home that could have received significant growth via streaming. For ongoing games like Grand Theft Auto Online, cloud technology offers the opportunity drive continued growth.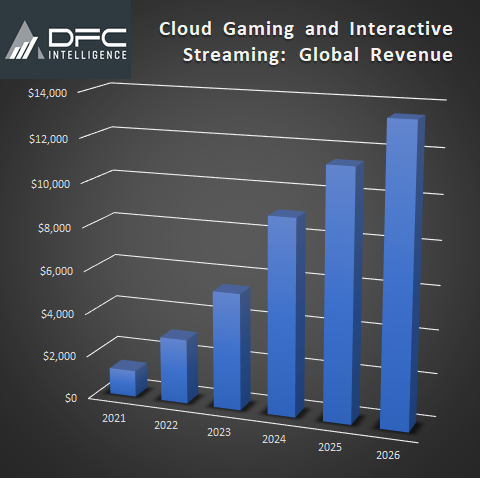 Much of this is tied to current buzzwords like the metaverse. However, while the metaverse can be an amorphous concept that looks years to the future, much of the growth opportunity in cloud games and interactive streaming is available now.
Roblox and Fortnite are examples of games that are hosting live, one-time events that already generate tens of millions of dollars in revenue through sponsorships and virtual item sales. By having these events in the cloud they can become Massive Interactive Live Events or MILEs, a term coined by Genvid, a pioneer in developing cloud game and streaming technology products.
The report identifies the companies that are expected to drive the future of cloud games. In addition to Genvid this list includes Amazon, Epic, Facebook/Meta, Google, Microsoft, Netflix, Nvidia and Roblox. However, almost all major game publishers and IP holders will have the opportunity to participate in this growth.
The growth of cloud games and interactive streaming is a continued example of the movement to games as a service (GAAS) that has significantly expanded the video game industry in recent years by creating new content paradigms.
The overall conclusion is that the cloud is more than just a distribution method for traditional games. In addition to decreasing the load on end-user devices, cloud computing represents an opportunity for new forms of games and interactive content that cannot otherwise be created. These new content opportunities are what is expected to drive cloud games to $13.5 billion in revenue by 2026.
In the summer of 2021, DFC Intelligence conducted a survey of nearly 5,000 consumers and their interest in interacting with streaming video content. The survey was commissioned by Genvid and results are available from DFC Intelligence courtesy of Genvid.