It is no secret that in recent years Microsoft has made a significant investment in beefing up its internal video game software development. However, since the 2020 launch of the PlayStation 5 and Xbox Series X/S, Sony has been ahead when it comes to notable first-party software. This may be changing going forward as some big-name exclusives are scheduled to launch for Xbox platforms.
As PlayStation 5 shortages ease, the new DFC Intelligence forecasts have Sony extending its lead over Microsoft in video game hardware. Even when revenue from Game Pass is included, software revenue over the next two years for PlayStation platforms is expected to be about 1.7 times greater than Xbox software revenue (not including PC games).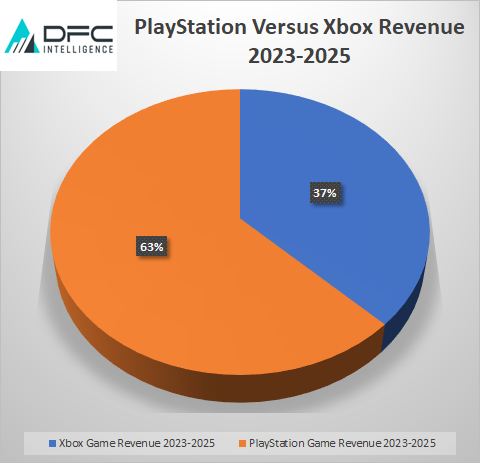 The big caveat is that DFC Intelligence forecasts are closely tied to upcoming software and the current lineup indicates that the gap between PlayStation and Xbox exclusives is closing. This is not even considering the potential for Microsoft to own Activision Blizzard.
The DFC upcoming game database tracks the potential for the top 200 upcoming video games. This has been a tough task with so many product delays. However, it is clear that in 2023 Xbox has more notable exclusives than PlayStation. This is a reverse of 2022 when the heavy hitters were for PlayStation 5.
Among the top 200 games, 26 are for Xbox Series X/S and not PlayStation 5 versus 22 PlayStation 5 only titles (this does not include games also on PC or Switch). Software delays mean major Xbox-only titles like Redfall and Starfield will be hitting this year. The downside of Sony getting its games out on time in 2022 is the 2023 lineup is thin.
Top 200 Upcoming Games by Platform
| New Games by Platform | Top 200 |
| --- | --- |
| Switch Only Games | 33 |
| PlayStation Not Xbox Games | 22 |
| Xbox Not PlayStation Games | 26 |
| PC Games | 156 |
| Switch Games | 73 |
| Xbox One Games | 76 |
| Xbox Series X/S Games | 113 |
| PlayStation 4 Games | 78 |
| PlayStation 5 Games | 115 |
This list is from the March 2023 version of the regularly updated database of the top 200 upcoming video games from late 2022 through 2024
Of course, the big question is will these major titles be enough to encourage consumers to buy an Xbox Series X/S over a PlayStation 5. Currently, DFC Intelligence believes the answer is no. These titles have been anticipated for some time and presumably have been factored into purchase decisions. On the contrary, if a title like Starfield does not meet expectations it could hurt Xbox Series X/S sales.
The bigger long-term issue is the role software exclusives will continue to play in a multi-platform environment. Right now core gamers can buy a PlayStation 5 and Nintendo Switch and subscribe to Game Pass to play major Xbox titles on PC. There is not a major need for buying Xbox hardware.
It is also important to note that companies like Electronic Arts and Activision Blizzard are focused on ongoing live service games, versus releasing new games. These games tend to be multi-platform. Thus, exclusives are a major driver for picking a specific hardware platform. Nintendo has definitely learned that lesson.
Obviously, the Activision Blizzard acquisition could go a long way toward balancing the competitive landscape.  Right now, it is looking like the deal will go through.  If it is not approved, Microsoft's position in the video game industry will be in jeopardy.  Yes, Xbox has some big exclusives in the pipeline but currently, they are not enough to chop into the PlayStation market share.