It is no secret that video game software delays will result in a weak holiday 2022 product lineup. However, overall video game revenue in 2022 is expected to see continued growth without major new hits. This is a sign of how the game industry has successfully moved to a games as a service model.
In the latest DFC Intelligence market forecast 2022 software revenue from console and PC games is expected to be $72 billion up 5% over a record 2021.  A major driver of this growth is not new releases, but increasing usage of subscription services from Microsoft, Sony, Nintendo, and others.
The console game business is expected to see a third of software/service revenue going to Microsoft, Sony and Nintendo for their game subscription services, Game Pass, Switch Online and the newly revamped PlayStation Plus.
Meanwhile, companies like Electronic Arts made 71% of its digital revenue in fiscal 2022 from live services with only 29% from full games (that number was 76% in the most recent quarter).  The pandemic has caught up with software development in the form of product delays.  However, consumers continue to spend money.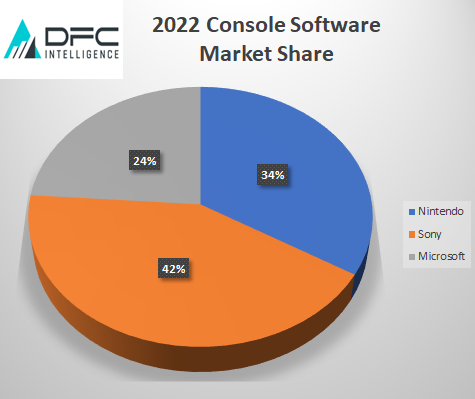 Even as prices rise and the possibility of recession lurks, the core game industry should continue to grow. Of course, hardware shortages are still an issue and comparisons with an extremely strong 2020 to 2021 are tough. Unfortunately, 2022 will not be as strong as previously expected.
On the console race, the Microsoft Xbox Series X is now looking like it will be a serious competitor to the PlayStation 5. In the recent DFC Intelligence survey consumers still prefer PS5 by a significant margin, but the upcoming software lineup for 2023 favors Microsoft and Sony has said it only expects to ship 18 million PlayStation 5 systems in fiscal 2022/2023.
If Sony is able to reach shipment goals, the PlayStation 5 could even outsell the Nintendo Switch in 2022. Of course, the Switch is finally starting the downward portion of its lifecycle after 2020 and 2021 were record years for any console system.
The big challenge for many companies will be getting into the soaring mobile game space. DFC Intelligence tracks low-end games-as-a-service, smartphone games, NFT and blockchain products as a separate industry. Even though 80% of console game players report also playing games on a smartphone, the synergy between mobile and console/PC has been limited.
Overall market conditions for video game companies are not ideal.  However, the long-term fundamentals remain strong.  Stock valuations have come back to earth and there are some serious buying opportunities for investors looking at the big picture.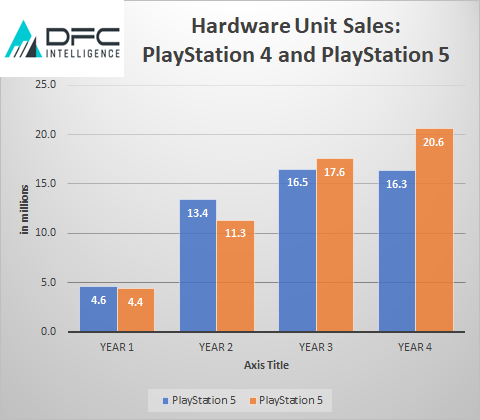 DFC Intelligence is your go to research partner for video gaming industry analysis. Our studies and Executive Briefs provide top shelf market analysis and forecasts of the video gaming market for customers throughout the video gaming landscape.
For more information on DFC Intelligence surveys and panels go here.
The latest DFC forecasts for console game hardware and software is available now.