In the recent DFC Intelligence Video Game Forecast, we modeled both the PlayStation 5 and Xbox Series X to launch in 2020. In Sony's recent fiscal year earnings and forecast releases the company has confirmed the PlayStation 5 launch is still on track for holiday 2020.
Assuming that hardware launches are on track the big remaining question is how many units will actually ship. The recent DFC forecasts has lowered expected shipments significantly. It is expected that, unlike the 2013 launch of the PlayStation 4 and Xbox One, unit shipments will not be front-loaded. Instead they will be limited and ramp up slowly.
In terms of what Sony has said over the past two weeks, so far COVID-19 has seen usage and revenue of PlayStation Network services increase significantly and Sony claims there has been no major issue with game software development. PlayStation 4 hardware has been slightly impacted with the supply chain of certain components, but inventory and sales are "trending well."
As far as PlayStation 5 development Sony says there have been "some challenges with part of the testing process and the qualification of production lines." However, they are "addressing these issues and preparations are on track for the launch of the console during the holiday season of this calendar year."
The big issue with Sony is in the new Electronic Products and Solutions Segment (EP&S). In this segment, which combines most of Sony's hardware products, there is a supply shortage due to reduced production at factories, delay in production due to component shortage and a general retail sales decrease due to the global shutdown of retail stores.
The concern with the PlayStation 5 is it is a traditional hardware product that seems more analogous to EP&S than the Game and Network Services (G&NS) division. For the latest quarter ending March 31, 2020, G&NS was 80% from digital sources. Only 20% of revenue came from physical software, hardware and peripherals. The digital side is actually benefiting from stay-at-home orders. It is the hardware side that struggles.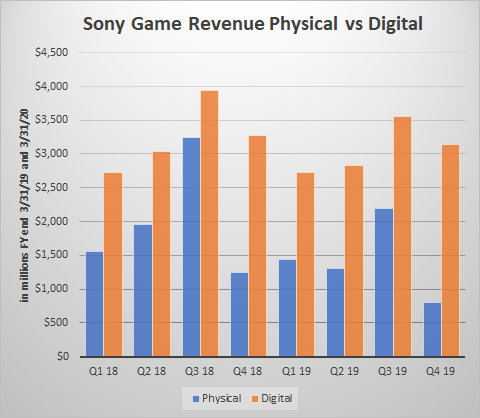 It appears that PlayStation 5 manufacturing could be subject to some of the same issues facing other Sony hardware. Therefore, it is important to look closely at Sony's assumptions for the rest of the year.
Sony is making some assumptions about the impact of COVID-19 that may appear bullish to some. The assumption is that it will spread through FY Q1 (ending 6/30/20), but that in Q2 (7/1/20 to 9/30/20) restrictions will be relaxed and business operations will return to normal in stages. By FY Q3 (10/1/20 to 12/31/20) Sony is assuming business operations will return to normal.
Of course, everyone is hoping that Sony's optimism proves correct. However, governments have been pretty quick on cracking down on any infection flareups, so meeting ambitious manufacturing plans is not within the manufacturers' control.
Overall delays and shortages for new game systems should not haver a major impact on the overall game industry. Of course, there are many companies that need to plan for the holiday sales season. The bad news is that right now no one can predict with confidence. Assumptions are being made that things will get back to normal in the next few months.
Of course, we will be watching this situation closely as new developments occur. However, one thing we can say with certainty is that the outlook for the holiday 2020 season remains uncertain.
The new report on recent trends since stay-at-home is available now. DFC will be issuing regular updates as new information becomes available. There are also custom forecasts just on the PlayStation 5 and Xbox Series X. All these updates will be included in the Executive Brief Series.
DFC Intelligence is participating in investor calls to look at how public video game companies are likely to be impacted by COVID-19. This includes public companies with open-world games that have growth potential. Contact us] for more information or to schedule a consulting call and hear our current thinking on the video gaming and digital entertainment space.