Sega Sammy Holdings (6460.T-JP: Tokyo) has announced plans to acquire Finland-based Rovio Entertainment for 706 million euros (about $776 million).  The tender offer bid will be launched around May 8.  The offer represents a 19% premium over the current stock price.
Analysis
Rovio is noted for the Angry Birds franchise which in recent years has enjoyed most of its success on mobile platforms.  Angry Birds was released in 2009 and was an early mobile hit that launched a slew of licensed merchandise based on its colorful characters. 
It was well-known that Rovio was going to be acquired. However, the purchase price was below the $1 billion number that had been floated in recent days. It was also not much of an increase over a recent offer from Playtika.
Overall, the purchase is a fairly minor investment for Sega that brings in a steady earning IP. Angry Birds is past its prime but fits in with classic Sega franchises like Sonic the Hedgehog. The 2016 Angry Birds Movie generated $350 million at the box office despite mediocre reviews. This was comparable to the recent Sonic the Hedgehog movies. However, the second Angry Birds movie in 2019 did less than half the box office of the original (even as it received better reviews).
In 2022, Rovio generated €318 million, almost all from a free-to-play business model for its mobile games.  Only about 3% of Rovio's revenue came from licensing.  In other words, Angry Birds products still have an audience, but the licensing of Angry Birds characters is far below its heyday.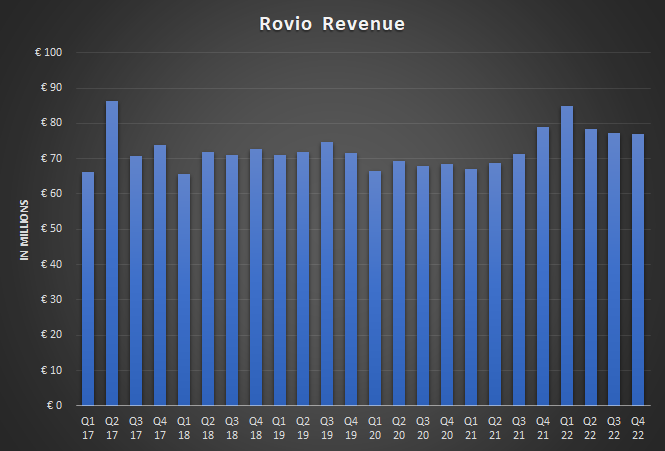 It will be interesting to see what Sega Sammy can do with the franchise. The recent success of The Super Mario Bros. Movie shows that there is definitely money to be made from video game characters. There may also be potential to expand Angry Birds from the low-end mobile market.
In recent DFC Intelligence consumer surveys, the big issue with Angry Birds is that the focus has been on the money grab that is typical of many mobile free-to-play games.  In other words, like many mobile games, aggressive attempts at monetization can turn off a significant portion of consumers.  Hopefully, Sega will find some additional ways to expand the monetization of the franchise.