For the second quarter of fiscal 2023 ending 12/31/22, Microsoft (NASDAQ: MSFT) saw revenue increase 2% to $52.7 billion from the previous year.  Revenue in Gaming declined 13% to $4.76 billion.  For the first six months of fiscal 2023, gaming revenue was down 7% to $8.4 billion. 
In the second quarter, game hardware revenue declined 13% over the previous year and Xbox content and services declined 12%.
Analysis
Microsoft is a large company and can be pretty limited in the detail they provide on a given sector.  In the game division, Microsoft only gives out raw revenue numbers on hardware and content/services.  The company does not provide hardware shipment details or subscriber numbers.  On the earnings conference call, Microsoft CEO Satya Nadella said Xbox monthly active users reached 120 million.  However, that is not an insightful number as Xbox comes free with any Windows PC or phone.  
In the first quarter of 2023 which ended 9/30/22 game hardware revenue decreased 5% driven "by lower prices of consoles sold." However, for the critical holiday quarter which ended 12/31, hardware revenue declined 13% driven "by lower price and volume of consoles sold."
In other words, the Xbox systems are selling less at a time when hardware shortages are easing and stock is not that hard to find (at least for Xbox Series S). The Gaming/Xbox division is part of the larger More Personal Computing division which saw a larger Q2 FY 2023 decline of 19%.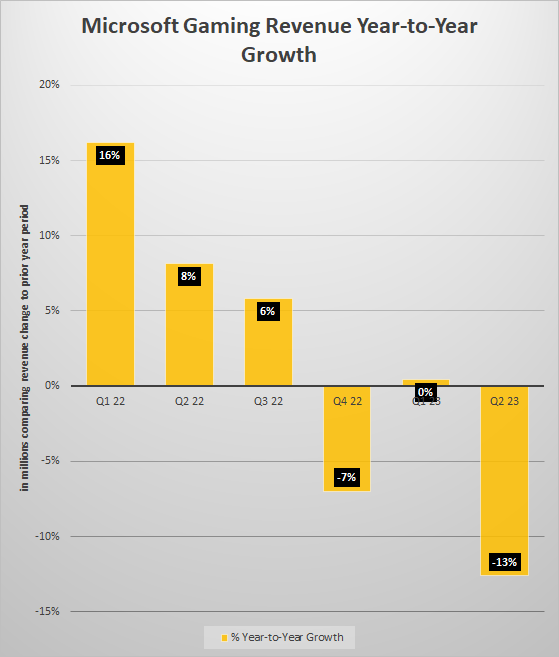 The poor performance for gaming was part of a larger story for Microsoft consumer products. The latest results are a tale of two different companies: business-to-business (B2B) and consumer products. The growth area for Microsoft recently has been on the business side with Cloud products and Office Commercial products. Office Consumer products and cloud services actually decreased 2% in Q2 23.
Overall the results highlight how much Microsoft's future in video games depends on the growth of Game Pass and, more importantly, the successful acquisition of Activision Blizzard (NASDAQ: ATVI). With the lack of new Xbox software, video game consumers have simply not been biting for Microsoft.
Of course, games are a small part of Microsoft and investors reacted to the more distributing news that growth in Azure cloud services was lower than expected in December. Right before the earnings release, Microsoft announced a job cut of 10,000. Although the cuts reportedly had some impact on game divisions, it is clear that the bigger concern for Microsoft is the fear of a decline on its B2B side which has been a solid performer.
The weak Microsoft performance in consumer and game products is not a sign of the overall health of the video game industry. Instead, it is a reflection of Microsoft's performance. The Xbox Series S/X has struggled to compete with Sony and Nintendo systems on the console side. Meanwhile Game Pass does not appear to be making head roads into the PC game business. DFC believes that larger penetration of PC game distribution could be the driver of success or failure for Microsoft in video games.