For a long time, the industry knew that major players were looking to get into the game market via streaming services. Google, of course, was one of the largest such players. At the Game Developer's Conference in San Francisco, Google officially unveiled its Google Stadia gaming service. Many in the industry breathed a sigh of relief as it appears Google is nowhere near being a major player.
DFC Intelligence has been covering the potential of streaming, cloud and digital distribution since the 1990s. This included regular reports on the emergence of video and audio streaming released starting in 1999. Of course, this area did become big business…eventually.
From our perspective, the idea of streaming and online distribution of game products is anything but a new area. However, the sudden interest of major players like Google and Amazon make it something worth reexamining.
The first things one think about with Google is its size and its technology. Google has plenty of money to throw at an issue and its streaming and cloud technology should be superior to the competition. On that front, we will see and for now, assume that is the case (a big assumption).
The bigger issue is the demand for this type of service. Is there a business model that makes sense? More importantly, is an outside company like Google best suited to enter the high-end game market that is both insular and fairly immune from major outside influences.
In discussions at GDC, most people seemed to think that Stadia was underwhelming. However, there was some concern that Google may be playing dumb in order to lull the competition. Google has a war chest and they may simply be gearing up to lose a lot of money over the next five to ten years.
DFC Intelligence watched both the build-up of Sony and Microsoft to enter the game industry. In both cases, they had long-term strategic plans that would take years in execution. At the time, both Microsoft and Sony were much bigger relative powerhouses than they are today.
Both Sony and Microsoft were heavily into the game space many years before they launched the first PlayStation and Xbox. Even after launch, it took a long time for them to build a powerful position in the game industry.
Today Microsoft and Sony are not only heavily invested in games, but they have plenty of experience with cloud distribution and streaming. This will be the first fierce competition Google will face.
In 2013, DFC released a report saying Google had the potential to be the most powerful company in the game space. Since that time there have been several major efforts such as Google Plus, an attempt to compete with Facebook. Our opinion of Google as a front-line entertainment has declined significantly in the past five years.
The presentation at GDC simply shows that Google is not a consumer forward company. Much of what the company provides is very much in the background. This is especially true when it comes to entertainment. This is an issue Microsoft is still trying to overcome. Of course, students today probably think more about Google Docs than Microsoft Office.
YouTube is one of Google's main consumer-facing entertainment products. It was no surprise that YouTube seems to feature heavily in Stadia. YouTube is one of Google's premiere consumer entertainment platforms. Gamers use YouTube in many ways, including sharing gaming hints and tips.
The main feature of Stadia seems to be about some cool new ways to share game videos that will ultimately drive YouTube. In terms of an actual new way of playing high-end games, we expect very little from Stadia. With Stadia, Google seems to primarily be targeting Amazon's Twitch audience.
Google did show a pretty cool looking controller for Stadia. However, even the controller seemed designed primarily as a way for gamers to quickly share their gaming moments on YouTube.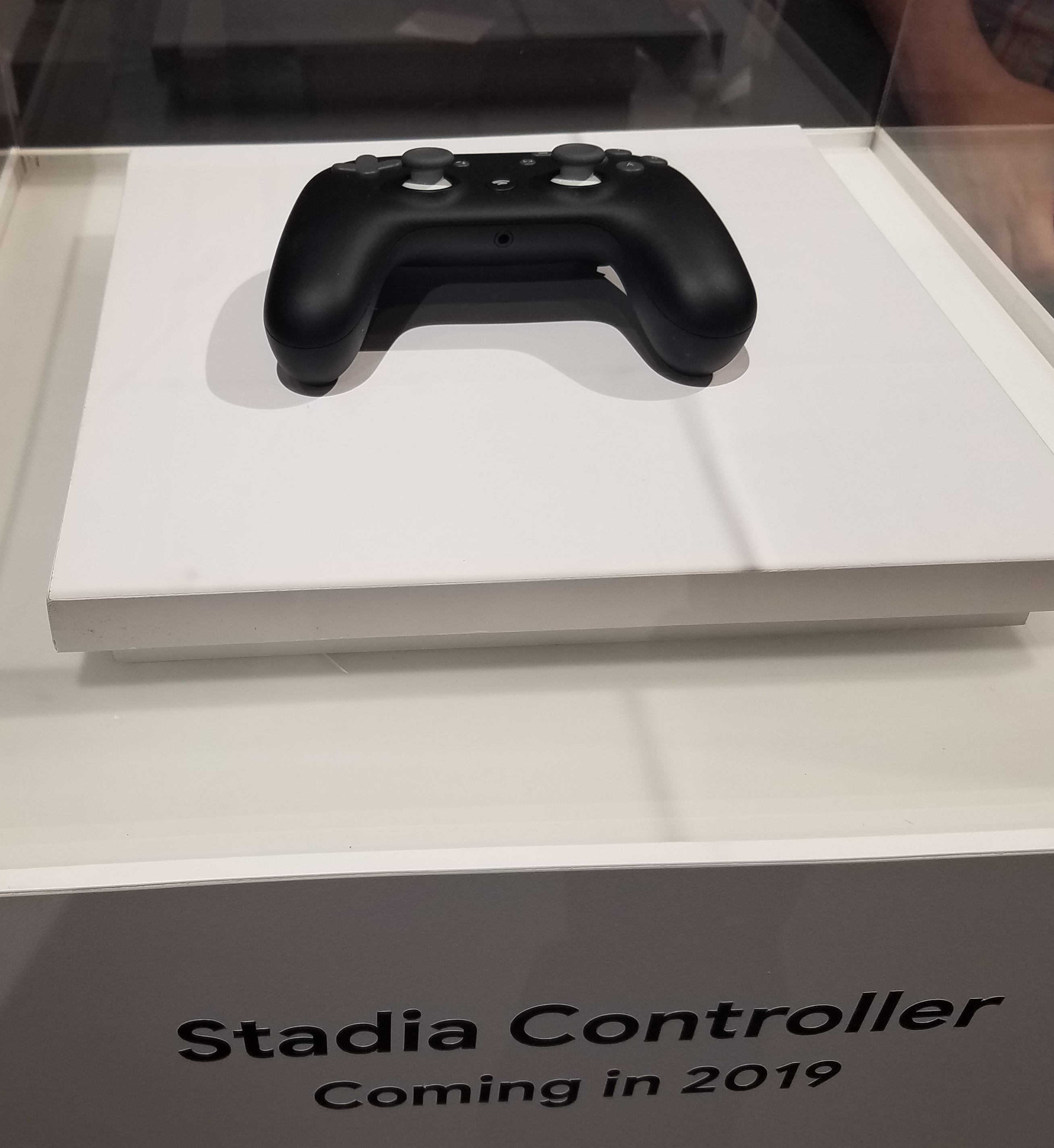 In short, while the media may be in a frenzy, Google is nowhere close to being an 800-pound gorilla in the game space. Like the competition, a service like Stadia faces all kinds of obstacles. First is finding an audience willing to pay. Right now Google may be content with just having Stadia as an enhancement to YouTube that competes with Twitch. This is part of a chase for eyeballs and advertising dollars that has nothing to do with actual gameplay.
Long-term streaming services will have a huge impact on the game industry. In the DFC Intelligence report, The Business of Video Games, we look at the major gamer streaming and subscription services. Our next report will assess the size of the global demand from cloud gaming and streaming services from a demographics and economics standpoint.
Currently, we are putting an international survey in the field to assess the global interest in streaming services among gamers. As always feel free to contact us with any suggestions for issues you would like DFC to cover in its surveys or reports.