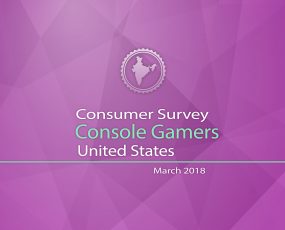 PlayStation 4 Comes out Strong in Video Game Consumer Survey
March 14, 2018
2017 was an incredible year for the video game industry.  As discussed in the latest DFC Intelligence Worldwide Video Game Forecasts reports, game software sales soared past the $100 billion... China Mobile Game Tops PC Games
January 24, 2017
According to China market research firm iResearch, mobile gaming became the largest market segment in the game industry in 2016.  iResearch pegs the number of China mobile game players at... PlayStation 4 Sales Up to 50 Million
December 7, 2016
As of December 6, 50 million PlayStation 4s have been sold through worldwide. Global PlayStation 4 sales topped 40 million units back on May 22, so 10 million of the... Is Content Really King?
November 28, 2016
The basic concept of content as king is that entertainment sales are driven mainly by hit content. It is often assumed a hardware device needs "a killer app" to entice... Microsoft Partners for $299 Virtual Reality Headsets
October 27, 2016
At a Windows 10 and Surface press conference in New York City, Microsoft Corp. announced it was partnering with Acer, Asus, Dell, Hewlett Packard and Lenovo to bring Windows 10... Battlefield 1 Crushes DICE's Past Titles
October 24, 2016
It is no secret that console retail game sales have struggled in 2016. The obvious question is can the fourth quarter reverse this trend or is this part of a... Nintendo Switch Set For March '17
October 20, 2016
Using a three-minute video posted on YouTube, Nintendo Co. Lid. unveiled its next console, the Switch. The intention is something of a design reversal of the Wii U in that the... Nvidia Debuts GTX 1050 GPUs
October 19, 2016
This week Nvidia Corp. unveiled two new GPUs, the GTX 1050 and GTX 1050 Ti. Unlike the TSMC 16 nanometer FinFET manufacturing process utilized with the other Pascal GPUs released...