The proposed acquisition of Activision Blizzard (NASDAQ: ATVI) by Microsoft is massive by any standards. Of course, it raises many questions. The video game industry is trying to gauge the potential impact of the deal. However, the bigger issue is what are the chances of this deal going through? And if it does occur how long will it take?

When Microsoft announced it was buying Activision Blizzard for $95 a share the stock was trading around $65 a share. The price immediately jumped to $82 a share as investors saw a chance to make a quick buck. However, over the next 10 days the stock started to level down to the $78 range.Vanndar Stormpike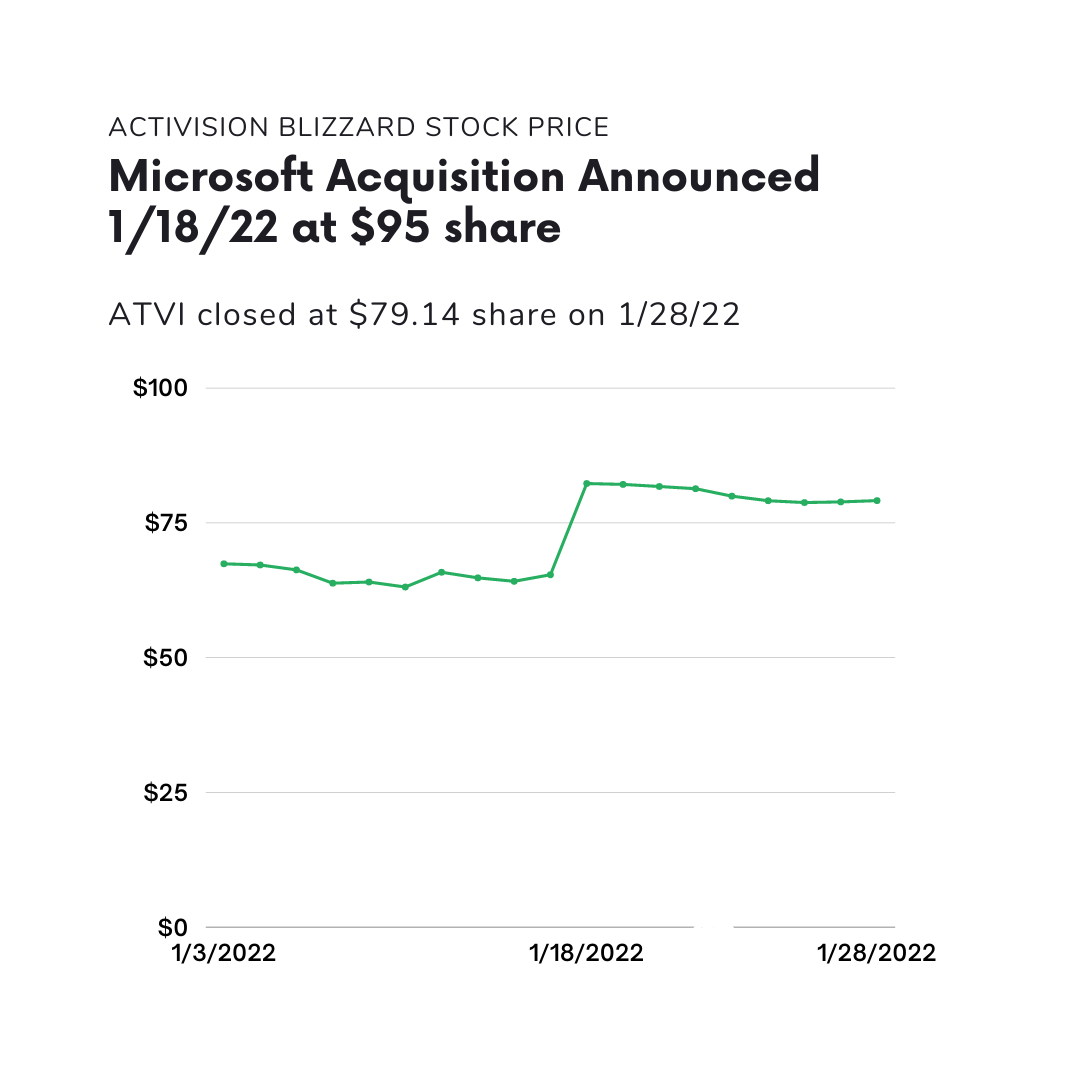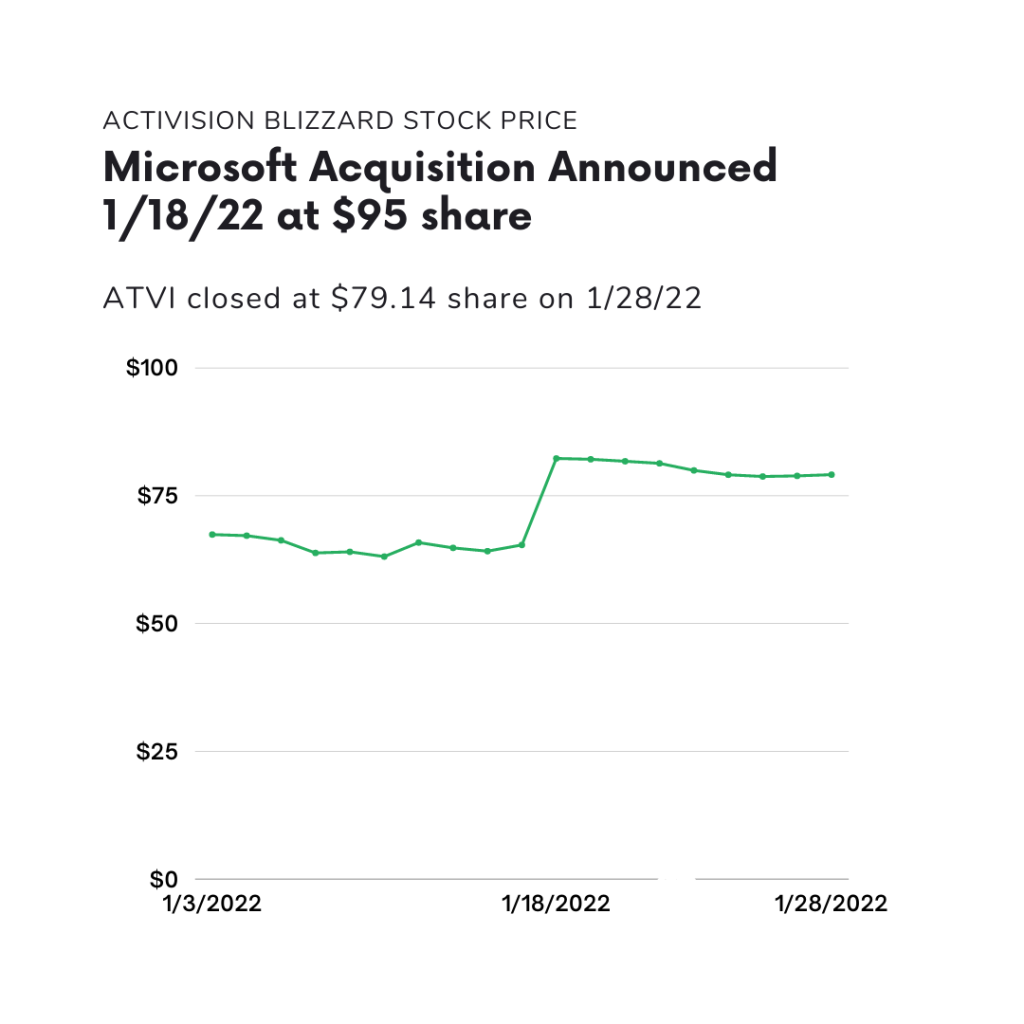 Obviously this shows investor concern that the deal as proposed may not go through. Normally buying something at $78 when you have a buyer at $95 is a great deal. However, investors are questioning whether there really is a solid buyer who can pass the credit checks. There is also the issue of how long it will take before the deal goes through.
In September 2020, GPU giant Nvidia announced it was buying U.K. chip designer ARM for $40 billion. Going into 2022 the deal was still going under major government scrutiny with many analysts thinking it unlikely that the acquisition will go through.
Of course, the Nvidia/ARM deal involves the microchips that power much of modern society. The Activision/Microsoft deal is about games people play for entertainment. In other words, regulatory scrutiny should not be as strong.
Furthermore, despite the size of the deal the overall industry impact is less than it appears. It is a sign of how big the global video game industry has become that a $68 billion purchase should not change the landscape that much.
Activision Blizzard can really be thought of as three separate entities. The Activision division whose core product is Call of Duty, Blizzard which specializes in high-end PC games, and King whose mobile game success is driven by Candy Crush Saga.
A brief glance at Activision Blizzard latest financials shows 390 million monthly active users for its games. This is an order of magnitude over the 25 million subscribers Microsoft has for its underperforming Game Pass service. However, a closer look reveals the numbers are not that impressive. The bulk of the users are from free to play games and that number has been declining.
When Activision acquired King in 2016, King had over 500 million monthly active users. That number has been cut in half. Blizzard users are down from a peak of 46 million in 2017 to 26 million in the latest quarter. Activision is the only division that has shown growth but that is mainly due to free Call of Duty mobile and battle royale models.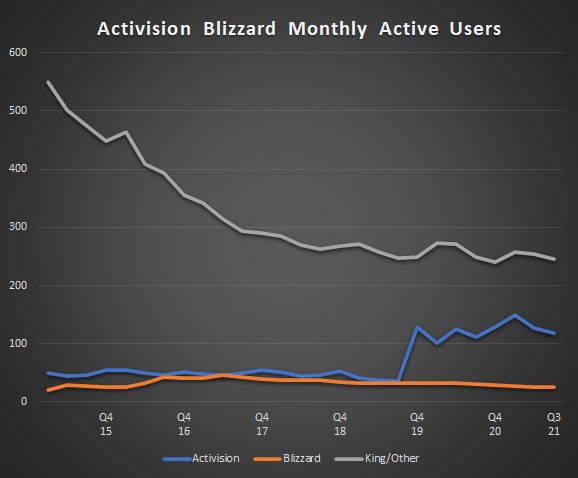 For its part, Microsoft is behind Sony and Nintendo in console systems, has a minor presence in PC games and nothing really going on in the mobile side. Game Pass is an attractive service but at 25 million it is behind Sony's PlayStation Plus which has been hovering around 47 million subscribers.
So once regulators start digging under the hood there will probably not be a great deal for them to find antitrust wise. It is possible an argument that giving away games on Game Pass amounts to predatory pricing. But looking at the FTC's statement on the subject that argument does not seem to fly.
However, investors are also nervous that the deal will not survive the due diligence process. Activision Blizzard has come under heavy scrutiny and there is the possibility that Microsoft will not like what it finds as it digs deeper.
Of course, consumers are looking at whether Call of Duty for the PlayStation will disappear. This is an interesting question. In the short term, the answer is no. But long-term even if Call of Duty is published for PlayStation and other platforms, it is likely Xbox systems will become the preferred platform.
For DFC Intelligence console system forecast, consumer perspective is an important issue. In our fourth quarter consumer survey purchase intent for the PlayStation 5 was roughly twice as high as that for Xbox Series X/S. Will the prospect of Call of Duty being owned by Microsoft change that intent?
An interesting note about the latest DFC console survey was that while consumers showed an intent to buy PS5 about 2 to 1 over Xbox Series X/S, both ranked similar on features. Furthermore, in ranking the importance of features, price was number one in importance with a custom VR headset being last. Xbox has a price advantage and consumers do not seem to care that much about VR.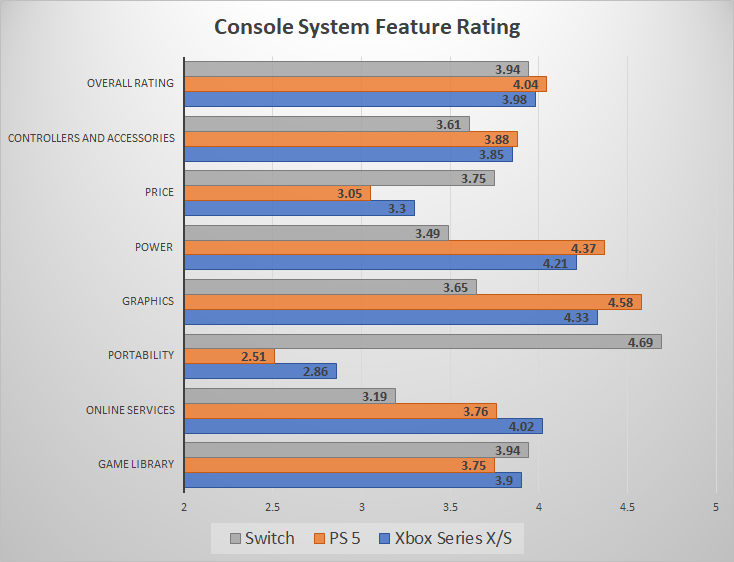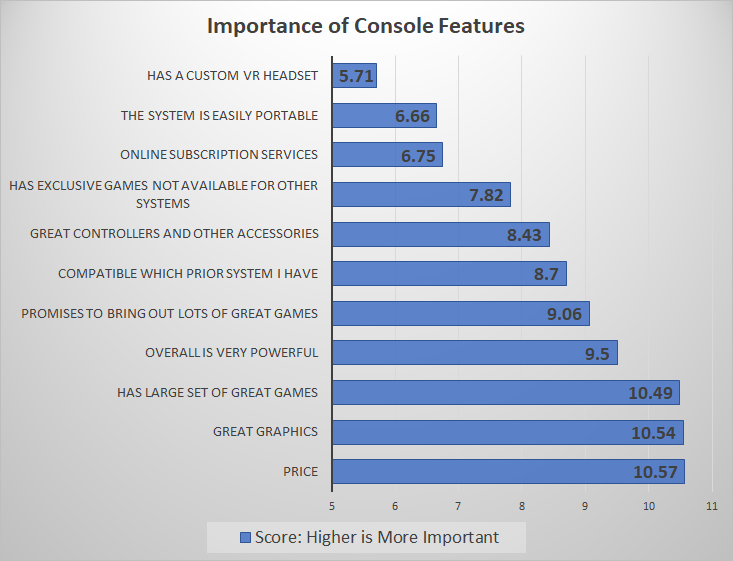 Of course, game library is one of the most important considerations for consumers and in this category Xbox Series X/S actually beat the PlayStation 5. With big holiday releases for Xbox like Halo Infinite and Forza Horizon 5 this was not necessarily a surprise. The Xbox Series X/S had the better library in holiday 2021. It will be interesting to see how much this changes in early 2022 with new releases and major announcements.
At the 2022 CES, Sony announced a new VR headset. In February PlayStation gets a big product boost with the launch of Horizon Forbidden West and a movie/games around Uncharted. The next DFC consumer survey will be conducted in March and consumer awareness of the proposed merger will be added as a topic. A big shift in consumer sentiment will likely result in revisiting forecasts for the console systems.
Possibly the most interesting thing about the proposed merger is the pressure it puts on Sony. Even if the deal does not go through Microsoft has given consumers a major message that they intend to be the 800-pound gorilla in the space. Will that change short-term consumer purchase intention?
While Sony and Nintendo are giants in video games they are relatively small when compared with the likes of Microsoft, Google, or Amazon. Sony has announced its intention to buy game developer Bungie for $3.6 billion. Bungie is a well-established company but they basically have one game franchise, Destiny. It is a sign that the price of game publishers is exorbitant. Sony simply can not afford to compete on M&A.
We will be closely watching for future major deals spring forward in the video game space. Activision Blizzard has been a deeply troubled company and the thinking was that it would need to be split apart to gain the maximum value. Microsoft's willingness to swallow the whole pill is a major statement.
For more information on DFC Intelligence surveys and panels go here.
The latest DFC forecasts for console game hardware and software is available now.