Last week we discussed the success casual PC game companies had going to mobile games.  Meanwhile, AAA game companies have struggled finding success with mobile games.  However, when they do it they can hit big.  The most recent example is Korea's NCSoft.  NCSoft's mobile game success may show that companies like Nintendo and Electronic Arts really do have untapped potential in mobile.
NCSoft is perhaps best known in Western markets for their Guild Wars games.  However, their biggest product has been the Lineage franchise which has been a huge success in South Korea and other Asian markets.  The first Lineage launched in 1998 and was followed by Lineage II five years later.  Both games are still going strong today.
However, like many companies, NCSoft struggled to find success on mobile.  Lineage is a fantasy role-playing massively multiplayer online game (MMOG).  These games can be hard to translate to mobile platforms and Lineage was no exception.
So NCSoft partnered with a casual game company, Netmarble.  Netmarble started in 2000 as a Korean-based casual game portal. Netmarble established itself as one of the top three casual game portals in Korea (along with Hangame and Pmang).  However, like many casual PC game companies, Netmarble was struggling with the growth of mobile devices.
Like King, with Candy Crush Saga, Netmarble was able to make a successful transition to mobile and with the success of games like Marvel: Future Fight revenues nearly tripled in 2015 to close to $1 billion.  NCSoft wisely picked Netmarble as a partner to help develop a mobile version of Lineage.
Lineage II: Revolution launched for Android and Apple mobile devices in South Korea in December 2016.  It was an immediate smash and passed the $100 million mark by the end of the year.  Throughout 2017, Lineage II: Revolution was earning over $200 million a quarter and accounting for as much as 45% of Netmarble revenue.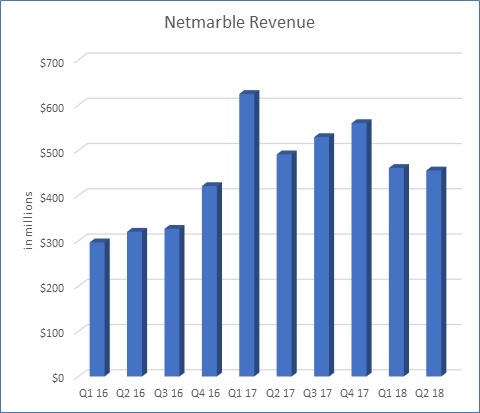 However, like Nintendo's Pokemon Go, NCSoft revenue from Lineage Ii: Revolution was limited to royalties.  It took NCSoft's launch of its own mobile Lineage game for the NCSoft's fortunes to explode.
NCSoft released Lineage M for mobile platforms in June 2017.  It was an immediate smash in South Korea.  NCSoft revenue in Q3 2017 was $661 million, more than triple the previous year's revenue of $198 million.
In 2017, NCSoft's total revenue reached a record high of $1.6 billion.  This was up from nearly nine billion in 2016.  Furthermore, mobile revenue, which was almost non-existent in previous years, was over $900 million.  This was more than all NCSoft PC games combined had ever made in a single year.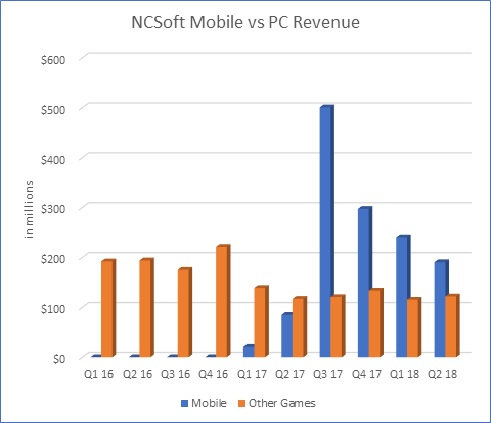 This windfall for NCSoft was great but the question becomes can it be recreated.  Lineage is mainly a South Korea franchise.  Excluding royalties, 86% of NCSoft revenue in 2017 came from South Korea, up from 71% in 2016.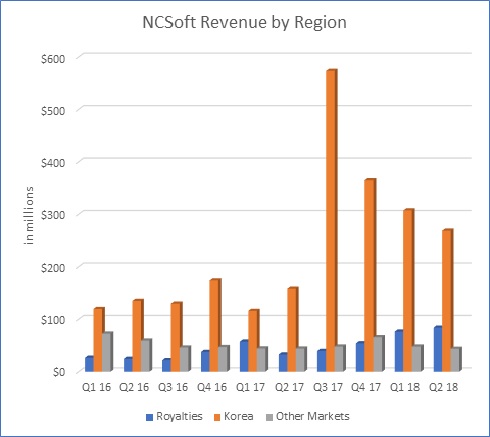 The question going forward is can the Lineage franchise sustain mobile revenue.  Both Lineage mobile games have showed a fairly rapid decline, even as they still make a great deal of money.  Furthermore, NCSoft stock, while of course, at record levels, has been fairly volatile in the past year.  Much of the stick trades on how investors feel about the potential for future mobile Lineage games.
While NCSoft has some unique issues, the success of Lineage on mobile devices shows that there is plenty of upside for AAA products on mobile devices.  Companies like Nintendo and Electronic Arts, who have enjoyed limited success in mobile (outside of third-party products like Pokemon Go and EA's acquired mobile division) have a great deal of upside potential for their key franchises.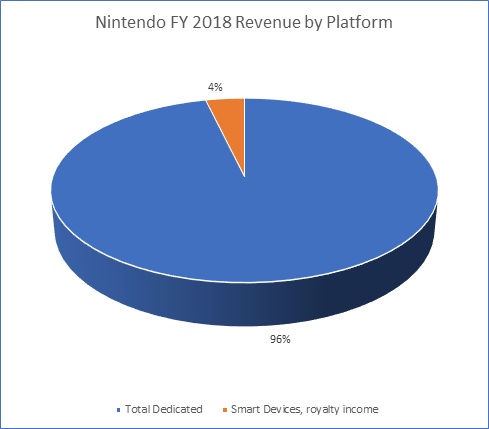 However, investors are getting impatient.  Both Nintendo and Electronic Arts' stock are about where they were trading a year ago.  Furthermore, much of their market value is based on the assumption that they have upside growth potential in mobile.  The good news is the NCSoft story shows that upside potential can be huge.