In a tough 2022, Japanese video game publishers did surprisingly well in the high-end North American and Europe markets. This is an indication of a trend of Japan IP having a larger impact on the global market. It also highlights some major differences between pay-upfront business models and live services/free-to-play models.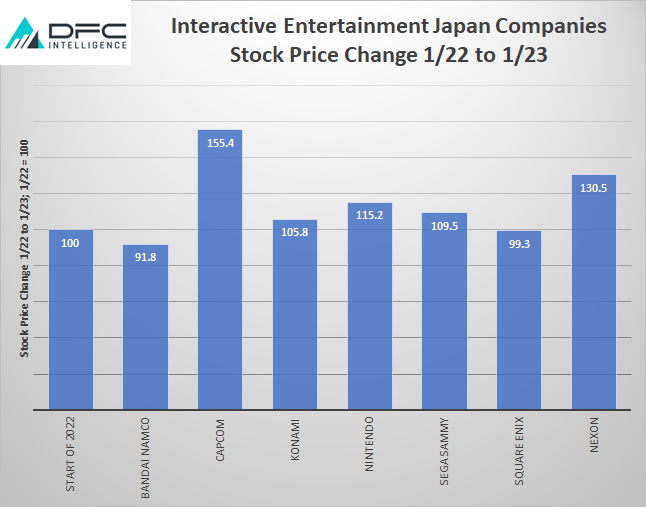 Japanese Companies Dominated the Late 1980s and early 1990s
With the rise of Nintendo in the 1980s, publishers from Japan grew by developing products for the NES. Many of the products they created were the biggest hits of the day in the United States and around the world. This included Capcom, Konami, Square Enix, Bandai Namco and others. Sega, now Sega Sammy, became a leading competitor to Nintendo.
Many of these companies had roots in arcade games and other forms of entertainment that were often based solely in Japan. With the rise of first-person shooters, sports games, and an online PC game market, Japanese publishers started to fade from the global scene in the early 21st century.
Mobile and Free-to-Play Has Been the Recent Focus
The rise of mobile and free-to-play models, especially in Asia, shifted the focus of many publishers towards those business models. However, the mobile/F2P market has proven challenging. Meanwhile, Covid stay-at-home restrictions caused a serious downturn in location-based business. The result is that Japanese publishers are once again focusing on the high-end markets in North America and Europe.
Japanese video game developers are some of the best in the world. However, the mobile free-to-play market is not necessarily about game development. Not only has the size of the mobile game market been overstated but it is more of a marketing play. Mobile is often more about consumer acquisition than it is game development.
The concept of gacha started in vending machines in Japan where consumers would put in a coin to get a random toy. This took off in mobile games (and loot boxes in high-end games) where consumers pay to get a random virtual item. There is a big market for this mechanic, but it does not have a great deal to do with high-end game development. Loot boxes are a major consumer turnoff in high-end games.
In many ways, much of the mobile game market is a Ponzi scheme to build an audience. Mobile games focus on advertising to bring in consumers. Consumers download games to boost numbers with the hope of bringing in more advertising. In many cases, these ads are clickbait for other games.
As Mobile Growth Slows Japanese Publishers are Looking at High-End Games
Some high-end Japanese publishers have enjoyed solid success in the mobile space. For example, Square Enix generates about a billion dollars a year from mobile games. However, for the past 3 years, this revenue has been flat. In its latest quarter, Square Enix reported mobile game sales were down 25% year-over-year. This compares with a 10% increase in its high-end games (what they call HD games).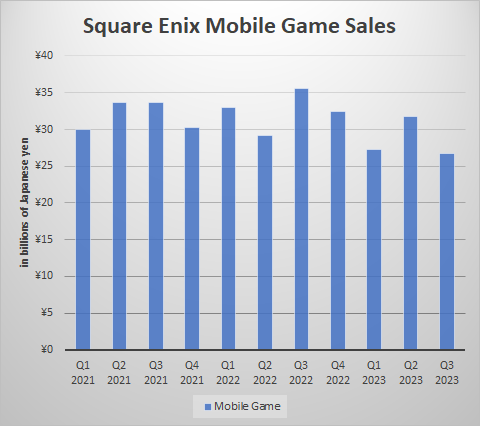 Other Japanese companies are reporting similar results. Sega Sammy breaks out games between full games and F2P games. In its latest fiscal quarter, Sega Sammy saw F2P games rise 3% year-over-year. Full games increased a whopping 68%, driven by a remake of the hit JRPG Persona 5 Royal and Sonic Frontiers, a new game based on the classic 1990s Sega icon.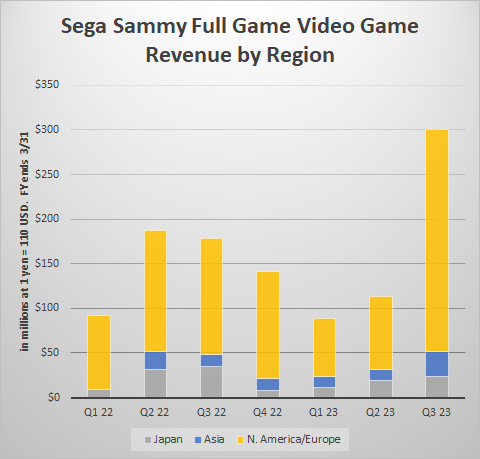 Classic Video Game Franchises Do Well As Remakes
The value of classic video game franchises should not be underestimated. In 2020, Square Enix had a hit with its Final Fantasy VII Remake. Konami is looking to bring back its classic 1990s Silent Hill franchise across multiple products. Meanwhile, Nintendo continues to make a fortune with its games from the 1980s and 90s.
As large Western publishers like Electronic Arts and Activision Blizzard, focus on the live services business, Japanese publishers are filling a niche for more classic single-player experiences. One of the biggest titles of 2022 was Elden Ring published by Bandai Namco and developed by FromSoftware. Bandai Namco is a leading Japanese toy and entertainment company. In fiscal 2022, 58% of its sales came from Japan. However, for home video games 92% of unit sales were in the Americas and Europe.
It will be interesting to see if Japanese video game publishers increase investment in Western markets. To truly take advantage of global opportunities, publishers need to have strong regional presences, especially in the U.S., U.K., and continental Europe. For example, Sega had success in the 1990s by building leadership in the U.S. and Europe. As Sega closed down much of its Western operations, the company naturally put much of its focus on the Japanese home market.
DFC Intelligence has started evaluating video game companies by not only development and distribution/marketing capabilities, but also by the value of the IP library. Many of the Japanese publishers have their greatest strength in the library value. The big challenge will be proper development management of core franchises and expanding global distribution and marketing.
Konami, Square Enix, and Nintendo are all initial companies in the DFC Intelligence Video Game Stock Portfolio.