DFC Intelligence is doing a series of reports and in-depth research on the future of cloud games, live service games and the emergence of games as a service. As part of this research, we are talking with experts from the leading companies in the industry.
With products like Google Play and YouTube Google has been a behind-the-scenes leader in video games for years. Becoming a leader in AAA games has been more challenging. Early this year Google shut down its cloud game streaming service Stadia. Nevertheless, Google is forging ahead with ambitious plans to be a leader in AAA live service games. In order to better understand Google's cloud game strategy we talked with Jack Buser, Director of Game Industry Solutions for Google Cloud.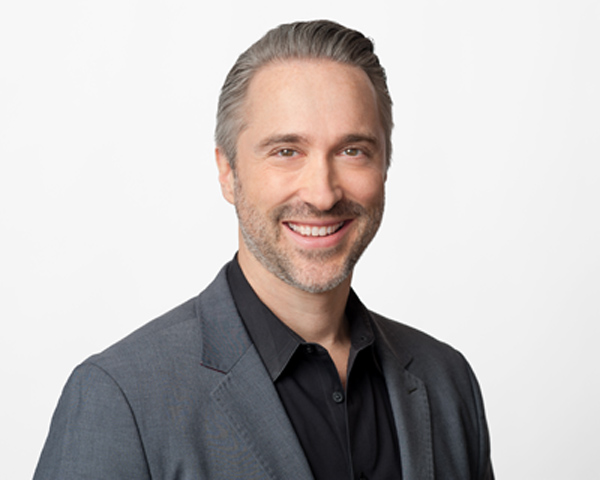 Overview
The cloud game industry is often described as a nascent or emerging business. The general perception is that consumers will ditch expensive PCs and video game consoles and play games streamed from the cloud. However, this is only one subsegment of the larger movement to games in the cloud.
DFC Intelligence's forecast for the identifiable cloud game industry on AAA PC and console estimates the market is already $3 billion. By 2027 it is expected to grow to $15 billion. Furthermore, that is just from the cloud component and does not include additional revenue earned from live services games. It also does not include mobile games.
The cloud game market remains misunderstood as its own category. The reality is cloud games and traditional games are combining as part of a live services business model. Most of the cloud game growth will NOT be part of what many are describing as the emerging cloud game industry. It will instead be about incorporating cloud technology into existing products. Much of the cloud game business will be hard to separate from the overall video game business. In other words, almost all games will start to have some cloud game components.
Google is one of the best representatives of this trend. Google Stadia was launched in late 2019 as a cloud game subscription service. After failing to attract a mass audience, Stadia was shut down in January of this year.
The narrative has been that Google failed in high-end games. The reality is that Stadia was just one of many experiments around what the cloud can offer the game industry. Google is involved in many aspects of video games and much of that involves services that enhance the game-playing experience using cloud technology.
One of the most intriguing areas for Google, is the Google Cloud Platform. Google Cloud is more of a business-to-business solution, providing back-end solutions that help other companies operate their games.
In 2022, Google Cloud saw revenue grow 37% to $26.3 billion. While this seems like a huge number, it represents less than 10% of parent company Alphabet's revenue and is smaller than the revenue generated by similar offerings from Microsoft and Amazon. In the cloud space, Google is still an up-and-comer with significant room for growth.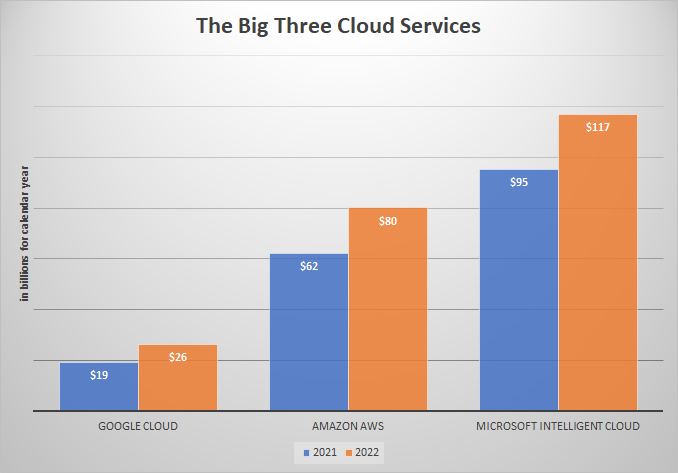 The Big Three Cloud Services
| Reporting Division | 2021 | 2022 | Growth |
| --- | --- | --- | --- |
| Google Cloud | $19 | $26 | 37% |
| Amazon AWS | $62 | $80 | 29% |
| Microsoft Intelligent Cloud | $95 | $117 | 23% |
This is revenue reported by each company and is not a direct comparision. Microsoft Intelligent Cloud division includes many additional products and services. Microsoft Azure is the direct competitor to Google Cloud Platform and AWS. Microsoft does not report Azure revenue but DFC Intelligence believes it is in the $30 to $40 billion range.
To better understand Google's cloud offering for games, DFC Intelligence sat down with Jack Buser, the Director of Game Industry Solutions for Google Cloud.
Jack brings nearly 25 years of game industry experience to his current role as Director of Game Industry Solutions for Google Cloud. In this role he helps game companies create the next generation of live games by unifying player understanding and game performance via the Cloud. He has built numerous game platforms at Google and PlayStation, bringing joy and excitement to millions of players all over the planet.
Most recently, Jack spent five years helping to create Stadia from the ground up, securing partnerships with the world's leading game publishers and developers. Prior to Google, Jack spent nearly a decade at PlayStation, building a variety of platforms including PlayStation Now, PlayStation Home, and PlayStation Plus. In his free time, he enjoys playing games on his extensive collection of game consoles and computers, and creating house music in his home studio.
Hello Jack, can you give us some information on your background and your current role with Google?
As the Director of Game Industry Solutions for Google Cloud, I'm responsible for setting the global strategy for Google Cloud in the Games Industry. As part of this, I define our global solutions catalog and our overall go-to-market execution. I love this role because I'm able to meet and discuss strategic transformation with the largest and fastest-growing game companies all over the world
What did you learn from your previous experience within Stadia, Google's game streaming subscription service that helps with your position at Google Cloud?
As a founding member of Stadia, I was on the team long before the launch, and I defined and helped build the foundations of the platform. I had built several digital platforms previously working for PlayStation, but this was Google's first foray into this business and it proved to be an incredible learning experience for both me and the company. First and foremost, we learned how to build a digital-native live service platform for games from the ground up. Everything at Google had to be built from scratch, from the technology to the business and even the operational framework of the platform. Fortunately for us, at Google we were surrounded by many of the most popular live service platforms in the world such as YouTube, and we were able to learn best practices from the world's leading experts in this area.
While the Stadia technology was the best the industry had ever seen, ultimately, the user adoption of Stadia did not meet our expectations. Through this experience, we learned that we are at our best helping others build live services and platforms.
You describe your work as helping enable the transformation of the game industry to the cloud. What do you mean by that? What is the mission of Google Cloud when it comes to the games industry?
Our mission is to help game companies power everlasting love for their live service games. The definition of live service game is quite broad in this context, and includes all connected games that are supported with new content and experiences over a long period of time.
Billions of people all over the world are now playing games, and many of them first found games on mobile devices where live service games have been the norm for some time. Now we see almost all top-selling games across PC, mobile and console adopt the live service model. To prepare for today and tomorrow, game companies must build live service platforms that underpin their next generation of games, which is no easy task. Building this kind of platform is very different from building a game, and some very tough engineering problems must be solved; particularly around scale, performance and understanding. Luckily here at Google, we are a live service company at our core and have solved many of these problems. We're passionate about making these solutions available to game developers so they can focus on what is most important to them – building great games!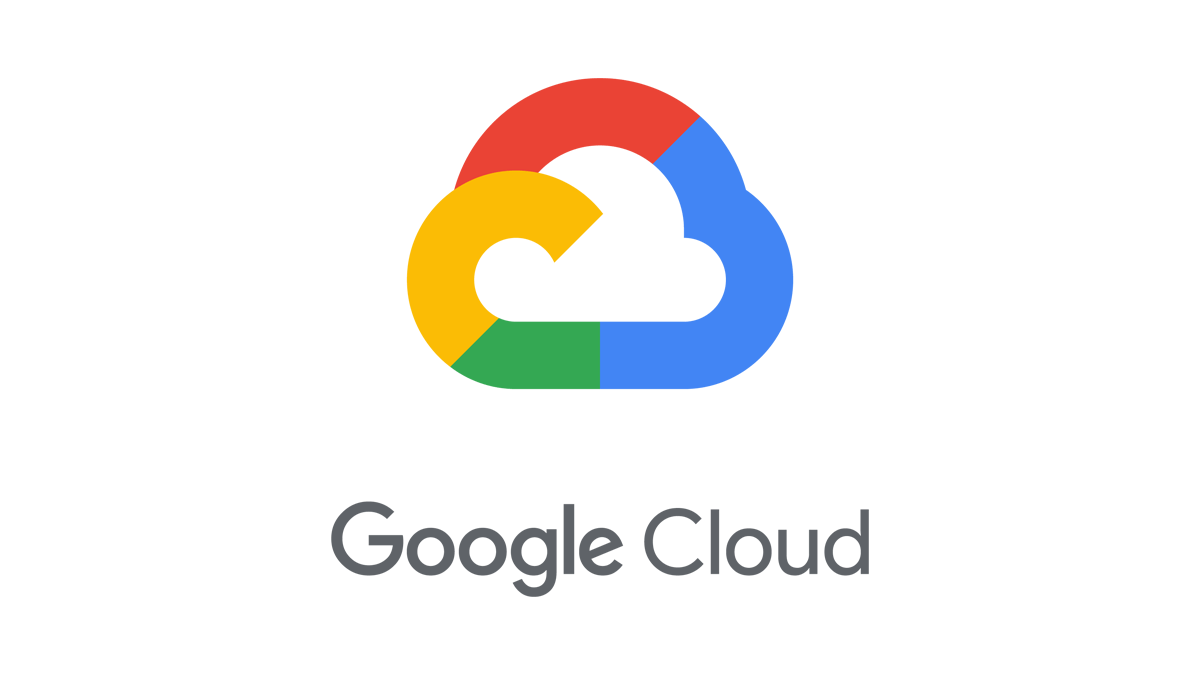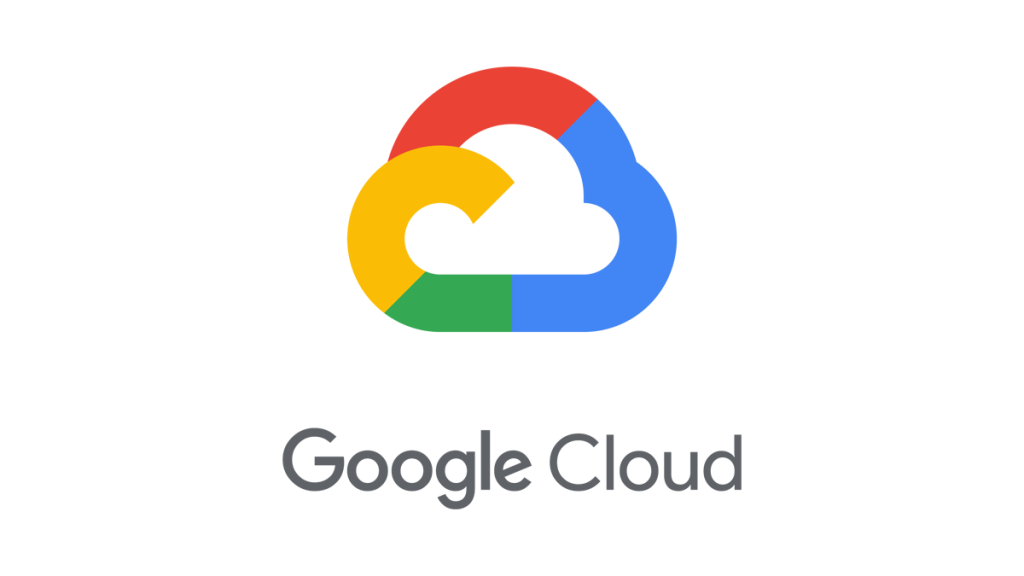 Google is often thought of as providing tools for smaller companies and independent content creators. Is that an accurate representation? Perhaps tell us about what you offer for each market segment (large, mid-size, indy) you are targeting and how they benefit from partnering with Google.
Our focus over the last year has been to help the largest game companies in the world transform to meet the future needs of live service games and platforms. In fact, we work with most of the top game companies today. They have come to Google Cloud for assistance with game servers, databases and analytics – key components of a live service platform. All must be scalable, stable, and secure, and game companies know that Google has the solutions to do it right. This is because these are many of the same solutions that power our own live services with over a billion users.
That said, we work closely with game companies of all sizes, each with their own unique problems to solve. For example, if a small game developer builds for millions of players around the world from the start, they will be in great shape when their game's popularity matches their goals. It always breaks my heart when I see a game from a small studio become popular all of a sudden, and the game team finds itself in a "success disaster" scenario, struggling to fix the game so that it doesn't fall over as it scales up. The good news is that this scenario can be avoided at any scale if game teams plan for success from the beginning by leveraging the infrastructure and technological expertise from Google Cloud.
Do you have any examples or case studies of successful deployment of Google Cloud solutions for games?
The vast majority of major game companies are now using Google Cloud, and so if a live service game launches it's often a safe bet we're a part of that title in some capacity. Our website has references from many of the most popular game developers and platforms in the world who work with Google Cloud, and gives some indication of how widespread our solutions have become in the games industry.
When you think of companies that have cloud services the big names that come up are Google, Amazon, and Microsoft. Are those your major competitors or are there others? How do you differentiate from the competition?
Google Cloud for Games has built an ecosystem for live games. As we discussed previously, live service games come in all shapes and sizes, varying genres and across all platforms. From large scale MMOs to turn based mobile games, multiplayer shooters and so much more. We recognize that live games are the future of our industry and have built solutions that unify cloud performance and deep insights into a whole that is greater than the sum of its parts. This puts Google Cloud for Games in a very unique and differentiated position. At our core, Google is a live service company; not a retailer, and not a software company. That makes us uniquely positioned to bring the best possible cloud solutions for the game industry as it transforms to meet the needs of billions of new players all around the world.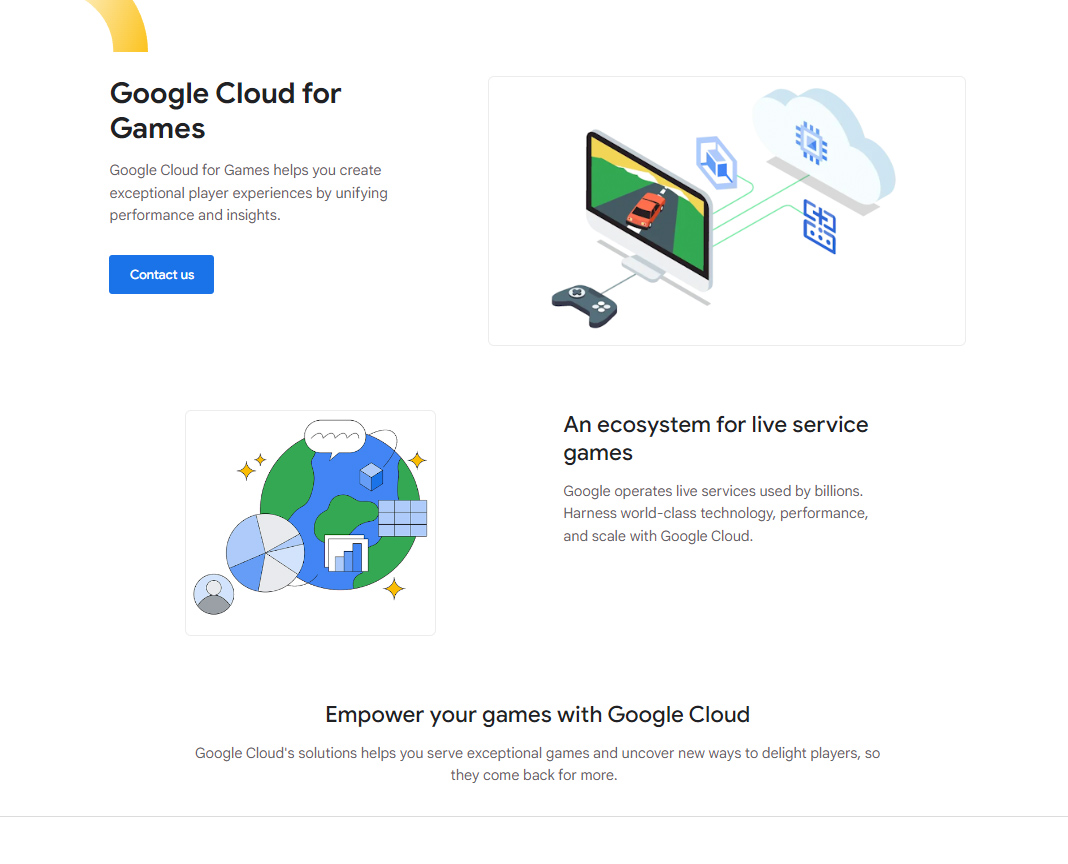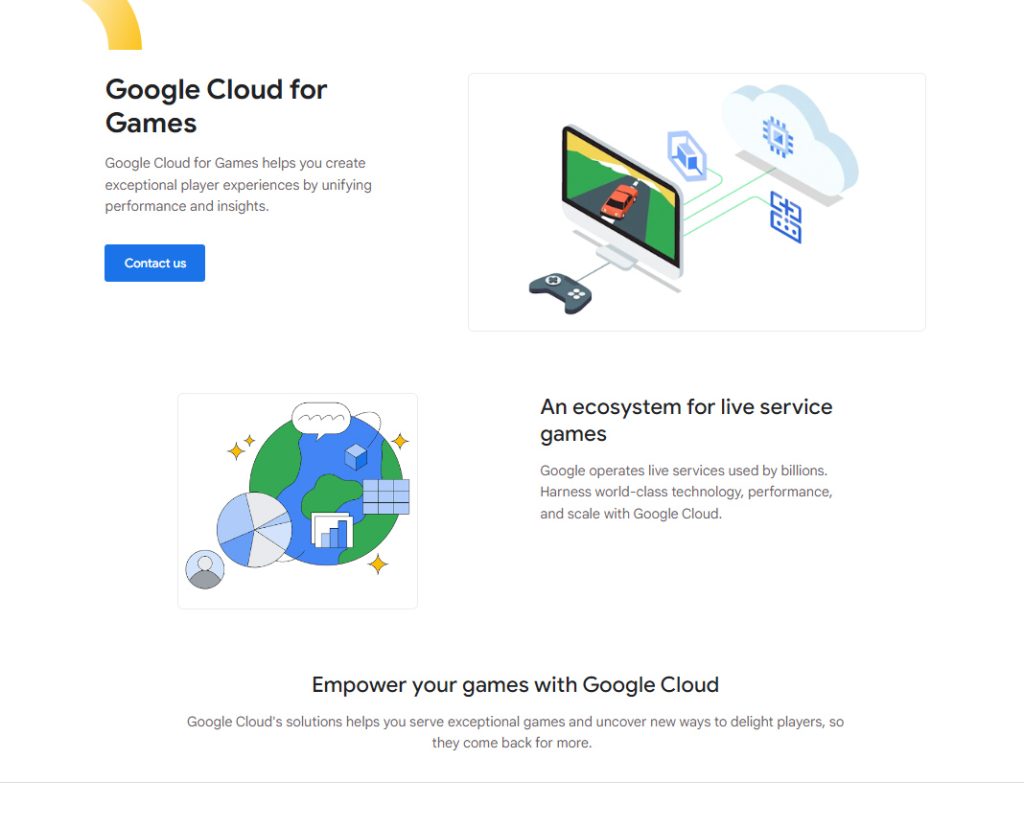 Many game companies today have their own databases and game servers. What is your messaging on why they should outsource to a company like Google?
They don't outsource to us, they partner with us.
I've been in the games industry for over 25 years, and I regularly remind our teams here at Google that games companies have been creating online, connected games long before there was even the concept of "the cloud." It's no secret that games companies are regularly well ahead of the curve when it comes to technology across the board, and creating online live experiences is no exception.
However, this has come at a heavy price for many of the largest game companies. Their systems for supporting live service platforms were oftentimes built long ago and are struggling to meet the needs of today's games. They struggle under the weight of millions – if not billions – of players all over the world. This comes at the cost of scalability, security and stability for their players. They have a need to modernize these systems – and fast – and yet to do so comes at the expense of their development teams who are at their best building great games, not live service solutions.
The good news is that game companies don't have to. Here at Google we have solved the hardest computer science problems so that anyone can build a live service platform that is scalable, stable and secure. This was no easy task and took us years to do, and now these same solutions are available to games companies so that they can focus on their games. These solutions not only provide the performance and understanding that live service game platforms need, they also do it at a greatly reduced cost when compared to going at it alone.
Analytics has become a major part of the game business, especially when it comes to live services games. Of course, Google is known as a pioneer in analytics. What does Google offer in terms of analytical solutions for game developers? How are they tied to Google Analytics?
The ecosystem we've created unifies understanding and performance. Our analytics solutions underpin the ability of game developers to deeply understand their players, their business and their game itself. The most popular solution in this regard from Google Cloud is BigQuery, which allows game developers to attract and retain players more effectively with deep insights. What's more, BigQuery democratizes access to data and insights, making insights available to anyone at the game company; critical for live service operation and optimization.
As an example, King creates many of the world's most popular games like Candy Crush. The amount of data they manage is staggering – with over 70 billion events processed per day across hundreds of millions of monthly active users. BigQuery is the perfect solution for King because it enables them to run 130,000 queries monthly across their organization – making data and insights self-serve to hundreds of employees.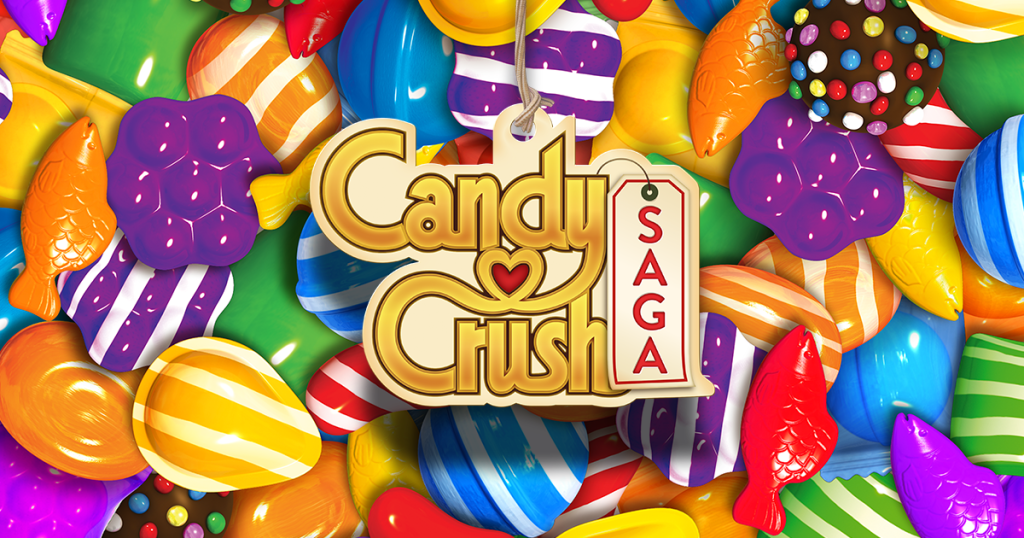 BigQuery enables game companies like King to operate at truly massive scale, while reducing expensive on-premises infrastructure and unifying data across the company. It's this power and scale – combined with ease of use and accessibility – that makes BigQuery such a popular choice for nearly every one of our top game customers
Increasingly we are seeing games release across multiple platforms. However, in many cases, features like communications and matchmaking are limited to a specific platform. Do you view seamless cross-platform play as a trend? Is this something Google can help game developers with?
Cross-platform play and availability is critical for live service games, especially as we look to the future. There are already over three billion people all over the world playing games, and we expect another half billion to start playing for the first time over the next few years. What makes these new players different from before is that over half of them will be playing games on more than one platform.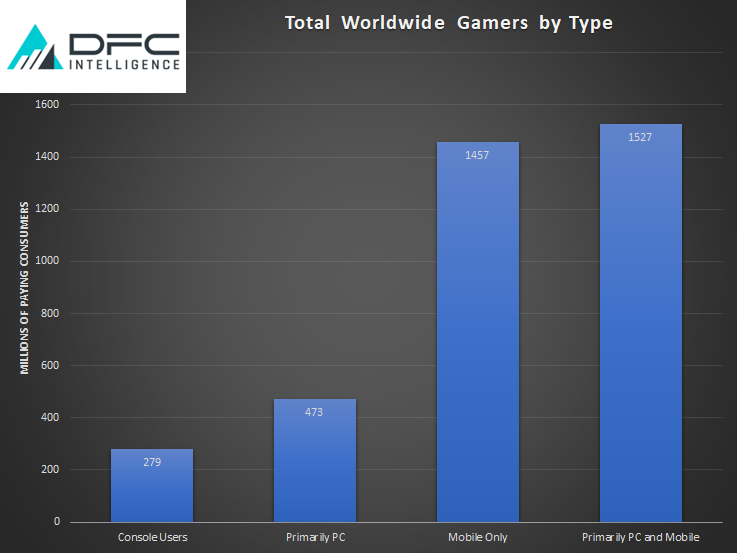 Building a live service platform that allows players to seamlessly play on their favorite devices and platforms will be critical to the future success of game titles, and this is often no easy task. Like many of the other hard live service platform problems, we have long since solved this here at Google. That's why so many companies across not just games but also entertainment at large have looked to us for solutions. Major media companies – and even our own live services like YouTube – use Google Cloud solutions, ensuring seamless access across a very large variety of endpoints. Our cloud platform has been battle tested in this regard and is the go-to choice for companies looking to provide seamless planet-scale access across devices for their live games.
Artificial Intelligence (AI) has been in the news recently but it has always been a big deal for the video game industry. What does Google Cloud offer in terms of AI solutions for game developers?
Live service games are the future of the games industry, and are now reaching billions of players around the world; this scale requires bulletproof solutions for game servers, databases and analytics
However, a new challenge has arrived; game companies need to scale their development efforts to feed these games with fresh content and experiences, often times personalized to their audiences.
Practical and generative AI offers a solution by helping game developers rapidly scale their ability to create fresh and personalized content for their audiences. Imagine leveraging AI to make the creation of dialogue, art assets, cutscenes, game code, and even music and sound effects more data driven and easier to scale.
Google is the world leader in AI, having founded the first AI division in 2011 which made many critical contributions to the development of machine learning algorithms, including the invention of the Transformer model used in many generative AI applications
Game companies are no stranger to Google's AI and ML technology; They have been using AI & ML in Bigquery for analytics workloads for years, and now with Google's Vertex AI can train their own Generative AI models for use in commercial game productions.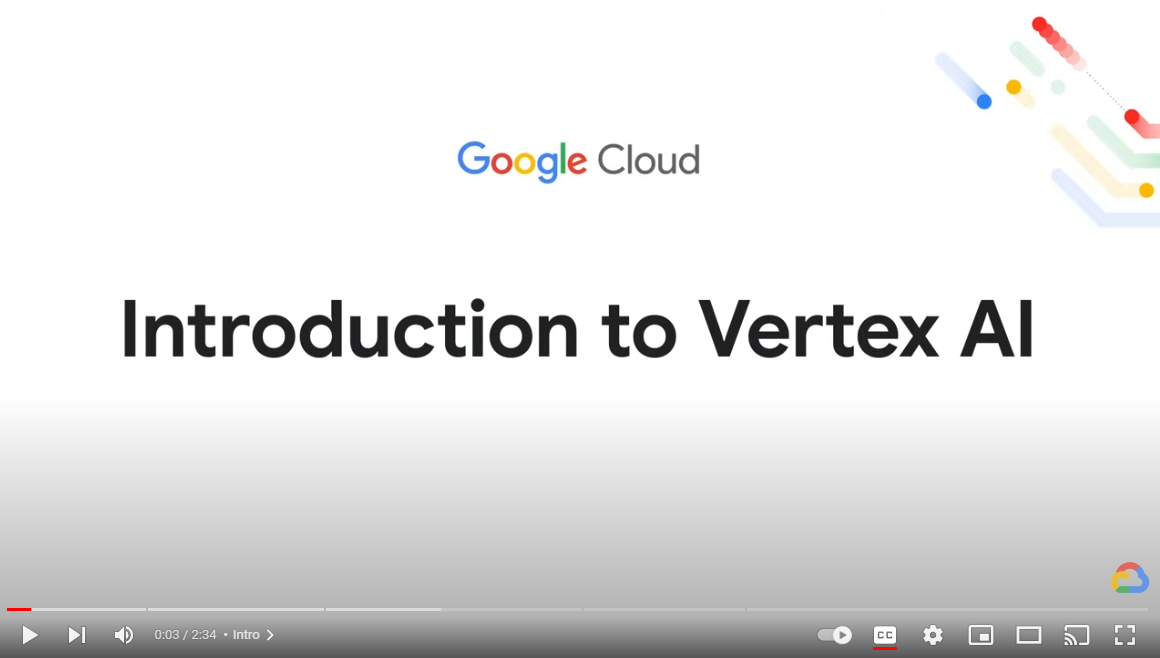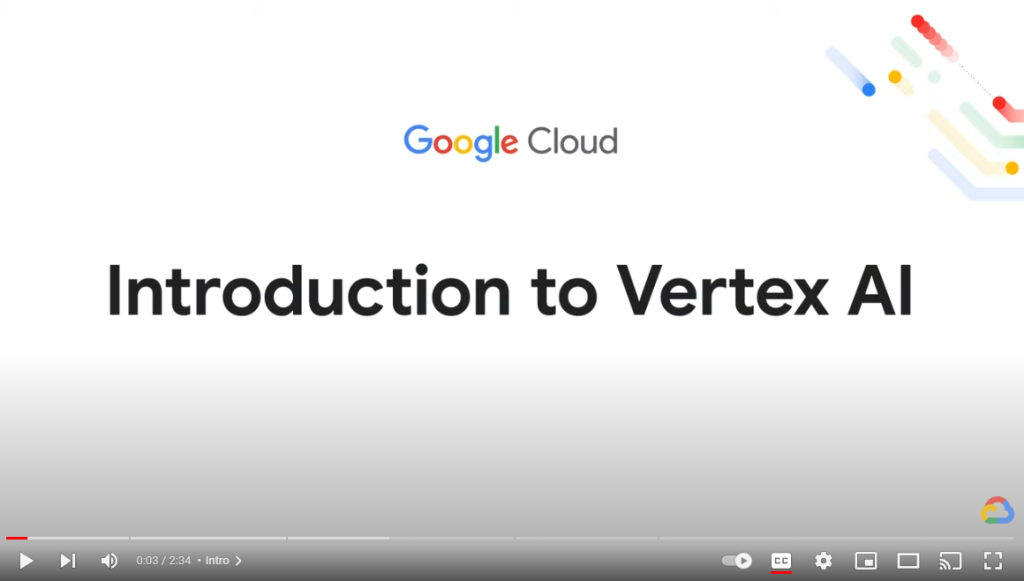 In terms of the overall game industry, how do you see regional growth? Are there certain markets more conducive for the live services solutions Google offers?
The games business has truly become global, and we've seen markets such as APAC experience explosive growth in recent years. This influx of players all over the world is largely due to the accessibility to games through mobile devices. As mobile devices have now proliferated to 80% of the planet, we find that owners of these devices often turn to games as a primary use for the device. And what's more, these players more often than not begin playing on other devices, making this an incredibly exciting time for our industry – no matter what segment you participate in.
At Google Cloud we focus on planet-scale solutions for the games industry. We know that the opportunity for game companies is larger and more diverse than ever. That's why we're passionate about bringing solutions for the industry's largest problems, uniting understanding and performance to help game companies meet an opportunity that's larger than we've ever seen as an industry before.
2022 was a tough year for the game industry and economy in general. Many tech companies, including Google, reported layoffs. What do you see as the outlook for the games sector going forward? Are market conditions improving?
I've been in the games industry since the 1990's and I've seen this industry grow continually since then. Yes there have been bumps in the road, but I always tell my teams "don't bet against the games industry."
We're in a very unique industry that brings joy and excitement to billions of people worldwide. We're an industry defined by smart, creative people that are passionate about what we do. And we bring experiences into the world that you can't get anywhere else, that push the boundaries of technology to always deliver something fresh, exciting and new.
The pandemic caused many people to discover games for the first time, or play games more often than they were able to before. After the world was able to begin to return to normal, we saw a dip coming off of this high water mark which was to be expected. But now we see the industry continue to grow again, and I don't expect that to stop.
All this is to say: I'm more excited about the games industry than ever before, and I couldn't imagine being a part of any other industry!
In your work at Sony you were involved with PlayStation Home, an online virtual world that can be seen as a precursor to the metaverse concept. Do you have any insights based on that experience. What do you feel about the metaverse concept when it comes to the concept of games as a live service?
I was very fortunate to be the Director for PlayStation Home way back in 2008. We created a virtual world which was built-in to every PlayStation 3, bringing the early metaverse to tens of millions of players all over the world. What strikes me about this experience is that we had many of the same ambitions as the creators of today's metaverse; a connected digital reality with real-human avatars and virtual spaces bringing together a global community.
While we had the same vision as today's metaverse, what we didn't have was technology. You see, a virtual world or metaverse is itself a live service platform. While a metaverse is not a game per se, the exact same engineering problems need to be solved to realize it.
When working on PlayStation Home we would have given anything to have the solutions that the Google Cloud for Games ecosystem provides. Because we were so far ahead of our time, we had to try to build our own live service systems from scratch, to varying degrees of success. Today, at Google we have an incredible number of customers building the metaverse of the future, and for them we are able to provide our ecosystem of solutions to immediately solve problems that seemed impossible 15 years ago.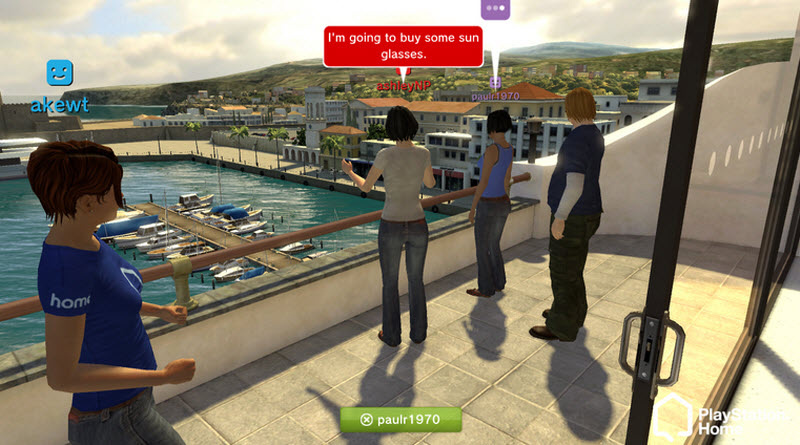 On a personal note, what are your favorite games? What are you looking forward to?
I've played games since I was four when I got Space Invaders on my Atari 2600. I now own nearly every game console ever created, and they are all hooked up ready to play at a moment's notice. Right now I'm on a Sega Master System and NEC SuperGrafx binge as far as classic games go, and my favorite game of all time is Ms. Pac-Man, which I think is perfect.
On the modern side of things, I recently got a Steam Deck which I find is a perfect companion to my game PC, and reminds me of how live service games now must operate across a variety of devices. I'm currently obsessed with Vampire Survivors, Elden Ring, and Hyper Demon.
And finally, a big shout out to my alma mater PlayStation. Rarely a day goes by that I don't play my PS5. I'm really enjoying my PSVR 2 on PS5 as of late, and am deep into Horizon Call of the Mountain.
The game I'm most looking forward to now has to be Street Fighter 6. I love how accessible and yet deep fighting games are in general, and how social the experience is. It looks to me like Street Fighter 6 will push the boundaries of what a fighting game can be, and for me that is incredibly exciting!