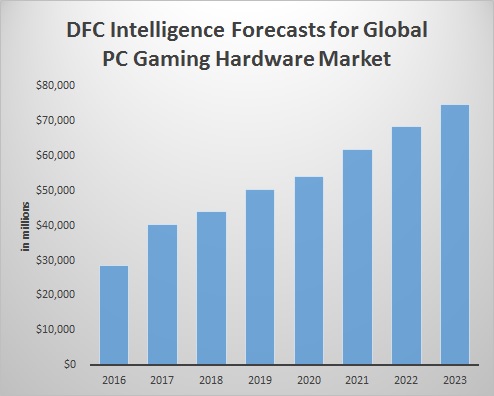 Spending on PC Game Hardware to Reach $70 Billion
When most people talk about the video game industry, they look at consumer spending on games.  However, this is only a portion of the overall video game ecosystem.  There is almost as much spending on the hardware to play video games as there is on the actual games themselves.  In the recent DFC Intelligence PC Game Hardware Forecast report, it is estimated that by 2023 PC game hardware spending will reach $70 billion.
For the past couple of years, DFC Intelligence has tracked gamer spending on PC hardware. This is spending for high-end PCs dedicated mainly to playing games.  These PCs often have performance CPUs and GPUs from companies like Intel and Nvidia.  In addition, they are likely to have custom case, cooling systems, memory, power supplies, monitors and other accessories.
Estimating the size of this market is admittedly an inexact science.  PC systems are utilitarian devices that can be used for many purposes.  Games are likely only one of multiple uses for a PC.
To estimate the size, DFC estimates consumer spending on game hardware that is over and above normal spending.  For example, if instead of spending $1,000 on a computer, a consumer spends $1,500 to upgrade his system for games that is considered $500 spent on game hardware (not $1,500).
Furthermore, games are a major driver of more regular hardware upgrades.  Spending on upgraded cooling systems, for example, is largely driven by the high-performance requirement of games.  In recent years this tracking has become somewhat harder with the rise of high-end PCs used for cryptocurrency mining.
Even with the rise of games like Fortnite, the PC game hardware market in 2018 underperformed expectations by about 10%.  Much of this was due to adjustments based on calculating spending on cryptocurrency mining.  The good news is the fundamentals of the PC game hardware market remain strong.
In 2019, PC game hardware spending is expected to reach $48 billion.  This is expected to climb to $70 billion by 2023.  DFC Intelligence breaks PC hardware into several segments.  The fastest growing category is laptop gaming systems which is expected to grow 137% from 2018 to 2023.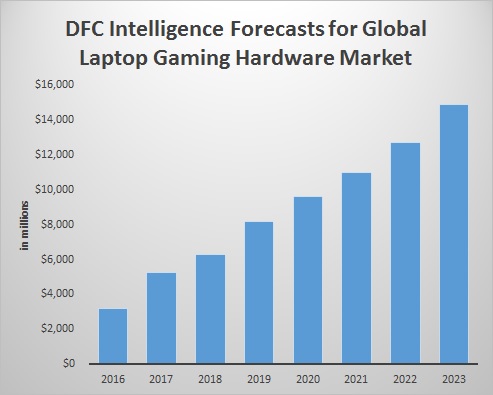 The new PC Game Hardware Forecast report is part of a series of reports that look at the PC game market from several perspectives. It is also part of the video game industry segmentation series that sizes the video game market from both a supplier and a consumer demand perspective.
For an initial look at the industry from a supplier perspective, we urge you to check out the segmentation that DFC Intelligence did in conjunction with Venture Beat and Atlas Technology Group. It is available for free on the Venture Beat website. This segmentation lists the major companies in each industry segment.
From a consumer perspective, the new Global Video Game Consumer Segmentation report is part of a series of reports DFC Intelligence is releasing looking at the global game market. Additional reports are focusing on direct comparisons between hard-core, moderate and casual game consumers.
https://www.dfcint.com/product/pc-game-hardware-market-forecasts/