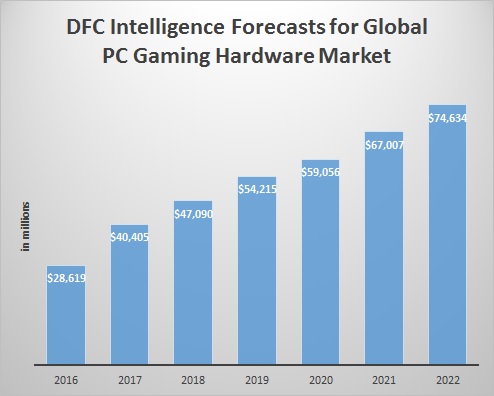 Market for High-End PC Game Hardware Grows 40% in 2017 to $40 Billion
The overall market for video game software soared past $100 billion in 2017. However, this is only a portion of the overall video game ecosystem. A major story over the past year has been the incredible growth in spending on game related hardware. This is not just dedicated console game systems, but spending on high-end PC systems.  DFC Intelligence has just released its latest PC Game Hardware Forecast.
For the past couple of years, DFC Intelligence has tracked gamer spending on PC hardware. This is spending for high-end PCs dedicated mainly to playing games. We have talked about the rise of genres like battle royale with Fortnite and Player's Unknown Battleground. These games drive consumers to spend money on expensive hardware to play those games. The latest DFC report estimates that spending on high-end PC hardware grew 40% in 2017 to $40 billion. Over the next five-years this spending is estimated to reach $75 billion.
A diverse group of companies will benefit from this growth. In 2017, graphic chip maker Nvidia saw its gaming revenue grow over 40% versus the previous year. Furthermore, Nvidia's gaming revenue was almost double its 2015 level. Even long struggling AMD saw computing and graphics revenue increase 50% in 2017.
These are only the most obvious players in the space. Companies like Corsair and Cooler Master specialize in cases, cooling supplies, memory and other accessories to help gamers build their own rigs. This enthusiast market is one of the fastest growing segments in gaming. Of course, it is not just games driving this segment. Bitcoin mining requires high-end PCs and it can be hard to segment out how much of the growth is driven by gamers versus currency miners. Nevertheless, it is clear gaming hardware is a major growth area.
Beyond PC hardware, there is also major growth in accessories like headsets. Gaming headset manufacturer Turtle Beach's stock was trading at $2 a share in March 2018. Two months later, the stock had grown eight-fold to $16 a share. The company says its sales growth has been driven largely by Fortnite.
This growth represents a new generation of gamer that realizes the value a high-end system can provide. Consumers that were young children in the early days of household PCs in the 1990s are now reaching their 30s and are ready to spend money. Combine that with emerging markets around the world and the number of global game consumers has now passed the 2 billion mark.
DFC Intelligence is working with Venture Beat and Atlas Technology Group to develop a detailed segmentation of the game industry landscape. The video game economy is booming and there are hundreds of companies that are likely to capitalize from this growth. Most of these companies are fairly unknown to the general public.
For more information on the new report go here.