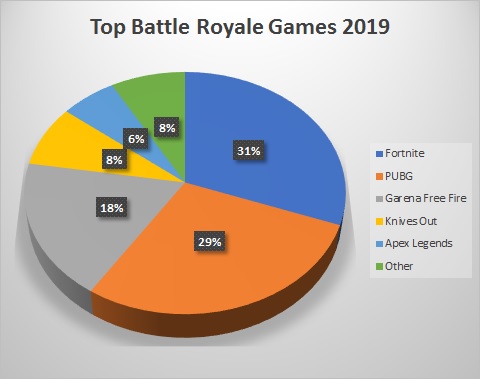 Battle Royale Game Revenue to Hit $7 Billion
The latest DFC Intelligence report takes a hard look at the battle royale game genre.  One of many surprising findings was that PlayerUnknown's Battlegrounds (PUBG) is set to become the leading battle royale game in 2020.  Battle royale game revenue is set to reach $7 billion a year.
The battle royale genre has been the biggest video game success story over the past two years.  There have been arguments that the genre peaked in 2018.  However, DFC Intelligence forecasts revenue from battle royale games will increase by 32% in 2019 and is expected to pass $5 billion in 2020.
Surprisingly the number one game in 2020 is expected to be one of the originators of the genre, PlayerUnknown's Battlegrounds, or PUBG.  Back in April 2018, DFC wrote how Fortnite had surpassed PUBG as the top battle royale game.  However, since that time the developers of PUBG have corrected course.
Battle royale games are market expansive.  They bring in more users versus taking away existing users.  PUBG has capitalized on this trend by focusing on PUBG Mobile and PUBG Lite, a less resource-intensive PC version.  The result has been a great success in Asia and emerging markets.
In China, PUBG Mobile is becoming successful in a sanitized, government-approved version called Game for Peace.  Partnering with China game giant Tencent was a smart move for PUBG.  Overall Tencent is well vested in the genre with an ownership stake in Fortnite publisher Epic.
Of course, top battle royale games can be huge revenue generators.  The issue is how many products can the market support.  In 2019 the top five battle royale games are expected to account for over 90% of revenue in the genre.
A big area of success will be incorporating the battle royale mechanics into existing franchises.  DFC has written about the 2019 comeback of Minecraft and this is a perfect franchise for battle royale.
The challenge most AAA game publishers face is that their major franchises are not big enough to support the expansive nature of battle royale.  In its latest quarterly filing, Activision Blizzard claims 37 million active monthly users for ALL Activision games (not Blizzard or King).  This is great for selling $60 games but barely a start for building a free-to-play success.
The one AAA franchise that does have a compelling audience for battle royale is Grand Theft Auto.  In DFC's tracking, Grand Theft Auto V and Grand Theft Auto Online are some of the most popular products ever on a global basis (not just the U.S.).
Among traditional publishers, we have been advising investors that Grand Theft Auto publisher Take-Two Interactive is the one likely to benefit the most from battle royale.  They also own the Red Dead Redemption franchise, which could have similar potential on a smaller scale.
Overall battle royale is an example of how the game industry is constantly shifting from its traditional base.  The future of the game industry is built on the children and teenagers of today.  Increasingly it is built on an audience outside of the traditional console game markets of North America, Western Europe and Japan.
DFC forecast battle royale games to reach $7 billion in revenue by 2024.  However, the impact will be larger as battle royale mechanics are incorporated into existing products like Grand Theft Auto and Minecraft.
The latest report Battle Royale Games: Analysis and Forecasts is available now.