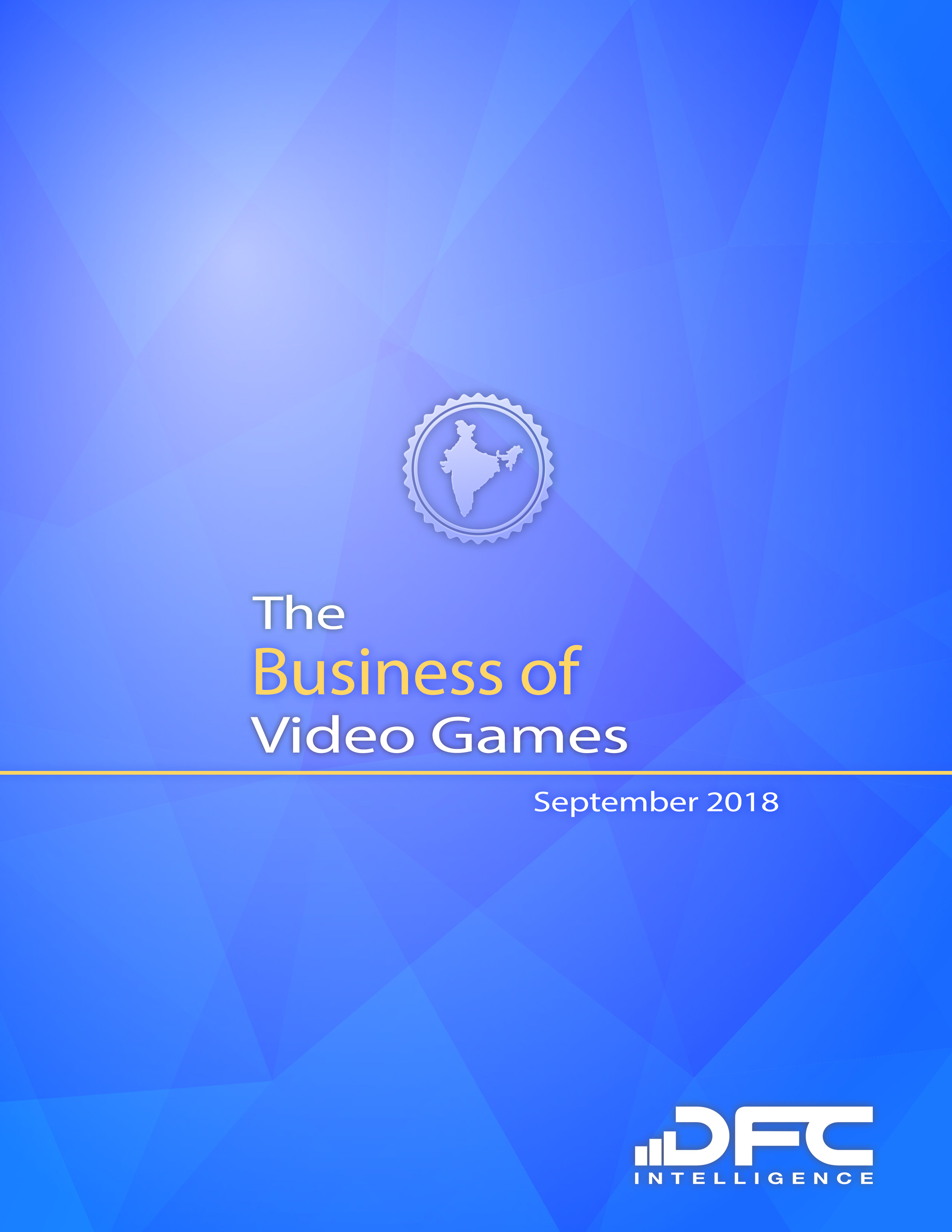 Mobile Game Market Lures PC Game Companies
The newly released DFC Intelligence report The Business of Video Games, looks at the diversity of the ever expanding video game market.  On a top level, one of the biggest issues is the bifurcation of the industry into two separate segments.  One segment is the core video game players.  The other is the more casual users that are increasingly playing on mobile devices.  The mobile game market has mainly lured the more casual PC game companies.
Mobile is an extension of the concept that a large number of people play games in their leisure time if given the opportunity.  For years, games such as Minesweeper and Free Cell were major features of Windows operating systems.  In the early 21st century, a major casual game segment grew on PC.
Today, the casual PC game companies have either gone to mobile or are out of business.  Casual games are designed to be played during quick breaks during the day.  Previously, many casual games were played on a desktop during a work break.  Mobile devices capture the play anytime, anywhere aspect so necessary to casual games.
For most high-end games, mobile devices are less than ideal.  Of course, most gamers own a mobile device.  However, increasingly these are being used for either quick casual games or short burst games like those from Supercell and MZ.
Quick burst mobile games and high-end PC and console games are really two separate businesses and should be treated as such.  Fortnite would be an example of a potential cross-over, but really it is an exception.
There are several examples of companies that have made the transition from casual PC games to mobile games.  This would include Big Fish Games and Zynga.  Both had a huge niche in casino games.  Zynga got its start on PC via the Facebook social network.  Meanwhile, Big Fish successfully established its own game network and subscription service delivering casual games.
Big Fish Games was sold to Aristocrat Leisure early this year for nearly $1 billion.  Aristocrat is a leading Australian maker of gambling machines.  Previously, Big Fish had been acquired by Kentucky Derby operator Churchill Downs in late 2014.
Zynga, while originally known for games like Farmville and Words with Friends has also enjoyed its recent success with gambling games.  Slots and poker titles account for over 50% of Zynga revenue.  Most of this is now occurring on mobile.  In early 2014, only about one-third of Zynga revenue came from mobile games.  Today that figure is about 90%.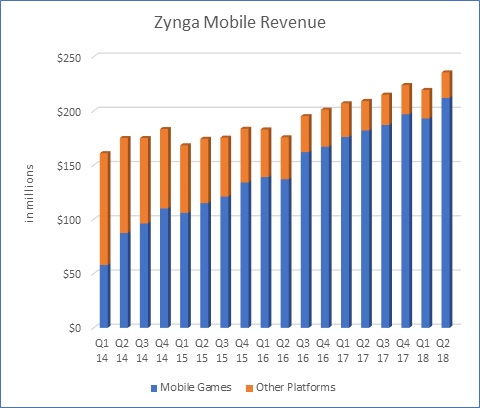 Much of the mobile growth has occurred in Asia where the leading PC game companies look to expand into mobile.  The two most successful companies in this area, by far, are Tencent and NetEase.  These companies operate advertising services and have been able to take advantage of the social network features of mobile that add revenue beyond just traditional games.
Tencent (ADR: TCEHY) is one of the few companies to play in both segments.  In 2017, Tencent generated over $9 billion in mobile games, mostly from China.  However, they also grew their PC game business and own a diverse product line.  The challenge is that outside of acquisitions of Riot Games and Supercell they have limited presence outside China.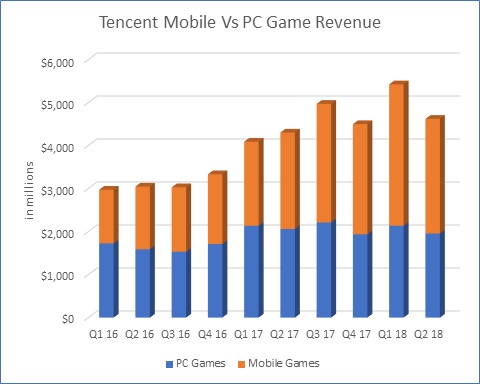 NetEase (NASDAQ: NTES) is even more dependent on China.  In 2014 had PC game revenue of about $1.3 billion with about one/tenth of that for mobile games.  By 2017, PC games had reached $1.6 billion while mobile games had soared to close to $3.9 billion.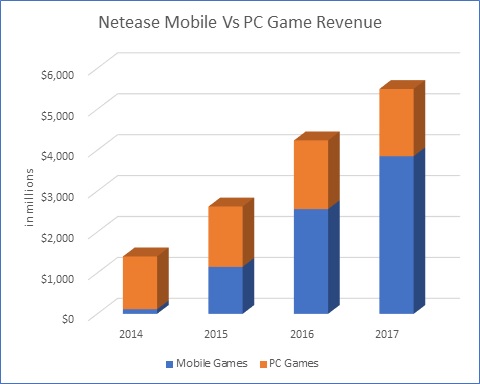 In the 1990s there was great concern over violence and other adult content in video games.  Establishing a rating system helped limit those concerns.  More important was the aging of the game consumer and the growing realization that games are another media form like music, movies and books.
Mobile games present another challenge in many of them resemble gambling.  Casino games are huge in the mobile space ad governments are starting to crack down.  Tencent agreed to shut down its Texas Hold-Em Poker game on September 25th after government pressure.
Tencent stock has dropped by almost a third in 2018.  NetEase has faced a similar drop.  Really this goes to highlight the concerns over the mobile game business.  This goes beyond just pure casino games and the concern that all virtual item products are more like gambling than playing a game.
Going forward, the concern over what the mobile game business represents is likely to grow.  Some big questions will be how do individual game companies handle these issues?  Large publishers of AAA titles often look at the major mobile games with envy.  However, it is really a separate business.  Trying to incorporate mobile features in high-end games can be a major turnoff for the core audience.  This was shown over recent loot box controversies.
DFC Intelligence reports breakout the many segments of the game industry.  The mobile game business can actually be broken into multiple sub-segments each of which has its own challenges and opportunities.  If you would like a free copy of out top-level segmentation be sure and register with Venture Beat.
The Business of Video Games report, along with the latest DFC Video Game Market Forecasts, are available at www.dfcint.com.