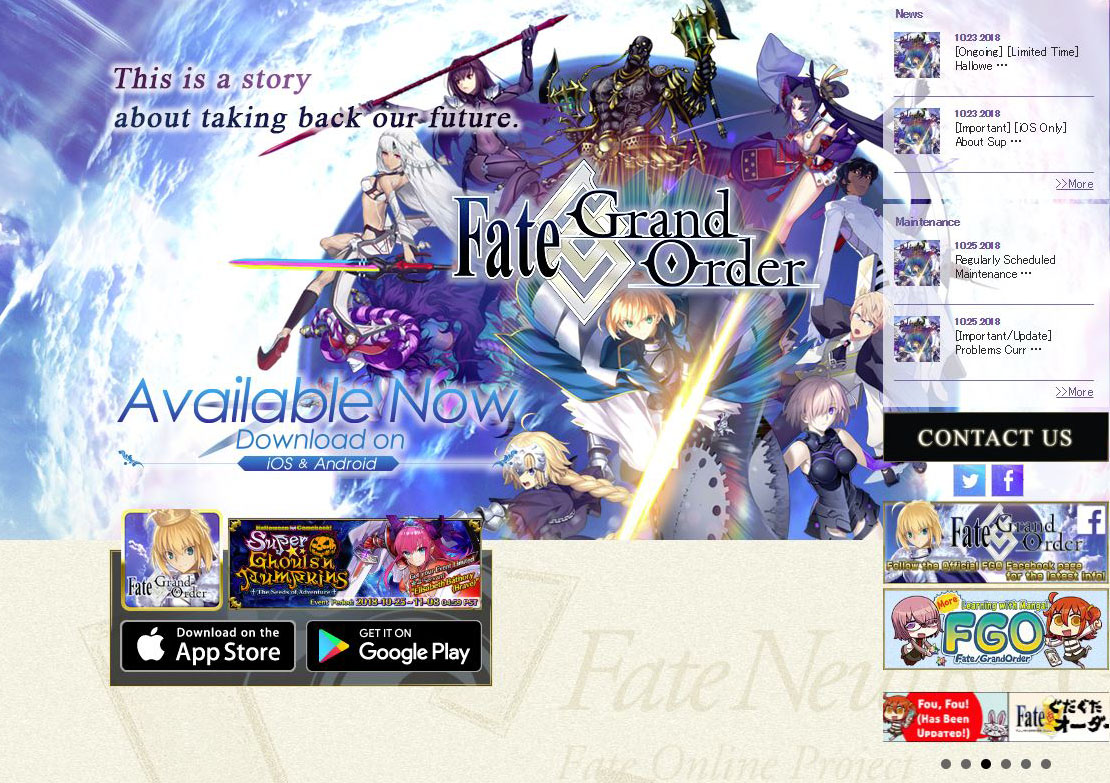 Who is Worth More?  Sony and Nintendo Market Value
In June 2017, Nintendo Co stock made news when its company market value passed Sony.  This was not the first time that had happened.  However, it did have a great deal of investors asking us about the relative market value of both Sony and Nintendo.  So, when it comes to Sony and Nintendo market value which company is worth more?
One would think this is a rhetorical question.  Nintendo is a pure play video game company.  Sony has many divisions and products, including a video game division that is larger than Nintendo's.  In the last year, Sony's game division alone has earned almost $20 billion in revenue, about 25% of Sony's overall $80 billion in revenue.  In the same period, Nintendo revenue has been about $10 billion.
Many people will point to the fact that Nintendo is extremely profitable.  However, from the period of October 1, 2017 to September 30, 2018, Nintendo's operating income was about $1.8 billion.  Sony's operating income from its game division was about $2.5 billion.  Total operating income across all divisions for Sony was $7.3 billion.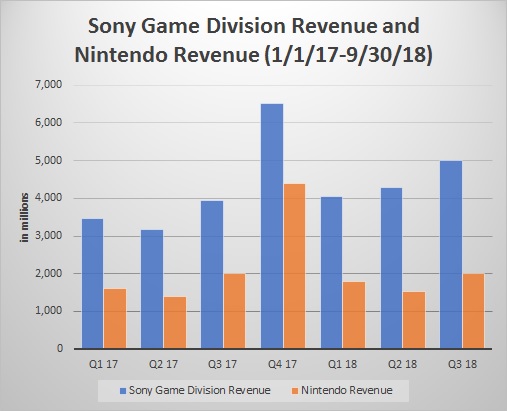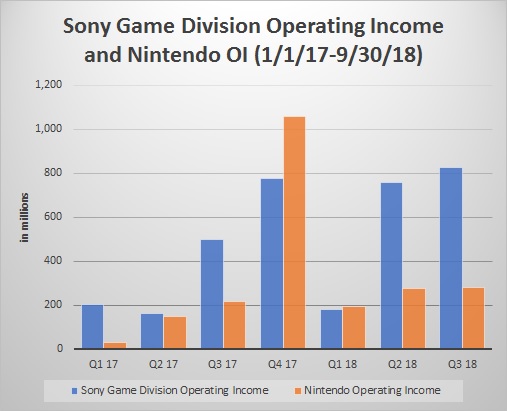 In the past year, investors have really started to take a harder look at the two companies and the market values are starting to reflect the more long-term reality. At the end of October, Sony has a market value near $70 billion.  Nintendo's market value is around $37 billion, about half of Sony.
Long-term we do not see these relative valuations changing that much.  Nintendo has been a volatile stock based on their latest hit products.  In 2007/2008, the Nintendo Wii caused Nintendo's market value to soar past $80 billion.  Buy 2013 it had collapsed to about one-sixth of that high.
In July 2016 Nintendo stock started a comeback with the release of Pokémon Go.  The fact that this was not a Nintendo product did not deter investors who saw a bright future in Nintendo's IP on mobile.  Nintendo's stock reached $40 billion, once again more than Sony.
The past two years have seen a steady rise for both stocks.  Sony stock has almost doubled.   Meanwhile, Nintendo saw a nice rise until the start of 2018.  In 2018, Nintendo stock is down over 30%.  This is a clear reaction to financial reports showing Sony growing its lead in the video game space.
Sony has faced an entirely different set of issues.  The problem Sony has faced is the perception that it is a schizophrenic company made of many divisions that simply do not work together as a strategic whole.  In many ways that is true.  However, under the recent leadership of former game division head Kaz Hirai, Sony has trimmed much of the fat.
Sony stocked peaked around the turn of the century where it was trading at more than twice what it is at today.  The stock started a long downward trend that has only changed with the recent success of the PlayStation 4.
Nintendo is basically a Japanese toy company specializing in video games.  Sony is a much more complicated long-term play.  Nintendo stock has many speculators hoping to ride the latest hit product to quick riches.  In general, Sony does not trade off the most recent product.  The PlayStation 4 is a big hit but games only account for about 25% of overall revenue.
Many investors are really interested in how well each company will do with digital products.  Sony is often seen as being weighed down with unprofitable hardware, while Nintendo has hit IPs with the potential to soar in the digital age.
However, a closer look reveals that both companies have an intriguing blend of hardware and software that drive them to success.  DFC Intelligence has always been of the opinion that having a hardware/software combination is a potential winner.  This is why Sony got in the software business and Microsoft got in the hardware business.  Amazon and Google are also looking at their own hardware for delivering their services.
The issue with Nintendo is that they are primarily focused on delivering their own IP to their established audience. On the other hand, Sony is looking to use its PlayStation platform to drive a host of services to its customer base.
For example, Sony has the PlayStation Vue subscription TV service.  The reality is it has nothing to do with PlayStation, as it can work on many third-party devices.  In the past year, game division network services have delivered $2.6 billion in revenue for Sony.  Hardware was about $5 billion, game software $10 billion and other revenue like PSVR and accessories was about $1.5 billion.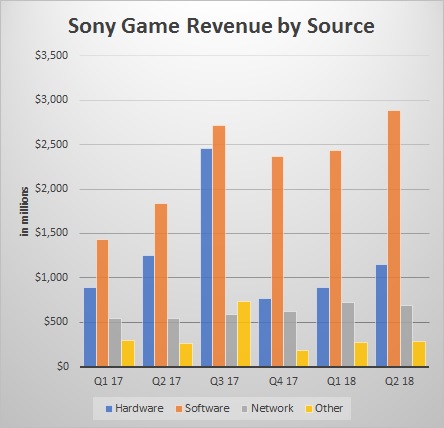 Of course, Sony is about much more than just video games.  Sony is a leader in music. Motion pictures and television, imaging products (cameras and technology found in many smartphones), and of course a wide range of consumer electronics and semi-conductors.  However, Sony is no longer a consumer electronics company.  The shrinking mobile hardware division (the only one to not show a profit in the past year) is a prime example of how Sony is looking to focus more on digital services.
A great deal of Nintendo's value is seen in its ability to bring its IP to mobile devices.  However, once again Sony has taken the lead with a mobile game, Fate/Grand Order.  Fate/Grand Order was a huge hit in Japan, where it became one of the handful of billion dollar plus titles.
The thing about Fate/Grand Order is it did not even come from Sony's Game division.  It came from the Music division.  In other words, Sony's $20 billion in game revenue does not include Fate/Grand Order.  In the past year, Sony's Music division has generated nearly a billion in operating income from about $5.5 billion in revenue.
In the recent released forecasts for the fiscal year ending March 31, 2019, Sony raised its guidance for the Music division revenue by 8% and doubled its forecast for operating income.  Part of the reason was "Strong performance of the mobile gaming application Fate/Grand Order."  On a side note, earlier this year Sony Music paid to $2.3 billion to acquire EMI Music Publishing.
It is interesting to note how Sony and Nintendo's stock price have followed similar trends the past 6 years.  Nevertheless, a comparison between the two companies is really apple to oranges.  Since the Switch launched it has been outsold by the PlayStation 4.  Overall Sony is closing in on almost 4 times the number of PS4 units sold.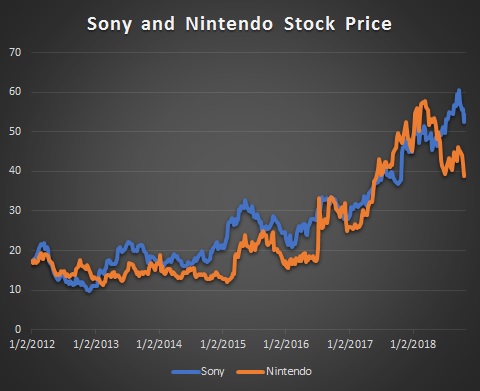 Sony is also not so shabby in the hit game department.  Big internal first-party PlayStation 4 games can start to push the 5 to 10 million unit mark.  This includes Uncharted 4, Horizon Zero Dawn and this year's God of War and the recent Spider-Man.  In the latest DFC consumer survey, the PlayStation 4 clearly came out on top in terms of consumer perception.
The real issue with Sony is can they compete with the powerhouses of the digital age.  This would include Google, Apple and Amazon.  These giants, along with Microsoft, have market values about 10-times Sony's.  From a long-term strategic investment perspective, this is where things get interesting.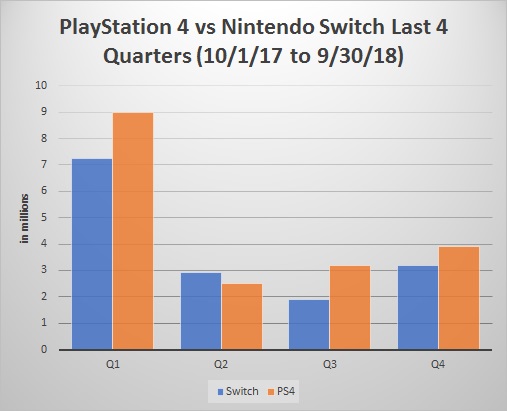 To see the latest DFC Intelligence forecasts go here.
For an analysis of the first year Nintendo Switch sales see this article.