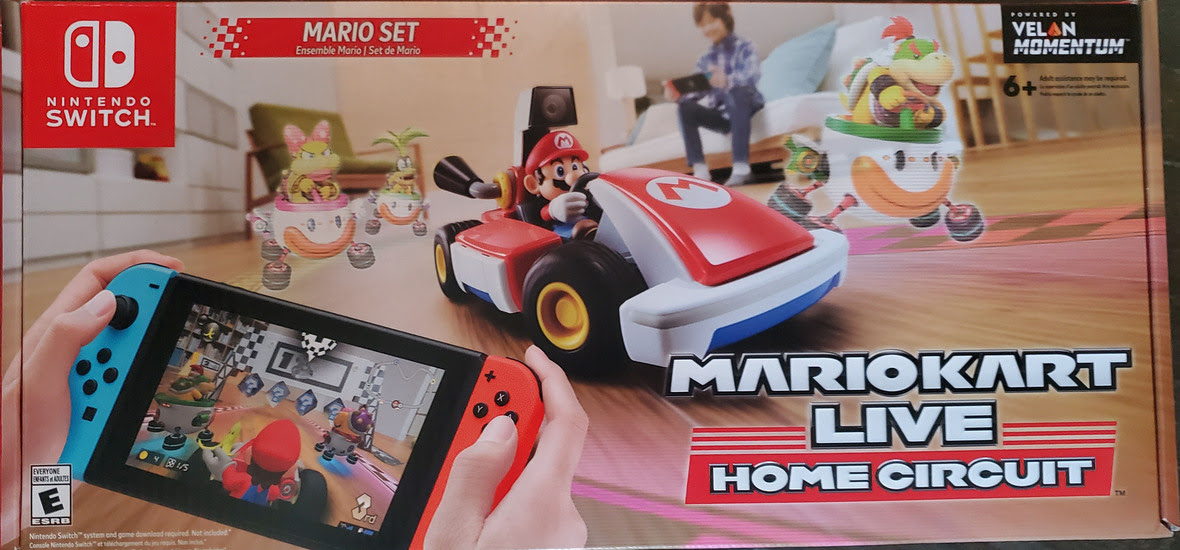 Mario Kart Live Home Circuit is Nintendo's Latest Augmented Reality Innovation
Virtual reality and augmented reality do not receive the same level of attention they did several years ago. However, Nintendo's new Mario Kart Live Home Circuit is the latest example of how fun innovative products are implementing new technology.
Mario Kart Live Home Circuit is a Switch-based remote-control car that launched on October 16, 2020. Prior to testing it out we viewed this as another video game gimmick. However, it turns out that Mario Kart Live Home Circuit is the most fun we have had with a toy-to-life product.
The entire point of Mario Kart Live Home Circuit is setting up a race circuit in your home for the remote-control car. However, the car comes with a camera and you actually view the race on the Switch screen from the point of view of the car. In other words, users are driving an augmented reality Mario Kart course in their living room.
Users create their own tracks using four included cardboard gates. What is amazing is the race actually feels like Mario Kart with drifting, powerups and battles with other racers.
This is a product that really needs to be tried in-person to appreciate. Already many consumers are doing just that. Mario Kart Live Home Circuit quickly sold out and it is likely to be one of the hottest holiday products even though it costs a hefty $100.
Mario Kart Live Home Circuit is an example of how the video game industry is also at its heart about toys and fun. The industry has matured and includes a diverse audience, but capturing simple fun is the heart and soul of games.
The problem Sony and Microsoft face is their systems are in an arms race for older game consumers. Meanwhile this leaves a huge audience for Nintendo. The irony is that in terms of innovation in areas like augmented reality and virtual reality, both Sony and Microsoft are pioneers. The challenge has been converting technology into fun products that are also profitable.
The PlayStation 2 is the best-selling game console system of all-time. However, what many forget is that a large portion of sales were driven by offbeat accessories that did not appeal to the core audience.
The EyeToy launched as a camera accessory for PlayStation 2 in 2003. It was a big success in Europe and, along with SingStar karaoke, helped cement the PlayStation's brand in many markets.
EyeToy became more sophisticated as it became PlayStation Eye and then just PlayStation Camera. This technology, along with the PlayStation Move control system, became the centerpiece of the PSVR virtual reality platform.
Microsoft Kinect launched in 2010 as a very successful camera add-on for the Xbox 360. Kinect became famous when the Guinness Book of World Records recognized it as the world's fastest selling consumer electronic device with 8 million-unit sales in its first 60 days.
In 2020, both Microsoft and Sony seem to be leery of trying anything too innovative with their new game systems. Both companies are playing it safe. Ironically, this is based on past experience with products that are the time were considered to be a big success.
PSVR did okay for a virtual reality system but it didn't set the world on fire with only about 5 million units sold in its first three years on the market.
Meanwhile, Microsoft tried to make Kinect a key feature for the 2013 Xbox One launch. This strategy backfired as it made the Xbox One $100 more than the PlayStation 4 at launch. Microsoft spent the first few years of the Xbox One lifecycle trying to remove Kinect.
The challenge Microsoft and Sony have faced is trying to make their accessories platforms. On the other hand, Nintendo is looking at each accessory as a potential profit center.
EyeToy, Move, Kinect and PSVR were all designed as platforms for third-party developers to create unique content. The problem was limited installed base made it difficult to justify development. At 5 million, or even a 10 million installed base, for PSVR or Kinect why would a developer want to create a unique product when the core system has an audience an order of magnitude larger?
Nintendo products like Mario Kart Live Home Circuit, its Nintendo amiibos and the Nintendo Labo have a very different business model. These are designed as one-off products that make Nintendo a whole bunch of money.
Long-term this will be an interesting dynamic in the video game industry. The PlayStation 5 and Xbox Series are not taking risks and focusing on high-end games for a sophisticated audience. Past experience has made Sony and Microsoft conservative and risk adverse. Meanwhile, historically conservative Nintendo, is the company taking chances in innovation and new game play styles.
Kinect continues as a general-purpose PC peripheral. This is similar to the fate of Microsoft HoloLens augmented reality project. The focus of HoloLens moved away from games to broader applications. Incorporating this type of technology into a consumer-centered fun product is simply not Microsoft's forte.
For its part, Sony has learned that trying to incorporate video games with its core consumer electronics products is not the best idea. The PlayStation 3 tried to promote Blu-Ray and then 3D television, among other products. Now Sony is clearly focused on the core game audience.
The opportunity for a company like Nintendo is huge. Investors clearly are recognizing that potential. With the launch of the Wii, Nintendo stock more than tripled, only to crash back to earth after only a year. Since the Switch launch, Nintendo shares have had a more consistent run. In late 2020, Nintendo stock is starting to approach the highs of 2007. However, this time it is looking less like a bubble.
Next month, DFC Intelligence will be releasing its latest assessment of key game franchises and upcoming titles.