Latin American Gamers Love Steam, Twitch and YouTube
Latin American video games are a big deal.  Consumers in Latin America are really into video games.  However, taxes and fees can make game hardware costs prohibitive.  This is why Latin America could be a leader in streaming services.  DFC Intelligence recently conducted a survey of gamers in North America, Europe, and Latin America.  The results among consumers in Latin America are encouraging for Amazon, Google, and Steam.
Our survey specifically targeted game consumers so the results do not speak to the general population.  93% of Latin American gamers surveyed had tried Twitch (Amazon) or bought from Steam (Valve).  Furthermore, these services had a high satisfaction rate.  The number of gamers with a favorable or highly favorable attitude towards Twitch was 79% and for Steam was 94%.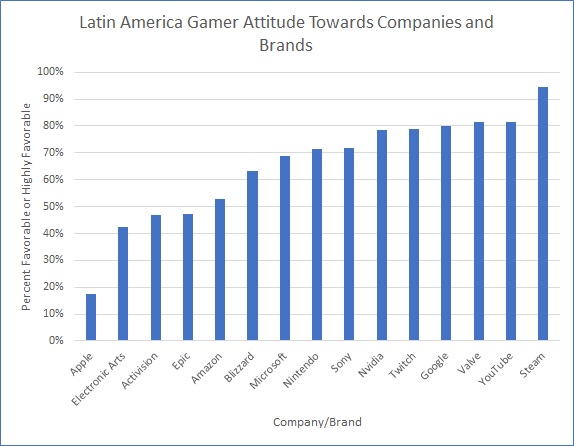 While these numbers may be discouraging for would-be competitors, Google and YouTube also ranked very high.  Among Latin American gamers, 72% had used YouTube Gaming and the overall positive rating for YouTube was 81% (with 80% for parent Google).
Amazon as a company did not do as well, but mainly that seems to be because of a more limited presence.  Over 40% of gamers in Latin America had no preference for Amazon with only 5% having a negative opinion (about the same as for Twitch).
Of course, the Latin America market is not as large as North America or Europe.  However, in the DFC Intelligence gamer segmentation over 150 million consumers have been identified as potential subscribers for a high-end cloud or streaming game service.
Once again, we stress that these results should be taken with a grain of salt.  DFC is doing a comprehensive analysis of streaming services in specific markets and consumer surveys are only a small portion of the results.
In the coming weeks, we will be presenting some more results from our surveys.  If you would like more information about these surveys or other DFC Intelligence products, please fill out this contact form.
For more information about the survey go here.
https://www.dfcint.com/product/streaming-game-services-consumer-survey-summary/