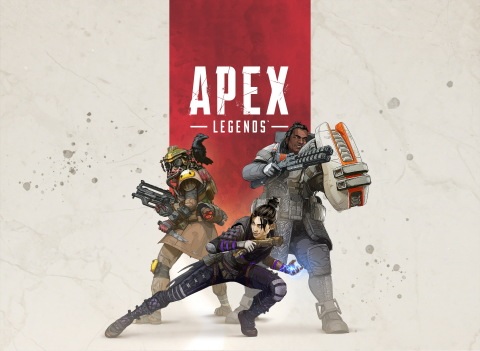 Apex Legends Forecast: Did It Reach Its Apex in Month One?
One of the biggest stories in the video game industry over the past two years has been the rise of the Battle Royale genre.  Last year at this time, we said to expect dozens of battle royale games to hit the market in coming years.  However, the one new title that has stood out from the masses is Apex Legends from Electronic Arts and established developer Respawn Entertainment.   Apex Legends took the market by storm on its launch in February, but only 2 months later its longevity is still uncertain.  Our Apex Legends forecast will play an important role in how we view Electronic Arts' market valuation in the near future.
In April 2018, DFC did an analysis of the Battle Royale genre.  Our main focus was on why Fortnite was more popular than PlayerUnknown's Battlegrounds (PUBG).  PUBG was of course the pioneering success of battle royale.  However, after only a few months it was overtaken by Fortnite.  Much of our analysis of Fortnite versus PUBG can be applied to Apex Legends.
Apex Legends was developed by Respawn Entertainment.  Respawn is best known for the Titanfall franchise.  However, Respawn founders Jason West and Vince Zampella were the original visionaries behind Call of Duty with their previous company Infinity Ward.  Call of Duty is the biggest first-person shooter franchise of all-time.  Individual titles in the franchise have sold over 30 million units.
When it launched in early February 2019, Apex Legends generated over 25 million registered users in its first week, 50 million in its first month.  Really this was not a big surprise.  Apex Legends is free and a big Call of Duty game can sell over 30 million units.  The main question for a game like Apex Legends is can it reach a 150 million plus user mark.  For a big AAA free-to-play that is the new barrier of success.
Currently, our opinion of Apex Legends is that its potential is a little more limited.  Our analysis of PUBG versus Fortnite indicated that Fortnite was more popular because it was a game that was easier for the masses to access.  PUBG featured more of traditional FPS gameplay and had higher system requirements.  That is great for more core gamers but makes it hard to go into the hundreds of millions of users.
DFC keeps a regular panel of younger consumers aged 6-16.  With this consumer group, PUBG never caught on.  Meanwhile, Fortnite is huge among ages 10+.  So far, Apex Legends has barely registered in this demographic.
Of course, this may be an indication that Apex Legends is just starting to reach its growth potential.  However, expanding the audience is likely to require some reworking of the game.  Users have praised Apex Legends for enhancements it brought to the Fortnite/PUBG gameplay.  Where Apex Legends seems to fall short is in monetization.
Electronic Arts has never been good with microtransaction business models and this trend appears to continue with Apex Legends.  We will give the game some time before doing a full analysis, but the initial microtransaction model was confusing and expensive.  This could prove to be a long-term problem for a game that front-loaded its audience.
With our good friends at System Requirement Labs, we ran some data on the major battle royale games.  Apex Legends showed huge interest in its first month but quickly leveled off to more the Fortnite/PUBG level.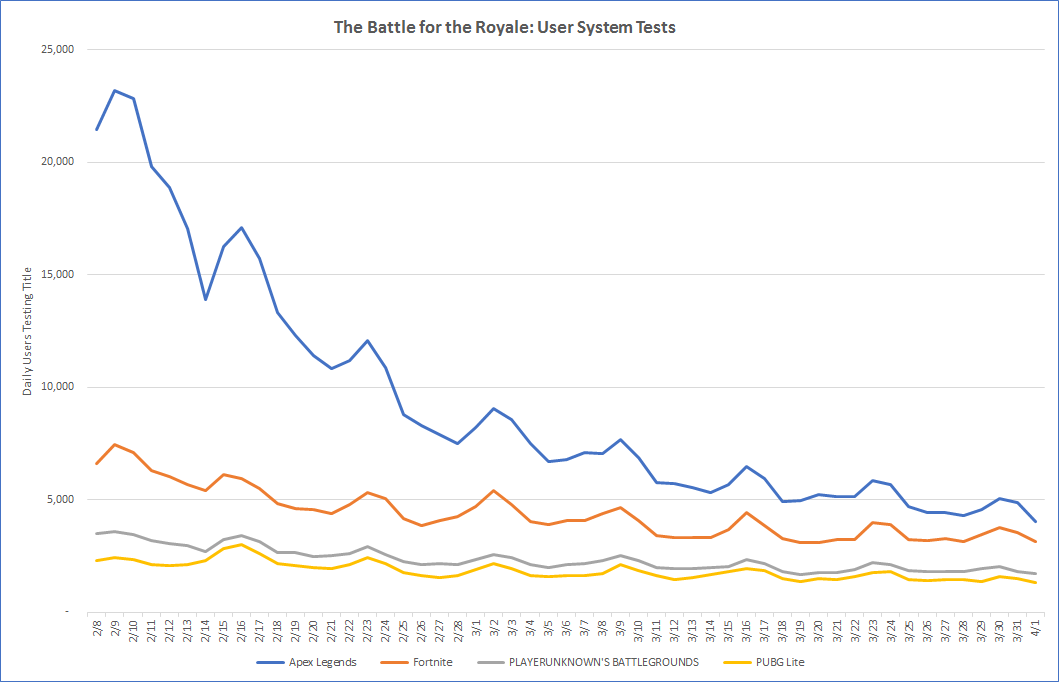 What this seems to indicate is that Apex Legends had a more Call of Duty type launch.  The millions of fans of the developer rushed to try the game. This compares with many of the established Asian free-to-play games that have built an audience over months or years.
Another issue with Apex Legends versus Fortnite is system requirements.  Of gamers testing their PC only 47% matched the minimum hardware specs for Apex Legends versus 64% for Fortnite.  However, this was much better than PUBG, where only 29% had minimum requirements (a reason for PUBG Lite).

All this means is that DFC thinks Apex Legends is a major battle royale success that will probably not reach the level of Fortnite.  Of course, it should be a nice windfall for parent company Electronic Arts.  What remains to be seen is whether Apex Legends can be a steady, long-term revenue generator.
Investors want to know whether Apex Legends can generate hundreds of millions, or even billions, of dollars in revenue for EA on a long-term annual basis.  On this area, we are somewhat more skeptical.
The battle royale genre will continue to be highly competitive and obtaining consistent consumer spending on a given product is likely to be difficult.
For its part, DFC is wondering how much Apex Legends will impact the other big Respawn title in development, Star Wars Jedi: Fallen Order.  Fallen Order was seen as a huge product for Electronic arts, but one must wonder whether the success of Apex Legends will impact that launch.  We should find out more later this month at Star Wars Celebration.
To see more about the battle royale genre, in general, see our overview from April 2018.
For more detailed analysis of these trends around battle royale games or other genres please contact DFC Intelligence using this form.