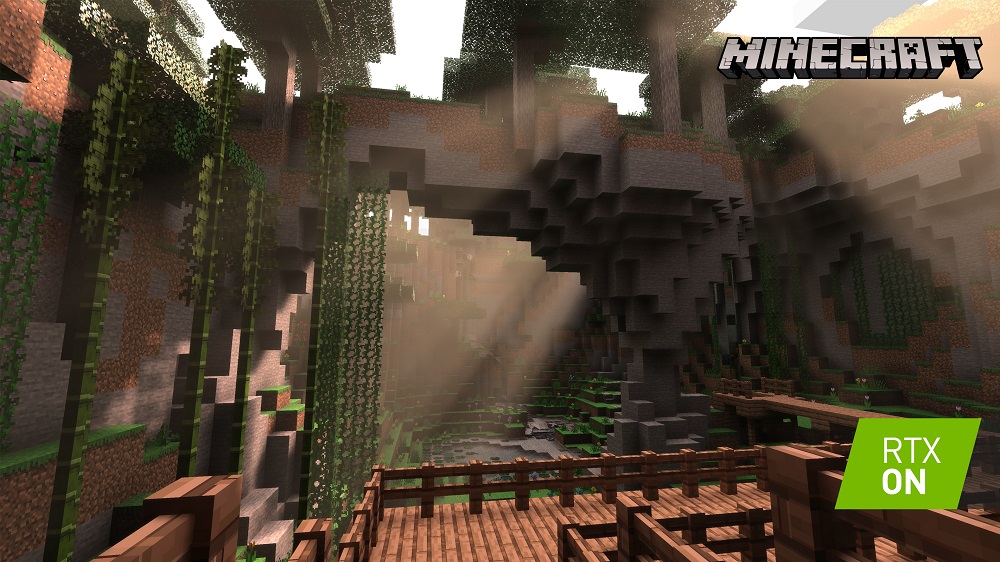 Will Minecraft RTX Drive Hardware Sales?
Minecraft is one of the most popular video games of all-time.  It is also decidedly low-tech and noted for its blocky graphics.  However, that may be changing as Minecraft looks to become one of the leading franchises for the next generation.  Minecraft RTX will be a major upgrade
In May, DFC wrote about how Minecraft was starting to become cool again.  This was after the game seemed to stagnate since Microsoft purchased the franchise and developer Mojang in 2014.
At Gamescom this week, Nvidia announced a bunch of games that would support real-time ray tracing on its advanced RTX graphics card.  Leading the way was Minecraft.  Nvidia claims Minecraft is the number 3 played title on GeForce, ahead of Fortnite.
The RTX support is interesting because Minecraft is known for its blocky graphics.  It is also known as a game for kids who do not have high-powered hardware.  RTX cards start at $350 and are all about high-end PC systems.
Games like Minecraft are why DFC has been bullish on the growth of PC hardware systems.  Minecraft is the type of game that people start playing in their childhood and continue to play as they grow older.
Of course, older consumers have more money to spend on high-powered hardware.  The game just celebrated its tenth anniversary and its original users are now in adulthood.  An enhanced version of Minecraft will continue to appeal to a growing audience of consumers.
There is also the question of how much Minecraft may help Microsoft.  Strategically Microsoft has made one wrong move after another in recent years with its Xbox brand.  However, acquiring Minecraft was an extremely smart move and could really drive Xbox the next few years.
In an interview with GameDaily.biz last week, DFC Intelligence analyst David Cole noted that a product like Minecraft could be a way for Microsoft to migrate users over to Xbox platforms.
Microsoft is releasing Minecraft for multiple platforms, including those from Nintendo and Sony.  However, enhanced versions of Minecraft for PC and Xbox systems can make those platforms standout.
More consumers are playing games on BOTH PC and console systems.  Microsoft is looking to take advantage of that fact.  They are focusing on features like cross-platform play between PC and Xbox (Xbox Play Anywhere).
Minecraft is one of those games that often fly under the radar because it appeals to a younger audience.  In many cases, older video gamers simply do not get the appeal of Minecraft.  However, its open sandbox gameplay and user-generated content is the future of the video game industry.
Microsoft and Nvidia are clearly on top of where the industry is headed.  In an age of low-end mobile games and streaming games from the cloud, there is a growing audience of hardware enthusiasts that desire high-power.  Going forward, much of this demographic will have been raised on Minecraft.